When we hear the word "remittance," we usually think of people counting their money at a Western Union outlet or something similar. With the advent of the Internet, however, online money transfer services are starting to gain popularity among those who desire the ease, speed and convenience of the Internet. One of them is Wise (formerly TransferWise).
Wise was founded in 2011 by two friends from Estonia who were tired of high transaction fees and bad exchange rates. Wise now handles $5 billion worth of transactions every month for more than 7 million customers, including thousands of overseas Filipino workers (OFWs) who are looking to save money on remittance fees.
What makes Wise different from most other online money transfer services is that it uses the real foreign exchange rate. Other money transfer and online payment companies like PayPal make money by slashing the exchange rates on top of their transaction fees. For example, if the real exchange rate is ₱50 for $1, you'll only get ₱49 while the remaining ₱1 goes to the company. Wise is different because it uses the real foreign exchange rate, so your dollars or euros will mean more pesos for your recipient in the Philippines.
With its transparent pricing, real exchange rates and low transaction fees, it's no surprise that Wise is fast becoming the go-to money remittance service for many Filipinos worldwide. Filipinos living and working in the United States, Europe and other countries in Asia can send money at lower rates compared to banks and other remittance companies. In fact, Wise is up to eight times cheaper than bank transfers.
So if you're looking for a faster and more affordable way to send money to the Philippines, you might want to consider Wise. Unlike Western Union or MoneyGram, Wise is solely an Internet-based service where transactions are done using your computer or mobile phone. You don't have to visit a remittance center and give your money to the cashier. All you need is a bank account or a debit or credit card and you're good to go.
As for your recipient in the Philippines, you can choose to send the money to his bank account or his GCash or PayMaya e-wallet. Cash pickup at remittance centers is not yet available.
How to Send Money Using Wise (formerly TransferWise)
Step 1: Register for a free account by providing your email address, password and country. After registering, check your email and click the link to confirm your email address.
Step 2: In your Wise dashboard, click the "Send money" button.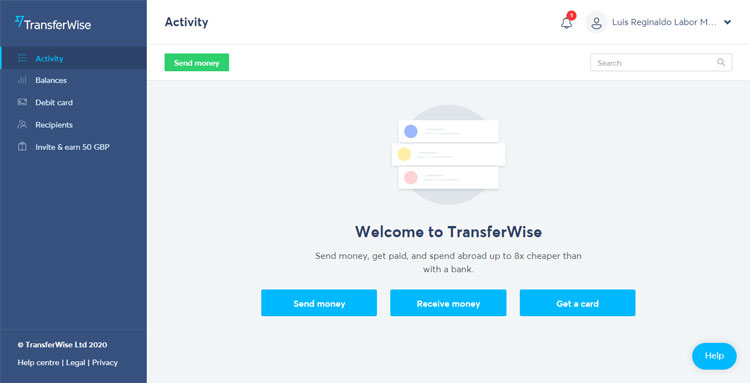 Step 3: Enter the amount you want to transfer. Make sure that you selected your preferred currencies. You can already see the conversion rate and total fees.
Click "Continue" when you're done.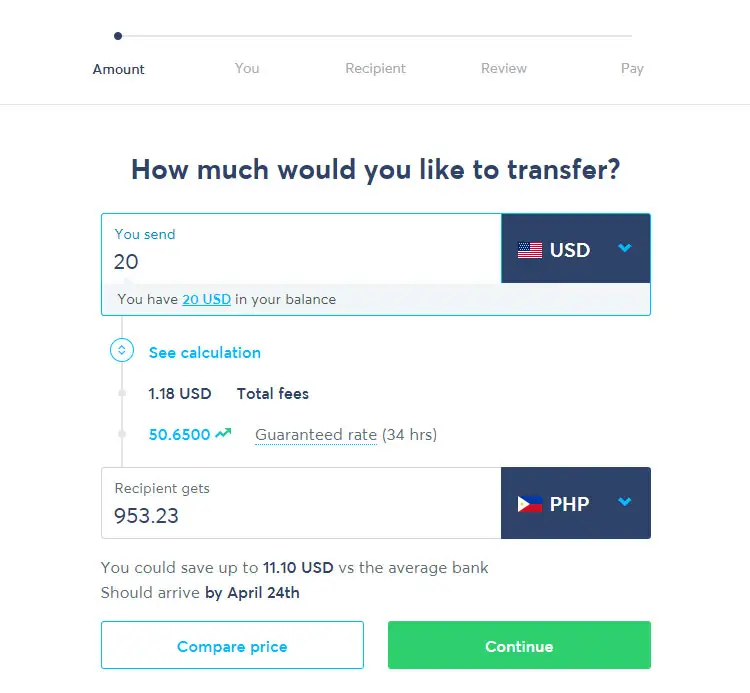 Step 4: Choose whether it's a personal or business transfer. Select "Personal" (or your name) if you're paying in from your personal bank account.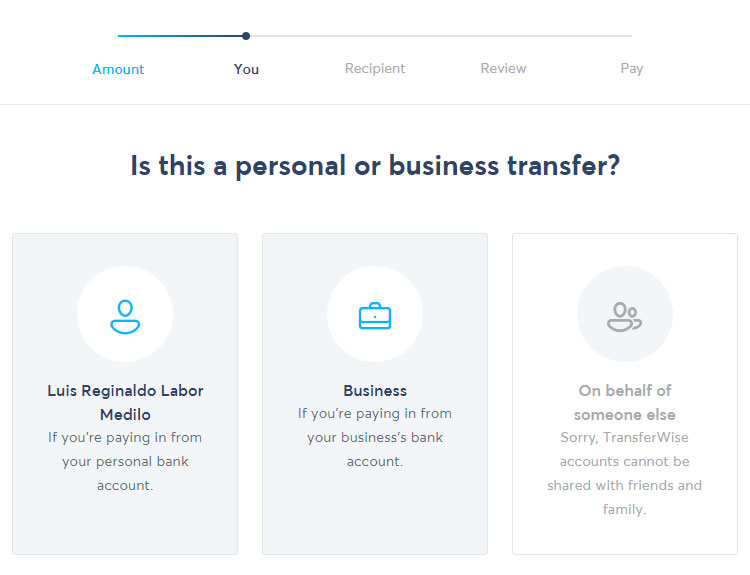 Step 5: Enter your details such as full name, date of birth, phone number, and address.
Click "Continue" to proceed.
Step 6: Select who you are sending the money to, whether "Myself," "Someone else" or "Business or charity." Choose "Someone else" if you want to send money to another person.
Step 7: Enter your recipient details, including full name, email and address.
Under "Bank details," select your recipient's bank and enter his account number. If you want to send money to a mobile wallet, click the "E-Wallet" tab, choose either GCash or PayMaya, and enter the recipient's e-wallet number.
Click "Confirm" when you're done.
Step 8: Select the reason of the transfer on the dropdown box. Click "Continue."
Step 9: Review your transfer details to make sure that everything is correct and accurate. Check the box for "I accept the Terms of Use" and click "Confirm and continue."
Step 10: You can now choose from any of the following payment methods:
Bank debit (ACH) – Wise will pull the funds directly from your bank account via the Federal ACH network.
Wire transfer – Manually transfer the money to Wise using your bank account.
International wire – Send money from your bank account outside the US. Your bank will charge you extra fees.
Debit card – Currently not available for USD to PHP transfers. However, you can add money to your balance using your debit card.
Credit card – Currently not available for USD to PHP transfers. You can instead add money to your balance using your credit card.
Your balance – Open a multi-currency account and add funds to instantly pay for transfers.
For international wire transfer, you will have to manually transfer the money to Wise's bank account in the United Kingdom. The International Bank Account Number (IBAN) and the bank code (BIC/SWIFT) will be provided. You can use your bank's online banking or mobile app to make the wire transfer. Take note that the SWIFT system and/or your bank may charge additional fees.
As an alternative, you can sign up for a free multi-currency account which allows you to add money to your Wise balance for fast and easy payments. With a borderless account, you don't have to perform a bank debit or wire transfer every time you want to send money. You can just add money to your balance using your bank, debit card or credit card.
Step 11: Enter your password to approve the transfer.
Wise will now start transferring the money to your recipient's bank account or e-wallet. You and your recipient will receive an email once the transfer has been processed.
Depending on your payment method, the money should arrive within a few minutes or hours. Some banks may take a longer time to process the transfer. If you paid via international wire, it will take up to one week for your transfer to be completed. You can track your transfer by going to your Wise account or by clicking the link in the confirmation email.
Supported Banks
These are the local banks where you can transfer money from Wise:
AMA Bank
ANZ Bank
Allied Bank
Allied Savings Bank
Asia United Bank
BDO (Banco De Oro) Unibank
BDO Network Bank (One Network Bank)
BPI Family Savings Bank
Bangkok Bank
Bank of China
Bank One Savings and Trust Corp.
Bank of Commerce
Bank of Tokyo
Bank of the Philippine Islands (BPI)
CTBC
China Bank Savings
China Banking Corporation
CitiBank Savings
Citibank
City Estate Savings Bank
City Savings Bank
Deutsche Bank
Development Bank of the Philippines (DBP)
East West Bank
Equicom Savings Bank
Far Eastern Bank
Filipino Savers Bank (A Rural Bank)
First Allied Bank
First Consolidated Bank
First Macro Bank
Guagua Savers Bank
HSBC Savings
Hongkong and Shanghai Bank (HSBC)
International Exchange Bank
Islamic Bank (Al-Amanah Islamic Investment Bank)
Land Bank of the Philippines
Luzon Development Bank
Malayan Bank
MayBank Philippines
Metropolitan Bank and Trust Company (Metrobank)
Pen Bank
Philippine Bank of Communications (PBCOM)
Philippine Business Bank
Philippine National Bank (PNB)
Philippine Savings Bank (PSBank)
Philippine Trust Company
Philippine Veterans Bank
Planters Bank
Postal Bank
Premiere Bank
RCBC Savings
Rizal Commercial Banking Corp. (RCBC)
Robinsons Savings Bank
Security Bank Corporation
Security Bank Savings
Standard Chartered Bank
Sterling Bank
Tong Yang Savings Bank
UCPB Savings Bank
Union Bank of the Philippines
United Coconut Planters Bank (UCPB)
United Overseas Bank
University Savings Bank
Aside from these banks, you can also transfer money to an e-wallet like GCash or PayMaya.
Conclusion
Wise is just one of several remittance services that Filipino migrants and OFWs are using to send money to their families and loved ones back home. There's Western Union for reliable money transfers from anywhere in the world. But if you want a quicker and cheaper way to send money to the Philippines, you really can't go wrong with Wise. With Wise, you could potentially save thousands of pesos every month on transaction fees, and you don't even have to go to a remittance center.
Don't forget to share this article with your friends who are interested in sending money from abroad to the Philippines. If you have any questions about Wise, send them a message or just comment below.