Are you looking for a Smart prepaid promo with a generous amount of mobile data and a longer validity period without hurting your pocket? Look no further than the Smart All Data 299 promo, which offers 24GB of open access data for 30 days – all for only ₱299.
Many subscribers are looking for ways to stretch their budget by getting the most amount of data for their money. Smart prepaid subscribers usually register to bulk data promos such as GigaSurf if they intend to surf the Internet regularly. However, most Smart prepaid promos are not sufficient for heavy Internet users due to limitations such as the amount of open access data. Some data promos also have a limited daily data allocation for a selected number of apps (e.g. Facebook, Instagram, YouTube).
With the Smart All Data 299 promo, you don't have to worry about your daily data allocation and the websites and apps that you can access. You will get 24GB of mobile data immediately after successful registration, and you have up to 30 days to consume it. You can visit any website and open any app that you want, including Facebook, Instagram, YouTube, Twitter, TikTok, Netflix, Wikipedia and many more. Just make sure to monitor your data usage on the GigaLife app.
Best of all, Smart All Data 299 is shareable, which means that you can share your mobile data with your friends, family and loved ones within the Smart network (Smart and TNT).
Smart All Data 299 is just one of three new data promos that Smart has unveiled recently. The others are All Data 50 (2GB for 3 days) and All Data 99 (6GB for 7 days).
Smart All Data 299 Inclusions
The Smart All Data 299 promo has the following inclusion:
24GB of shareable, open access data
Smart All Data 299 is good for 30 days (one month) and costs ₱299. The promo is exclusive to Smart prepaid subscribers only.
How to Register to Smart All Data 299
You can register to Smart All Data 299 through the GigaLife app. Download the GigaLife app from Google Play or the App Store.
Sign up for a free GigaLife account if you haven't done so already, and then link your mobile number on the Accounts tab. You will have to enter a one-time PIN (OTP) to link your number.
Smart All Data promos are not yet shown in the list of promos that you can register in GigaLife, so all you have to do is to open the GigaLife app and a popup dialog will appear with this message: "Try our NEW ALL DATA OFFERS! Want it SIMPLE? Get ALL DATA 299 for 24 GB SHAREABLE DATA FOR 30 DAYS ON ALL SITES AND APPS and use it the way you want!"
Tap "I want ALL DATA!"
You can now see the new Smart All Data offers that you can register. Select ALL DATA 299 by tapping the Subscribe button.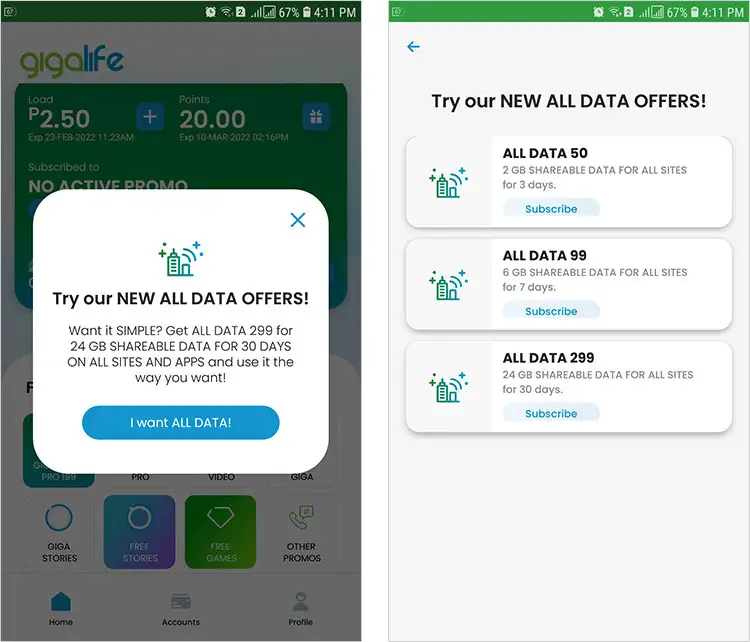 Make sure that you have at least ₱299 load balance and then tap "Subscribe." You will then receive a text confirmation of your successful registration to Smart All Data 299.
It's easy to share your data in Smart All Data 299. Just text PASADATA <11-digit number> <amount in MB> to 808. For example, PASADATA 09123456789 500MB to 808.
Each PasaData transaction costs ₱1. The shared data is valid for only 24 hours, but can be extended or stacked by making another PasaData transaction.
Read this article to learn more about Smart PasaData and how to share your mobile data with another Smart number.
How to Check Your Smart All Data 299 Balance
You can check your load balance and remaining data allocation by texting BAL to 214 for free. You will receive a text message with a breakdown of your Smart load balance and remaining data.
You can also check your balance by dialing *123# and going to Balance/Services > Check Balance.
The GigaLife app allows you to conveniently check and monitor your data balance. Just open the app and select "Check Usage."
Need Help?
The Smart All Data 299 promo is definitely a welcome addition to the Smart family with its generous data allowance and long-lasting validity, which makes it attractive to budget-conscious subscribers. The promo gives you bulk Internet data without any limitations aside from the amount of data, so you can access all the websites and apps that you want.
If you have any questions or concerns about this promo, just call the Smart hotline *888 for prompt assistance.