Many of us already know how to share their prepaid load to our friends or what is commonly known as "pasaload." But do you know that you can also share data in Smart and TNT? Yes, you can share your MB in Smart to your friends or loved ones through the "PasaData" feature. That way, your friends can enjoy free Internet access thanks to your generosity.
There are times when your friends or family cannot use the Internet because they don't have enough mobile data. You can come to their rescue by sharing your mobile data with them. Thanks to Smart PasaData, you can now transfer your unused mobile data to your friends or loved ones so that they can surf the web, browse Facebook, watch YouTube videos and many more.
So how do you share data in Smart and TNT? First of all, you must be subscribed to a GigaSurf promo like Gigasurf50 or Gigasurf299 and have at least 50MB data remaining. The minimum amount of data that you can send is 50MB.
Once you're registered to Smart GigaSurf, you can already use the PasaData feature to transfer your unused MBs to another Smart or TNT subscriber. Take note that only Smart, Smart Bro and TNT prepaid subscribers can share data to other subscribers. Sharing data to and from postpaid subscribers will result in an error.
For example, if you are subscribed to the Smart Gigasurf50 promo, you will have unlimited texts to all networks, 1GB of shareable mobile data and 1GB per day for YouTube, iflix, iWant, NBA League Pass and Cignal TV. You can share your open access data to other Smart or TNT subscribers. However, you can't share your add-on or daily data allocation such as those for YouTube.
Another thing to remember is that once you shared your data in Smart, it can no longer be returned to you (sender). The shared data also cannot be sent to other people, so the recipient must consume the received data within 24 hours, after which it will expire.
How to Send Data in Smart or TNT
It's easy to share your data in Smart or TNT using the PasaData feature. All you have to do is to text PASADATA <11-digit number> <amount in MB> to 808. You will be charged ₱1 per transaction.
For example: PASADATA 09123456789 200MB to 808.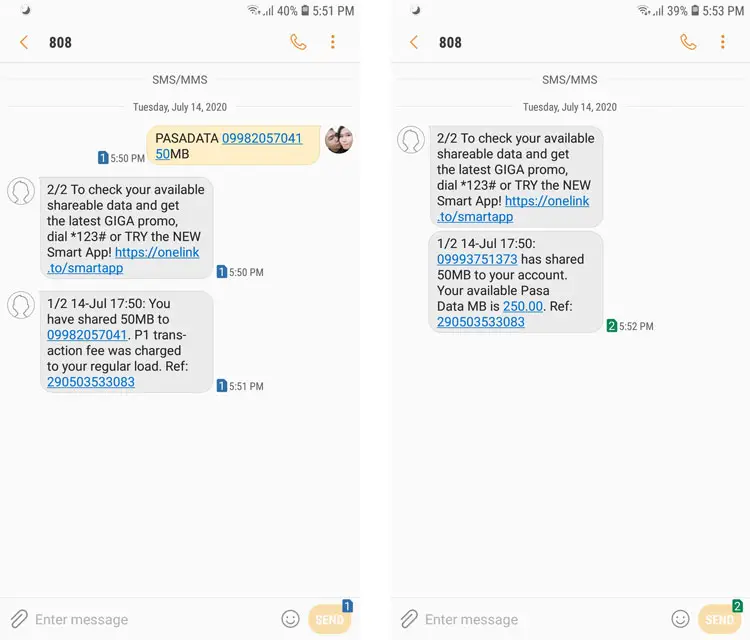 You and your recipient will both receive confirmation text messages. That's it! Your friends can now start surfing the Internet using your shared data.
Remember that your shared data is only good for 24 hours, regardless of the amount. You can share your data as many times as you want, as long as you have enough data in your promo.
Shared data can be stacked and extended. This means that you can receive as many MBs as you possibly can and they will be stacked or accumulated. Each additional shared data transfer will extend the lifetime of your unused or remaining data. Your unused MBs will follow the expiry date and time of the last PasaData that you received.
Frequently Asked Questions
When will my shared data expire?
The validity of your shared data is only 24 hours, so be sure to consume the data as soon as possible.
Can I extend the validity of my shared data?
The validity of shared data will be extended with each additional shared data transfer. Each PasaData transfer will extend the validity of your data for another 24 hours.
Is PasaData stackable?
Yes, shared data can be stacked and accumulated.
Can I register to promos while enjoying my shared data?
You can subscribe to other Smart and TNT promos, and your shared data will remain intact.
Can I transfer my shared data to another user?
No, you cannot transfer the shared data that you received to another Smart or TNT subscriber.
Is there a limit to how much data I can share?
As long as you still have remaining data, you can share your data as many times as you want.
Is there a limit to how much data I can receive?
There is no limit as to how much data you can receive, but do keep in mind that shared data will expire in 24 hours.
How do I check my remaining PasaData balance?
You can check your PasaData balance by dialing *123# and selecting Bal:Svcs > Balance.
Conclusion
Sharing your unused data with your friends, family and loved ones is one way to let them know that you care. We hope that this article helped answer all your questions about how to share your data in Smart and TNT.
If you have any issues or problems with PasaData or your Smart prepaid subscription in general, call the Smart toll-free hotline *888 on your mobile phone.