TM (aka Touch Mobile) is popular among budget-conscious Filipinos due to their extremely affordable promos and offers. As TM is geared for the mass market, subscribers can register to unlimited text and call promos for as low as ₱10 per day. One of these promos is TM ALLNET20.
TM ALLNET20 is a budget-friendly promo that offers unlimited calls to all networks, unlimited texts to Globe/TM and 50 texts to all networks. It also comes with a small amount of data (50MB) to access Facebook. TM subscribers who love to text and call their friends and family will find the TM ALLNET20 promo useful as it allows them to keep in touch with subscribers on other networks (such as Smart, Sun and TNT).
Other cheap promos only allow you to call or text subscribers within the same network, which makes TM ALLNET20 an attractive proposition. Where else can you find a prepaid promo that gives you unlimited calls to all networks for only ₱10 per day? The promo saves you money since regular calls to other networks are normally charged ₱6.50 per minute. With ALLNET20, calls to other networks are virtually free for the duration of the subscription (subject to the Fair Use Policy).
So if you're someone who loves to call your friends and loved ones and talk to them all day, you really can't go wrong with TM ALLNET20. Aside from the fact that it's really cheap at only ₱10 per day, you can also unsubscribe from the promo if it's not to your liking. Although it's one of the cheapest and "bang for the buck" promos around, the limited amount of Internet data can be a deal-breaker for some.
TM ALLNET20 Inclusions
The TM ALLNET20 promo comes with the following inclusions:
Unlimited calls to all networks
Unlimited texts to Globe and TM
50 texts to all networks
50MB data for Facebook
TM ALLNET20 is valid for two days and costs ₱20. The promo is exclusive to TM subscribers only.
To call someone using ALLNET20, just dial the number directly. The promo is subject to the TM Fair Use Policy to prevent abuse of the service.
How to Register to TM ALLNET20
To register to TM ALLNET20, text the keyword AN20 to 8080. Make sure that you have at least ₱20 load balance in order to subscribe to the promo.
You will receive a text confirmation if your promo registration is successful. The text message also contains the promo expiry date as well as instructions on how to check the status or stop the promo.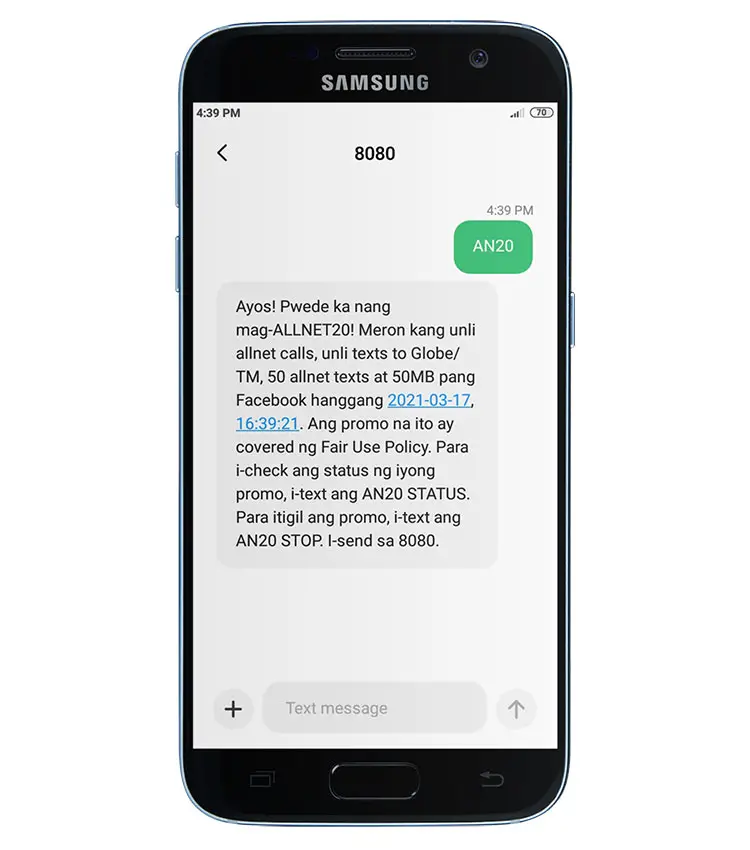 Another way to subscribe to TM ALLNET20 is to dial *143#. When the USSD menu pops up, go to Combo > Call and Text Combo Promos > AN20 > Register.
Just like with text registration, you will receive a text message to confirm that you have successfully subscribed to the promo. You can then start texting and calling your friends as much as you want.
You can also buy TM ALLNET20 on GCash. Simple open your GCash app, go to Buy Load, enter your TM number and select the "CALL & TEXT" tab. Choose ALLNET20 to buy the promo.
How to Check Status and Stop Promo
To check the status of your subscription, text AN20 STATUS to 8080. You will receive a text message with your remaining promo inclusions and the validity period or expiry date of the promo.
To stop the TM ALLNET20 promo, text AN20 STOP to 8080. This will immediately unsubscribe you from the promo so you can register to a new one.
Need Help?
ALLNET20 remains popular among TM subscribers due to its affordable price as well as the ability to make unlimited calls to all networks. Instead of spending hundreds of pesos every month on inter-network calls, you can just register to TM ALLNET20 to save money.
If you have any questions and concerns about your TM subscription, call the customer support hotline 808 or visit the TM Tambayan website. You can also check out the list of TM promos here.