The UTP15 promo from Talk N' Text or TNT is one of the most affordable and budget-friendly unlimited text and call promos available. For a mere ₱15, you can send text messages or call your friends and loved ones as much as you want. It's valid for 2 days so that rounds up to ₱7.50 a day, which is 2-3 times cheaper than similar unli call and text promos from other networks.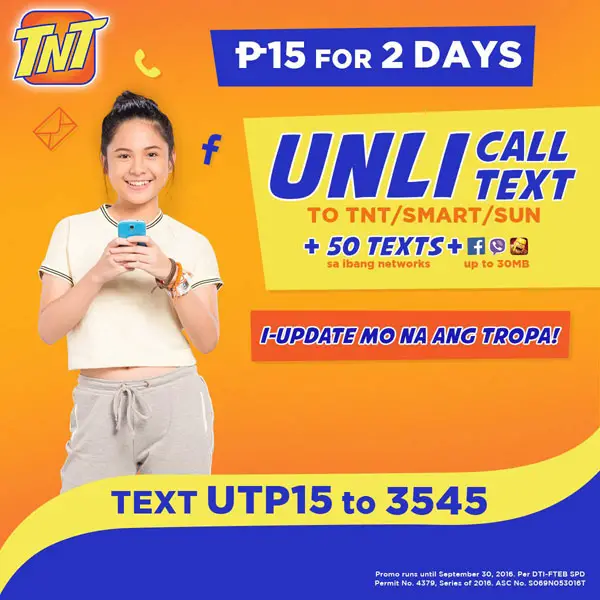 UTP is great for those love to call or text their friends, family and loved ones without having to spend hundreds of pesos a day. What's more, the promo also has 30MB of mobile data for Facebook, Viber and Clash of Clans. It's not much but it could be useful for checking your Facebook updates or messaging your friends on Viber a few times a day.
UTP15 Inclusions
Talk N' Text's UTP15 promo has the following inclusions:
Unlimited texts and calls to Smart, TNT and Sun
50 texts to other networks
30MB mobile data for Facebook, Twitter, Viber, Clash of Clans and Dubsmash
The promo is valid for 2 days (48 hours) and costs ₱15.
To call someone using the UTP15 promo, just dial the mobile number directly. There's no need to add prefixes to the number to be called.
You can access Facebook, Twitter and Viber either through apps or using your web browser.
How to Register for UTP15
To register for the promo, text UTP15 and send to 3545. Make sure that you have at least ₱15 in your load balance. You will receive a text message saying that you have successfully registered for the promo.
You can also dial *123# and choose Other Offers > UTP > 15 > Subscribe. You will also receive a text confirmation.
To load UTP15 via retailer, the retailer has to text UTP15 <11-digit number> to 4577. For example, UTP15 09123456789 and send to 4577.
The promo is exclusively for Talk N' Text (TNT) subscribers and is available only in selected areas.
How to Check Status
To check the status of your subscription and see when your promo expires, text BAL to 214.
You can also dial the USSD code *123# and select Balance/Services > Check Balance. Wait for the text message informing you of your remaining load balance and data allocation.
How to Extend UTP15
The best part about the UTP15 promo is that you can extend it up to 365 times. That's right, you can extend the promo for up to one year! You can save money by extending UTP15 but make sure that you extend it before the promo expires.
To extend UTP15, text EXTEND to 4545 while your subscription is still active. The extension costs ₱5. Remember, you can extend the promo up to 365 times. Sulit, di ba?
Need Help?
UTP15 is indeed an affordable promo that saves you a lot of money on texts and calls. If you have any problems with registering for UTP15, call *888 or visit the TNT website.