You've just bought a new GOMO SIM because you're excited to try out their affordable, no-expiry data promos. But first, you must activate your GOMO SIM to take full advantage of its features and to ensure a smooth and hassle-free Internet surfing experience on the Globe-powered GOMO network.
GOMO, a brand owned by Singaporean telco Singtel, officially launched in the Philippines in October 2020. GOMO is a mobile virtual network operator (MVNO) that brands itself as a "digital telco." It doesn't own any towers or cell sites but relies on Globe's nationwide LTE and 5G network.
Many Filipinos have switched to GOMO to subscribe to data offers that never expire. No-expiry data is great for budget-conscious subscribers with normal surfing needs but who always want to stay connected online. GOMO is also great value for heavy Internet users because its cheaper per GB than other networks.
For starters, the GOMO SIM comes bundled with an astounding 30GB of no-expiry, open-access data for only ₱299. You can stretch your data for as long as a year (or even more) because it doesn't have an expiration date. And if you don't have any use for your data anymore, you can even convert your unused data into texts and calls via the GOMO app.
With a GOMO SIM, you won't have to keep track of your favorite promo's expiration date because, after all, your data will never expire. It definitely sucks to register to a new promo every week just to stay online and keep in touch with your friends, right? With the GOMO SIM, you will potentially save hundreds or even thousands of pesos every month on promo registration fees.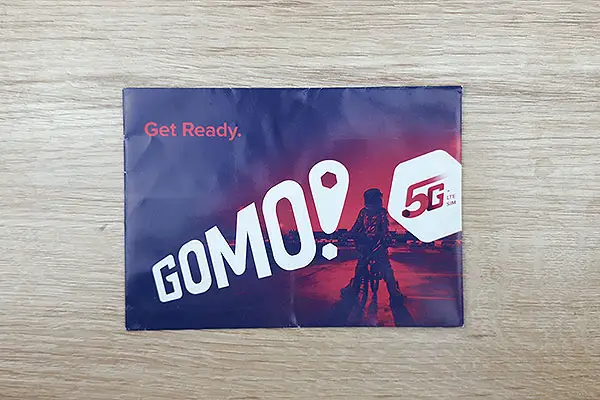 Don't have the GOMO SIM yet? You can order the GOMO 5G-ready SIM from the GOMO website, Lazada and Shopee for only ₱299 with free shipping. Delivery takes 3-5 business days for Metro Manila, 5-7 days for Luzon, and 8-12 days for Visayas and Mindanao.
In this article, we've laid out the steps to activate your GOMO SIM so that you can start surfing right away. Make sure that you have an Android or iOS smartphone because you will have to use the GOMO mobile app to activate your GOMO SIM and buy data promos.
GOMO SIM Activation Process
The GOMO SIM package doesn't include instructions on how to activate your SIM, but don't worry because we're here to help. Just follow the steps below to activate your GOMO SIM and create your GOMO account.
Step 1: Download the GOMO App
The first thing you should do is to install the GOMO mobile app which you can download from Google Play or the App Store. With the GOMO app, you can buy data, convert data to SMS or calls, monitor your data usage and join promotions.
Step 2: Insert the GOMO SIM
Turn off your phone and carefully insert the new GOMO SIM into your phone's SIM slot. Your GOMO number is printed on the SIM card case, along with the PUK codes.
Step 3: Turn On Mobile Data
Turn on your mobile phone and enable mobile data (just swipe down the notification panel and tap the data icon).
You might be asked to select the APN. Choose "Globe Prepaid" when prompted.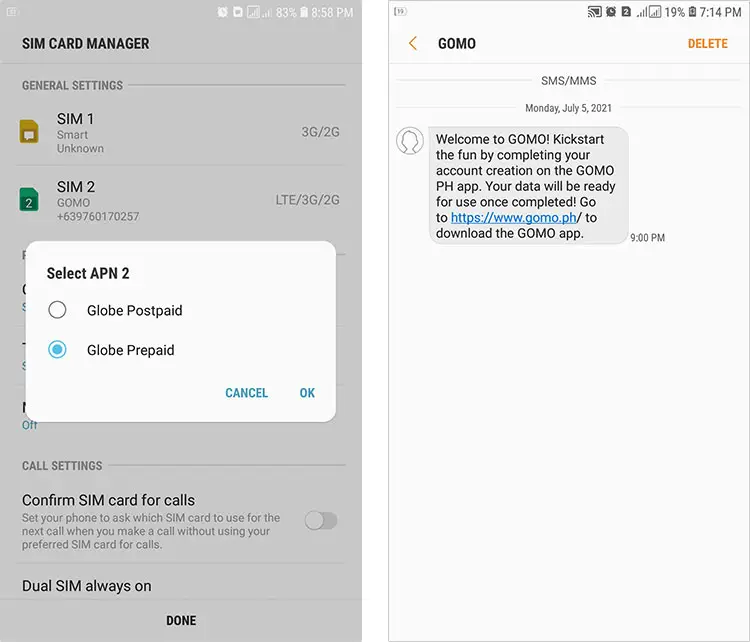 Wait for the welcome message which goes like this:
"Welcome to GOMO! Kickstart the fun by completing your account creation on the GOMO PH app. Your data will be ready for use once completed! Go to https://www.gomo.ph/ to download the GOMO app."
Step 4: Create GOMO Account
Open the GOMO app and enter your 10-digit GOMO number which can be found on the SIM card case. Tap "Let's Go!" to proceed.
By the way, if you can't open the app using your GOMO data, you can simply connect to any WiFi (or even to another SIM's data) and you can still create an account and activate your GOMO SIM. The important thing is to enter your GOMO number and the OTP code that will be sent to that number.
Read the "Insert GOMO SIM" instructions and then click "Proceed."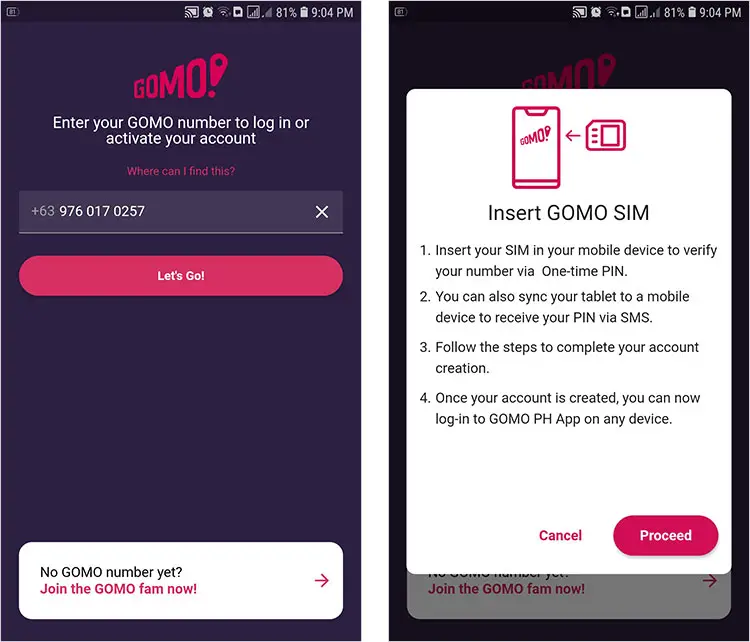 A one-time password (OTP) will be sent to your GOMO number. Enter the 6-digit verification code into the app.
If you haven't received the OTP within 5 minutes, click "Resend OTP."
Enter your personal information such as name, gender, email address and birthday. Check the box for "I agree to the collection and use of the data that I have provided to GOMO…" and then tap "Create Account."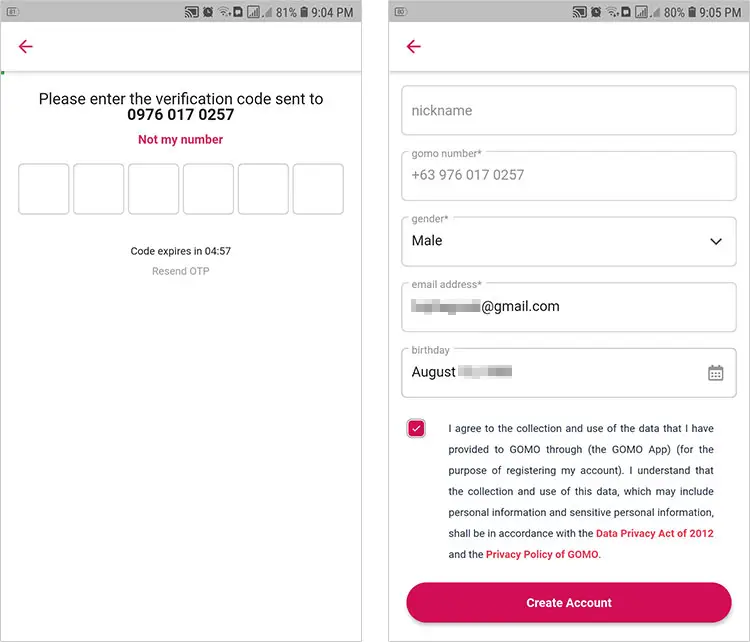 Create a 6-digit PIN which will act as your account password. You may also enable biometric login although this is optional.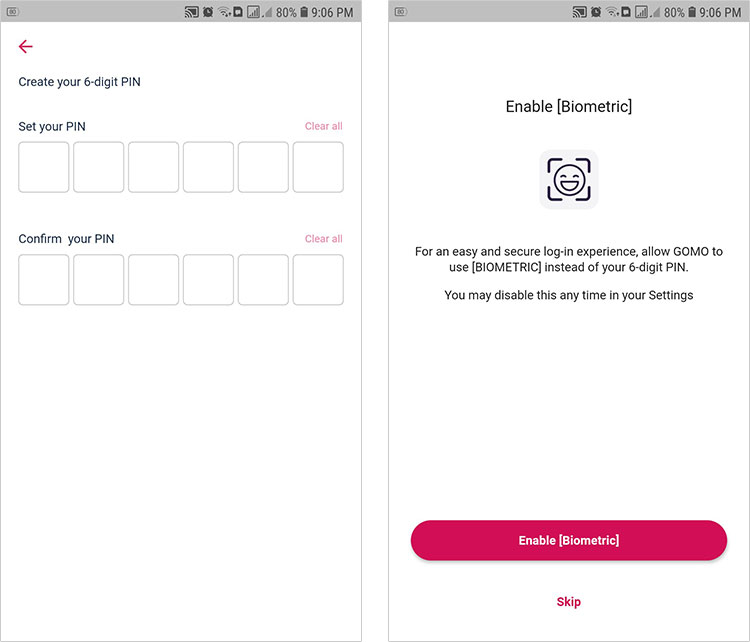 Congratulations! You have successfully created an account and activated your GOMO SIM. Tap "Get Started" to proceed to your account dashboard.
Be sure to check your email for the welcome message from GOMO. Click the link inside the email to verify your account.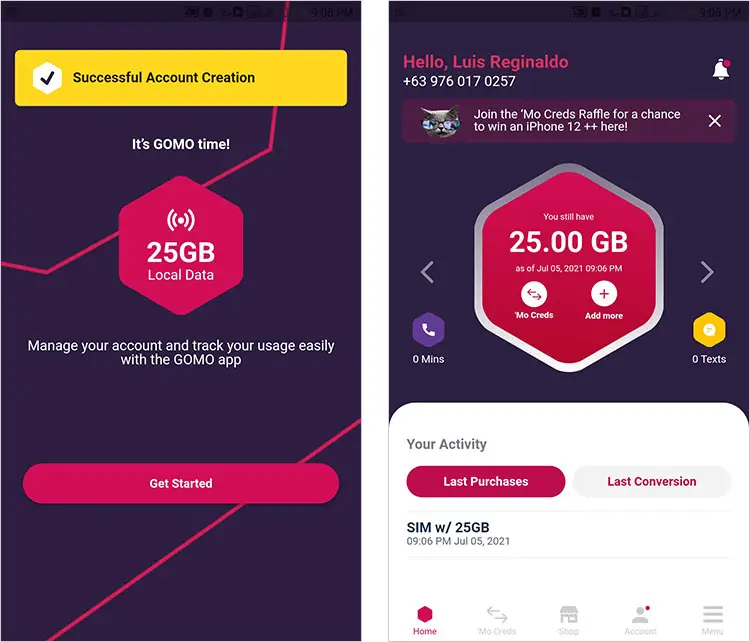 Step 5: Enjoy GOMO!
After you've activated your GOMO SIM and created an account, you can now enjoy your no-expiry data inclusions. Remember that you can convert your unused data to calls and texts by going to 'Mo Creds and selecting the package that you want to exchange for your data (e.g. 30 texts to all networks for 0.2GB).
To add more data, just go to Shop and select Local Promos to choose a promo to register (e.g. 20GB no-expiry data for ₱199). You can pay using your GCash wallet or credit or debit card.
Final Thoughts
GOMO is fast gaining popularity among many Filipinos who are sick and tired of losing their unused mobile data. Save money by getting a GOMO SIM and only pay for data that you use. Stop worrying about your data and start enjoying your favorite apps and games with GOMO!
To know more about GOMO and its services, visit the GOMO Philippines website or follow the official Facebook page.