Looking for the best GOMO promos for your specific needs and budget? Look no further because I've compiled the latest and updated list of GOMO SIM no-expiry and unli data promos that will help you save money.
Launched in October 2020, GOMO is becoming more popular among Filipinos who are sick and tired of their disappearing data. Many GOMO subscribers have already saved hundreds or even thousands of pesos every month by registering to no-expiry, unlimited GOMO data promos. You, too, can save a boatload of money by switching to GOMO to enjoy mobile data that never expires.
Unlike data promos by other networks which have fixed validity periods and expiration dates, GOMO promos never expire and could supposedly last forever. This means that with GOMO, you don't waste money on unused data that disappears after your promo expires. You'll only pay for what you use.
No-expiry data promos are ideal for light Internet users because they can stretch their data for as long as they possibly can. For example, you can subscribe to 25GB of no-expiry data for only ₱299 and make it last for 6 months by consuming only 100MB per day. With regular data promos from other networks, you'll probably spend over ₱1,000 for the same period. Talk about big savings!
If you're a heavy Internet user who loves to watch Netflix or play mobile games, GOMO also has something for you. With a GOMO unli data promo, you can surf the Internet as much as you want. The caveat is that you're limited to speeds of 5 Mbps, which is decent but not exactly fast. GOMO unlimited data promos are also set to expire after a period of time.
So whether you are a budget-conscious person with minimal surfing needs or someone who can't live without the Internet, there's a GOMO SIM promo for you. I'll share with you the complete and updated list of GOMO SIM and data promos that you can subscribe to.
If you have not activated your GOMO SIM yet, read this article to learn how to activate your SIM and create a GOMO account. After activating your GOMO SIM, you will immediately receive the initial data allocation included in your SIM package.
List of GOMO SIM Promos and Data Offers
This list of GOMO promos is accurate as of October 15, 2023 and is subject to change without notice.
GOMO Unli Data and No-Expiry Promos
The following GOMO unli data and no-expiry promos can be registered and purchased on the GOMO app. Download the GOMO app from Google Play or the App Store if you haven't done so already.
You can also buy the GOMO SIM with 30GB no-expiry data and 30-day (1 month) unlimited data for ₱299 and ₱499, respectively. To purchase the GOMO SIM, visit the GOMO website or go to the GOMO official online stores at Lazada and Shopee.
GOMO Call and Text Promos
You can register to GOMO call and text promos by converting your unused data via the GOMO mobile app. Simply open the GOMO app and click the "Mo Creds" tab at the bottom. Choose your preferred promo, press "Next" and then click "Confirm Conversion."
These are the call and text promos that you can avail through the GOMO app:
30 texts to all networks = 200MB
6 minutes calls to all networks = 400MB
50 texts and 5 minutes calls to all networks = 500MB
How to Register to GOMO SIM Promos
GOMO subscribers can register to GOMO unli data promos and no-expiry data promos only on the GOMO mobile app, so there are no keywords to text or numbers to dial. If you haven't downloaded the app and created a GOMO account yet, read this article to learn how.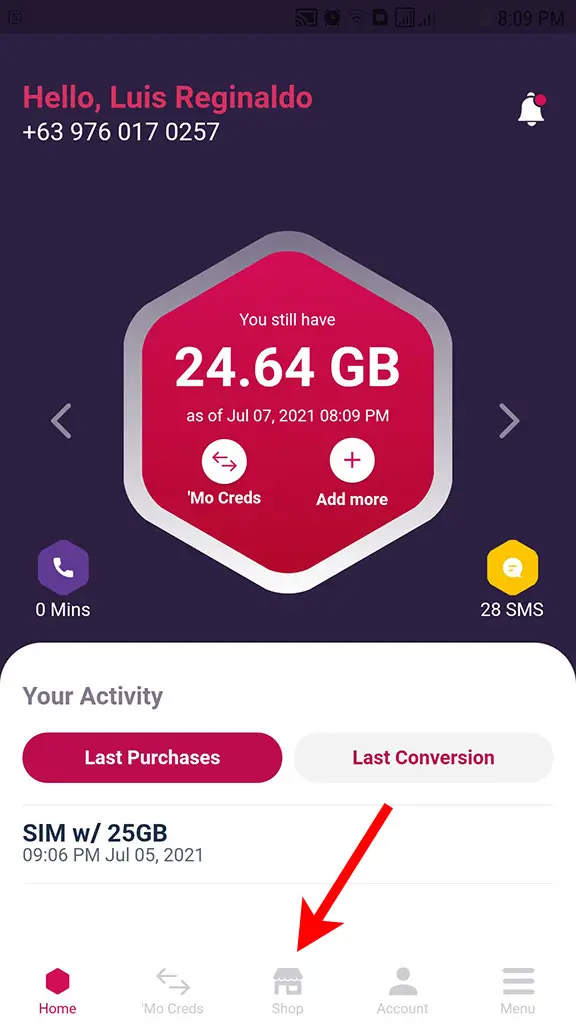 Here's how to register to a GOMO unli data promo or no-expiry promo:
Open the GOMO app and login to your account.
Tap the Shop icon.
Inside the GOMO shop, select "Local Promos."
Choose the GOMO promo that you want to register (e.g. No Expiry 20 GB Data Only).
Select a payment option such as GCash. Tap "Proceed to Payment Details."
Enter your payment details and complete your payment.
If payment is successful, you will receive a text message confirming your transaction.
Enjoy your GOMO data.
To monitor your data usage and check your remaining data balance, just open the GOMO app. You can register to another GOMO SIM promo even if you still have unused data balance from your previous promo. You can even register to a GOMO unli data promo alongside your existing no-expiry data promo, and vice versa.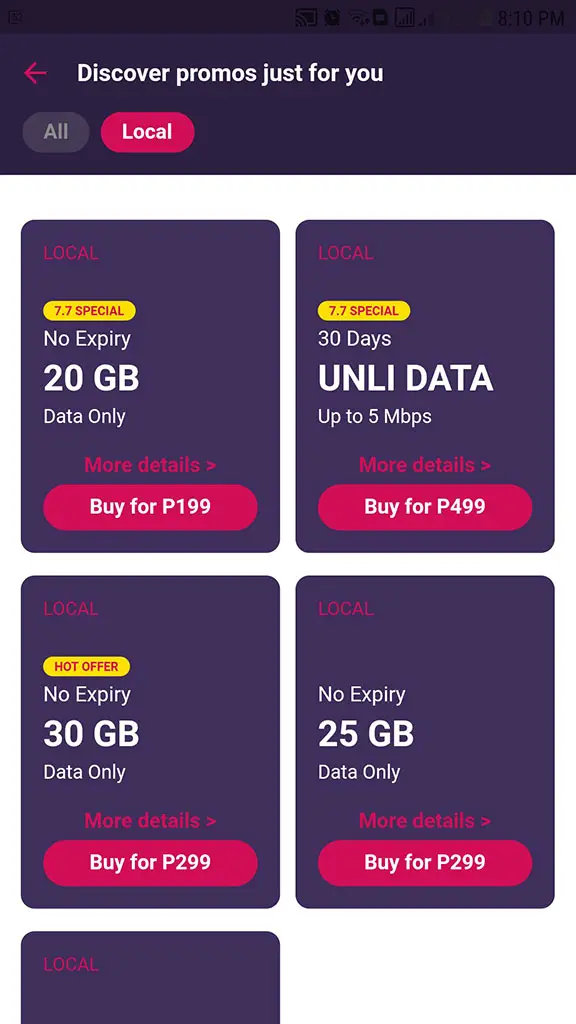 How to Convert GOMO Data to Calls and Texts
Do you know that you can convert your unused GOMO data to call minutes and SMS? With 'Mo Creds, you can turn your data balance to any of the following:
30 texts to all networks for 0.2 GB (200MB)
6 minutes of calls to all networks for 0.4 GB (400MB)
50 texts and 5 minutes of calls to all networks for 0.5 GB (500MB)
All texts and call minutes will never expire and you can convert your data as many times as you want, as long as you still have remaining data balance.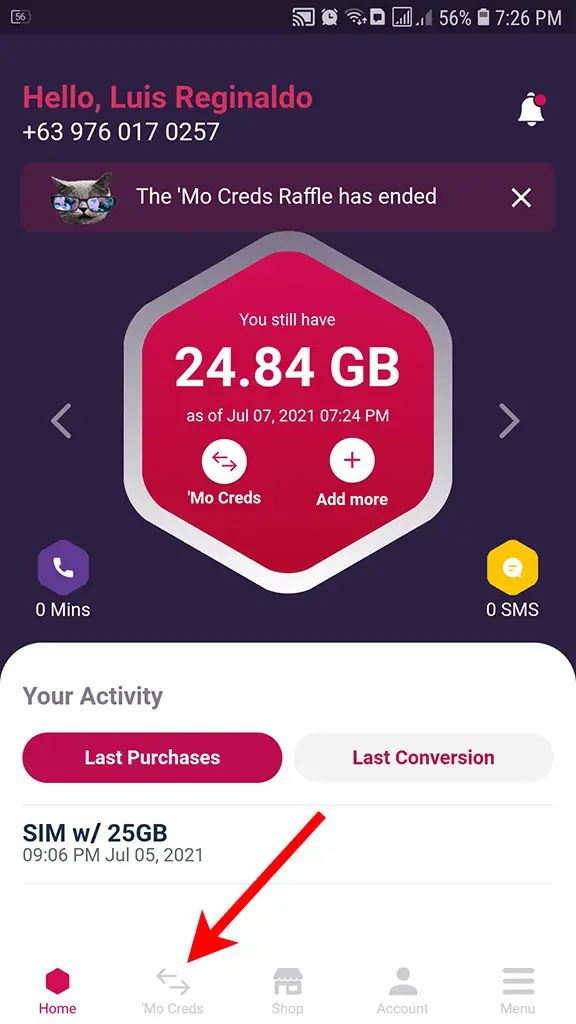 Follow these steps to convert your data to calls and texts using the GOMO app:
Open the GOMO app and login to your account.
Click the 'Mo Creds icon.
Choose the call and text pack to avail (e.g. 30 texts to all networks for 0.2 GB). Tap "Next."
Tap "Confirm Conversion."
Congratulations! You've successfully converted your data to SMS or call minutes.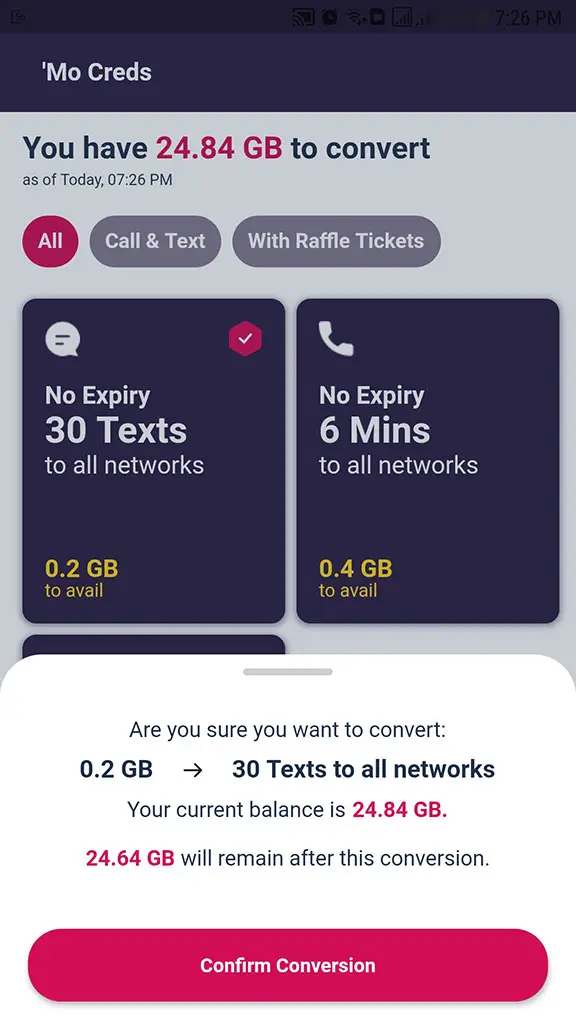 Wrapping Up
GOMO is a refreshing addition to the Philippine telco scene, thanks to its no-expiry data promos and affordable unli data offers. If you're looking to save money on mobile Internet costs, you definitely can't go wrong with GOMO. You can register to a GOMO SIM promo and make it last for several months, saving you thousands of pesos in the process.
To know more about the GOMO no-expiry and unli data promos, visit the GOMO Philippines website or the official Facebook page.