GCash and PayMaya are two of the most popular e-wallets or online payment apps in the Philippines. These two mobile wallets provide Filipinos with a convenient and easy way to perform cashless transactions like paying bills, sending money, buying load and many more.
If you're like me, you have both GCash and PayMaya installed in your smartphone because one is not enough. Either of these two apps are sufficient for your everyday financial needs but there are times when your e-wallet is having problems.
That is why I have both PayMaya and GCash in my phone in case one of them is not cooperating with me. There are also features in either app that are limited or are not available on the other app. For example, I find that PayMaya is quite limited in its number of billers (where you can pay your bills) when compared to GCash.
Oftentimes, I run out of funds on my PayMaya wallet and I need to pay some bills that are not possible with GCash. So I simply transfer my money from my GCash account to my PayMaya wallet with just a few taps on my smartphone. There's no need to use a middleman or third-party service like a bank to transfer money between these two e-wallets.
In this article, you will find out how easy it is to send money from GCash to PayMaya.
How to Transfer Money From GCash to PayMaya
Open your GCash wallet and log in using your MPIN. Tap "Send Money" on the home screen. Next, tap "Send to Bank."
Tap "View All" as shown in the screenshot below.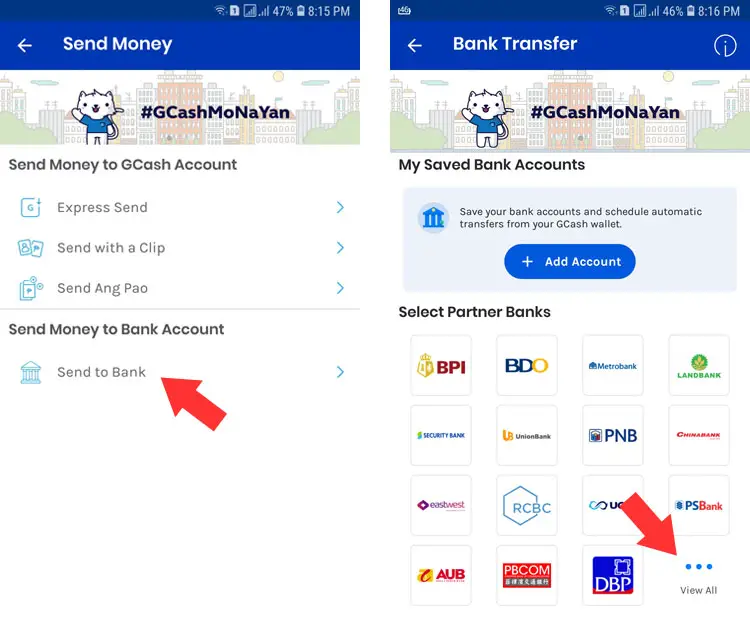 Scroll down and choose "PayMaya Philippines, Inc."
Enter the amount you want to send, account name, account number, and email address (optional). The account number is the mobile number associated with your PayMaya account. Tap "SEND MONEY."
Verify that your provided information is correct. Tap "CONFIRM" to complete the transaction.
Your GCash to PayMaya transfer is now being processed. Wait for the SMS and/or email confirmation of your successful transaction.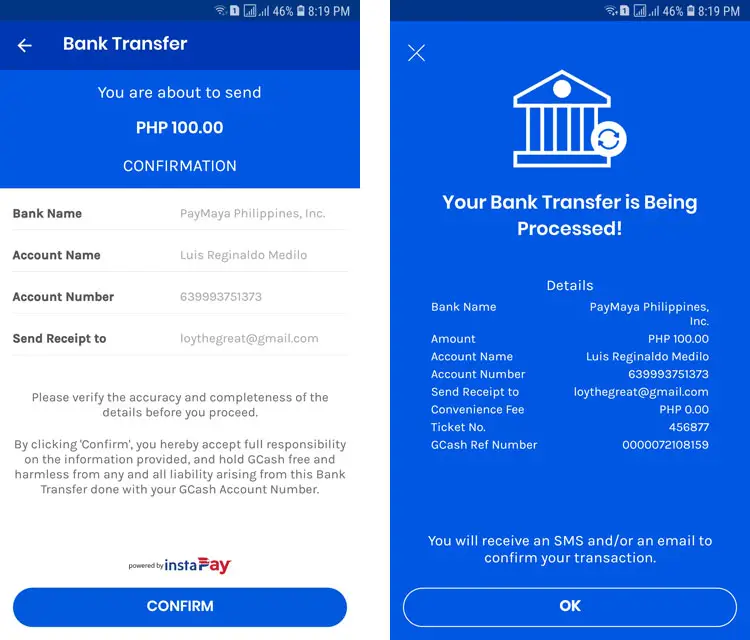 You can check your PayMaya account to see if the money is already in your wallet. In my case, I received the money almost instantly. There are no transaction fees for this transfer.
Final Thoughts
Sending money from your GCash account to your PayMaya wallet is really fast, easy and convenient. You can move your money around these two e-wallets as many times as you want. Amazing, isn't it?
If you encounter any problems or issues with your money transfers, call the GCash customer service number 2882 or the PayMaya toll-free hotline 1-800-10-845-7788. You can also comment below and I'll try my best to answer.