A few years ago, getting a National Bureau of Investigation (NBI) clearance requires you to go to your nearest NBI office and to wait in line. With many government transactions going the Internet route, you can now apply for an NBI clearance online. This article will teach you the NBI online application process as well as the NBI clearance requirements.
The NBI has already implemented the "no appointment, no entry" policy for NBI clearance applications and registrations. All NBI clearance applicants are advised to register online and set their appointment date in advance.
NBI online registration can now be done through the NBI website. This means that you no longer have to endure long queues unlike in the past. You can apply for a new NBI clearance online using a computer or smartphone and then pay the registration fee afterward.
NBI Clearance Online Application Procedure
Follow these easy NBI online appointment and NBI clearance application steps:
Step 1: Go to the NBI Clearance website at https://clearance.nbi.gov.ph.
Step 2: Register a new account by checking the NO box next to "Do you have an old NBI clearance?" Fill up the form carefully to avoid any mistakes. Click the SIGN UP button. (Note: Don't forget your password. You will need it to sign in to the system.)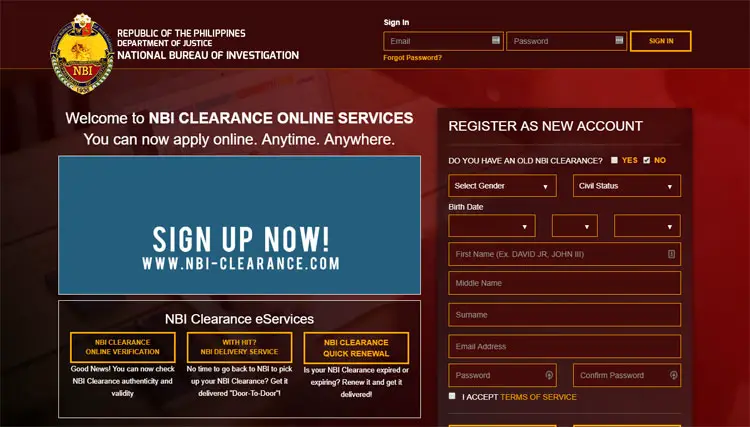 Step 3: Fill up the NBI online application form as honestly and accurately as possible. Click the SAVE INFORMATION button.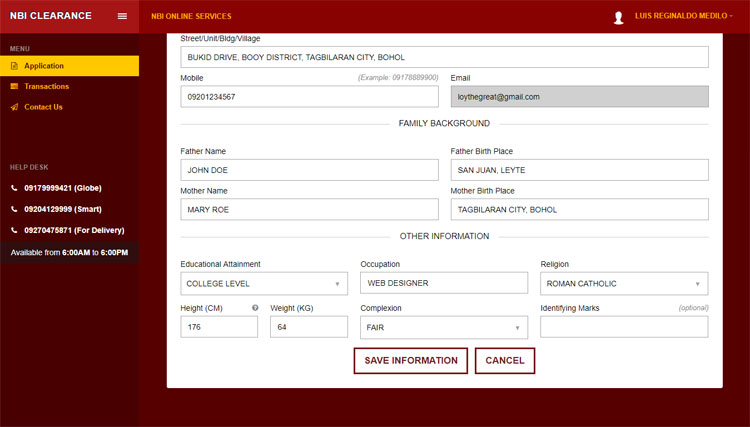 Step 4: Click the APPLY FOR CLEARANCE button. If you want to change or edit your applicant information, click the EDIT INFORMATION button.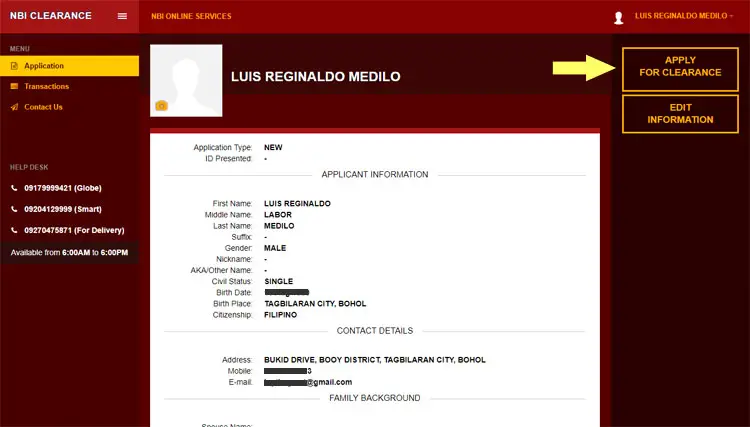 Step 5: Enter your valid ID on the popup box. Click the I Agree button. (Note: Bring this ID during your appointment.)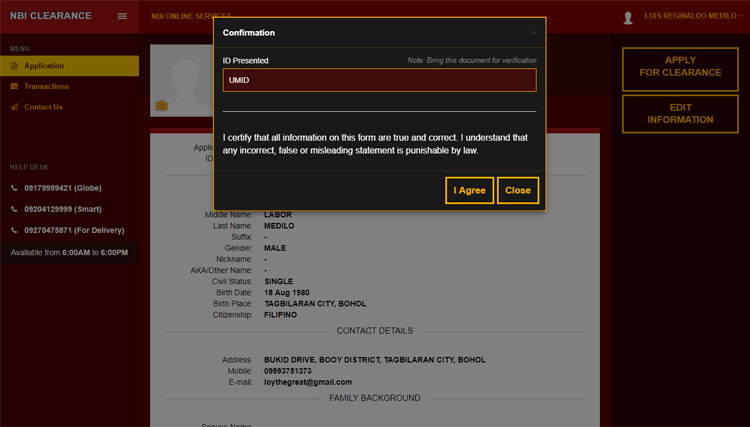 Step 6: You will then be presented with an important reminder, either in English or Tagalog. Click the Close button.
Step 7: Select the NBI branch where you want your NBI clearance to be processed using the drop-down box. Then choose your appointment date (vacant slots are colored blue). A confirmation of your appointment schedule will appear on the right side of the page.
Step 8: Click any of the payment options available, such as bank over-the-counter, online bank, Bayad Center, MultiPay, ECPay, and 7-Eleven. A payment reminder will pop up. Click the Proceed button. (In this example, I selected Bayad Center.)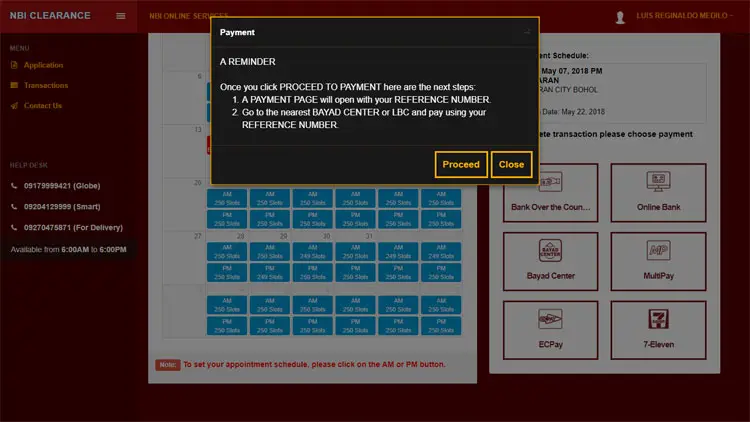 Step 9: A transaction summary will pop up. Click the Proceed to Payment button.
Step 10: Your reference number will then be shown. Use this reference number upon paying.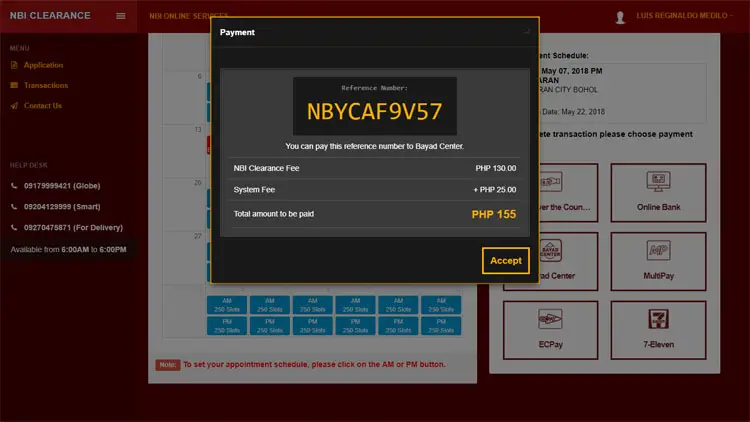 Step 11: Click the Transactions link on the upper left side of the screen to view your transaction.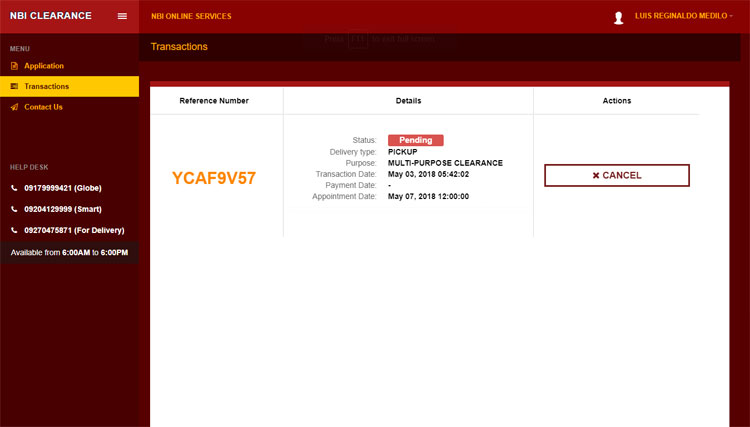 After payment, make sure to check your email for the payment confirmation. When your payment is verified, the status of your application will change from Pending to Paid. A Details button will appear on the right side.
Click that button and click the Print Application Form button to print the NBI clearance application form. Bring this application form to the NBI branch on the date of your appointment.
Note: It's no longer necessary to print your application form. You can simply list down your reference number on a piece of paper or screenshot it using your mobile phone.
You're now ready to claim your NBI clearance. Don't forget to bring your printed application form or reference number and a valid ID. Wear a decent, proper dress to avoid any hassles.
Claim Your NBI Clearance
Go to your chosen NBI office on your scheduled appointment date. These are the things you need for your appointment at the NBI:
Reference number
Payment slip or receipt
Valid ID (see below for the list of valid IDs)
Printed application form (optional)
Show your reference number and payment receipt to the officer-in-charge. Go to the processing station and give your valid ID to processor. The processor will check your name and personal information with the nationwide database. You will be asked to pose for a photo, and then your fingerprints and signature will be taken.
If you don't have a namesake, you will be able to claim your NBI clearance in just a few minutes. Otherwise, you will be told to return after several days. This is because there's a "HIT" and the NBI will take more time to verify your real identity. This happened in my case and I was asked to return after 8 days, which was odd considering that my name is fairly unique.
You will be given two copies of your NBI clearance – one for official use and one as your personal copy. Keep the personal copy for your records. The NBI clearance is valid only for one year. After the expiration of your NBI clearance, you can have it easily renewed through the NBI clearance website using the same account.
Frequently Asked Questions
What are the valid IDs needed to apply for an NBI clearance?
Here are some valid IDs:
Passport
Postal ID
Voter's ID
Driver's license
Senior citizen's ID
PRC license
SSS/GSIS/UMID ID
Philhealth ID
School ID
Tax identification number (TIN) ID
Alien certificate of registration
I have already paid, but my payment is not shown in my online application. Can I still proceed with my online application?
Sometimes, it takes a little bit more time for your payment to be reflected in the NBI website. You can still proceed with your NBI clearance application. Just show your payment slip or receipt to the officer in charge as well as your reference number.
Is it okay to get an NBI clearance as a walk-in applicant, without online registration?
Some NBI offices have a computer station where you can process your online application as a walk-in applicant.
Do I have to print and bring my application form?
Not necessarily. You can just show your reference number and payment receipt. The NBI already has a digital copy of your application form.
Why does it take a few days before I can claim my NBI clearance?
NBI clearances are usually released on the same day as your personal appearance. Names are scanned against a database, and if your name is matched with someone else (called a namesake), then your name will be verified further against a criminal history database to ensure that you don't have a pending case or criminal record. This is called a "HIT." In that case, the NBI will tell you to come back after 8 working days to claim your NBI clearance.
If you have any questions regarding your NBI online registration, don't hesitate to comment below. Don't forget to like us on Facebook to get the latest updates.