The Home Development Mutual Fund (HDMF), also known as the Pag-IBIG Fund, is the government agency responsible for providing Filipinos with housing assistance. If you're a member of the Pag-IBIG Fund, you might want to know the Pag-IBIG hotline numbers so that you can contact them if you need assistance regarding your questions or complaints.
Many Pag-IBIG members have expressed interest in contacting HDMF regarding their membership, housing loans, contributions, retirement claims, short-terms loans and other concerns. Oftentimes, it's not enough to search for answers on Google.
This is where the Pag-IBIG customer care center comes in. Pag-IBIG has partnered with local BPO company Pilipinas Teleserv to provide on-demand and personalized phone and online assistance to Pag-IBIG members and non-members.
In this article, we will discuss the Pag-IBIG contact numbers and the Pag-IBIG 24/7 call center where you will direct your account-related queries.
Pag-IBIG Hotline Number
In 2013, the HDMF launched the Isang Linggong Pag-IBIG hotline to serve their members better. Members and clients can inquire 24/7 about Pag-IBIG housing programs, loans, membership identification numbers and other related concerns. Before the launch of the 24/7 hotline, members can call Pag-IBIG during weekdays and from 8am to 5pm only.
The Pag-IBIG contact number to call is (02) 724-4244. The Pag-IBIG customer service center is open 24 hours a day, seven days a week. A customer care officer is always ready to attend to Pag-IBIG members' needs.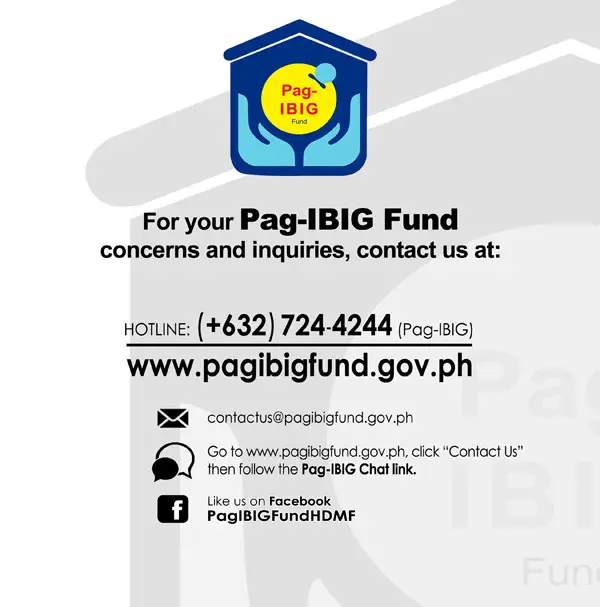 Pag-IBIG will attend and respond to your concerns according to the following criteria:
Nature of Concern
Duration
Pag-IBIG hotline queries
1 hour
Simple queries (General information)
Complaints
3 working days
Complex queries (Policy and loan-related queries, queries that require coordination with other Pag-IBIG offices)
Grave complaints
10 working days
Other Pag-IBIG Contact Details
The Pag-IBIG customer service center can also handle email and SMS inquiries.
Members can contact Pag-IBIG through email at [email protected].
For SMS or text inquiries, send a text message to 09178884363 or 09188984363.
You may also visit the Pag-IBIG website at www.pagibigfund.gov.ph and click the chat button at the bottom of the page. Please include your Pag-IBIG member ID for faster processing of your queries. Alternatively, you can use the website's contact form.
Pag-IBIG also has an official Facebook page where you can send a private message regarding your loan, membership, transaction follow-ups and other account-related concerns.
Did This Help You?
We hope that this short guide on Pag-IBIG hotline numbers will help you with your issues and concerns with the HDMF. Simply dial the Pag-IBIG contact number mentioned above to talk to a customer service agent who will readily assist you any time of the day. Should you have any remarks about the accuracy of the information provided here, please don't hesitate to comment below.