Whenever we want to open a bank account, we usually go to the bank to fill up an application form and submit some requirements. After that, we have to return to the bank to claim our ATM card. What if there's a way to open a bank account without personally going to the bank? UnionBank, one of the largest commercial banks in the Philippines, allows you to open a UnionBank savings account online, all in the comforts and convenience of your home.
With a UnionBank personal savings account, you'll enjoy zero maintaining balance and zero initial deposit. This means that your account will never be closed nor will it be charged with fees whenever it falls below the maintaining balance. What's more, you will get your own UnionBank debit card that you can use for online purchases, cashless transactions and ATM cash withdrawals. There's a ₱350 annual fee but it's waived for the first year. If you maintain a ₱10,000 average daily balance for the entire year, the annual fee is waived, too!
Furthermore, UnionBank is the best bank for PayPal in the Philippines. If you're a PayPal user, you can link it to your UnionBank account to make seamless withdrawals of your PayPal funds to your bank account. I've been using my UnionBank account to withdraw money from PayPal for more than a decade, and I've never encountered a single problem. My PayPal withdrawals are usually completed on the next banking day.
With your own UnionBank Visa debit card, you can go shopping or pay your bills online. Just like any other debit card, you can use your UnionBank card to make cashless purchases at any store that accepts Visa. Your card is automatically linked to your bank account so you only need to have enough money in your bank account to cover your purchases. You can also use your debit card to withdraw money at any UnionBank and BancNet ATM.
The good news is that you don't need to visit a UnionBank branch to open a savings account. All you need is a mobile phone with Internet access, as well as a valid ID. After your application is approved, you can request your UnionBank Visa debit card and it will be sent to you by mail. It's that easy and you don't even need to leave the house.
So if you're interested in opening a UnionBank account online, we've come up with this article to guide you through the application process. We're not connected or affiliated with UnionBank so if you have any questions about your account, just address your concerns to the bank.
Benefits of the UnionBank Savings Account
Some people have asked me if the UnionBank savings account is a "real" bank account. Of course, it's a real bank account that comes with a Visa debit card that you can use for shopping or to withdraw cash from ATMs. You can deposit money to your account, earn interest, transfer money to other bank accounts and many more.
These are the benefits that you can gain from your UnionBank savings account:
No initial deposit
No maintaining balance
No annual fees for the first year
Fees are waived if you maintain an average daily balance (ADB) of ₱10,000 for the succeeding year
Earn 0.10% interest with a minimum balance of ₱10,000
Get a free UnionBank debit card that will be delivered to your doorstep
Withdraw money at over 20,000 UnionBank and BancNet ATMs nationwide
Access your account on the app and the UnionBank website
Enjoy instant fund transfers to other banks via InstaPay and PESONet
Deposits are insured by the PDIC up to a maximum of ₱500,000
UnionBank Savings Account Online Application Process
The application process can only be done through the UnionBank mobile app. You can download the app from Google Play or the App Store.
Open the app and tap "OPEN AN ACCOUNT."
Select "Savings Accounts with Debit Card" as the account type.
Read the reminder about online account opening and click "CONTINUE."
You will be presented with a list of accounts that you can open. We recommend a UnionBank personal savings account so choose "Personal Savings" and tap "SELECT."
Review the reminders before proceeding to the next step. You will have to prepare a valid ID for scanning and verification. Tap "NEXT."
Read the customer declaration, terms and conditions, and privacy policy. Click "ACCEPT."
Provide your email address and mobile number. Press "NEXT."
Enter the one-time password (OTP) that was sent to your registered mobile number.
Now fill out your profile information, such as first name, last name and birthdate. Tap "NEXT."
Create a user ID and password which you will use to login to your UnionBank account. Tap "NEXT."
Optionally, you can enable Face ID authentication so that you can login without providing your user ID and password.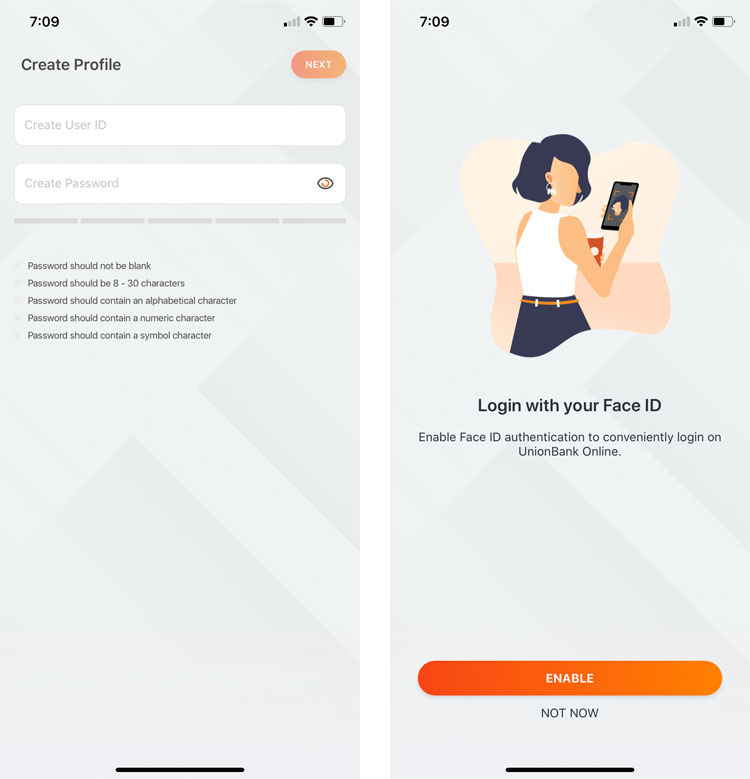 Enter your personal information including citizenship, birthplace, civil status and mother's maiden name. Tap "NEXT."
Provide your present address. If your present address is different from your permanent address, uncheck "Same as Present Address" and enter your permanent address. Press "NEXT" to continue.
Enter or select your financial information, such as employment status (employed, self-employed, retired, etc.), source of funds (salary, business income, personal savings, etc.), employer or business name, business industry, and occupation. Also provide the address of your employer or business. Tap "NEXT" when you're done.
Next is to provide some account details. Select the purpose of opening an account, whether personal savings, investment, purchases and more. Then choose your estimated monthly transaction and check the box to certify that you're not a US citizen. Tap "NEXT" to continue.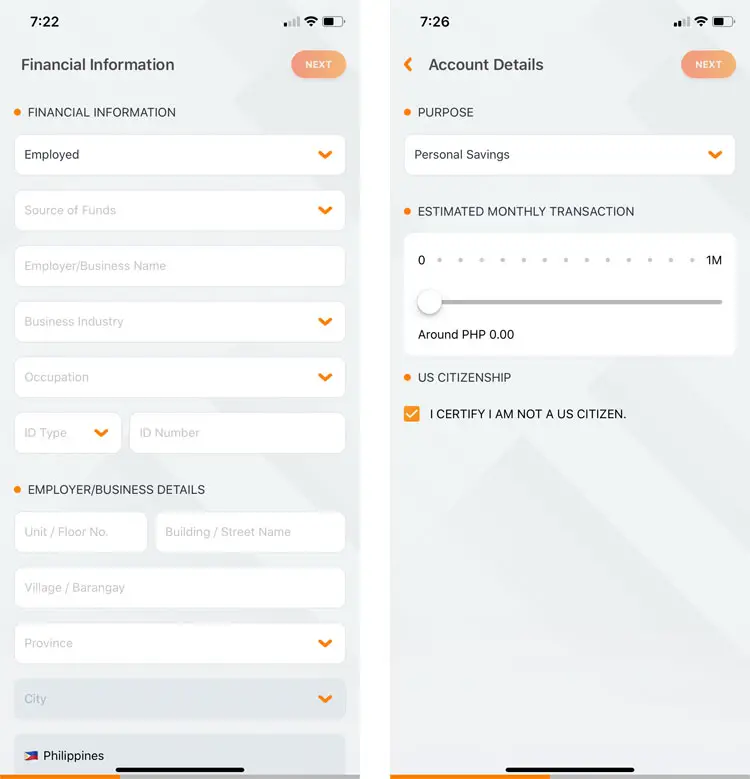 Now it's time to upload your identity document, such as a passport, driver's license, UMID or postal ID.
You will then be asked to scan your ID, take a selfie and sign your signature.
Review your submitted information to make sure that everything is correct and accurate. Check the box agreeing to the UnionBank terms and conditions, and click "SUBMIT."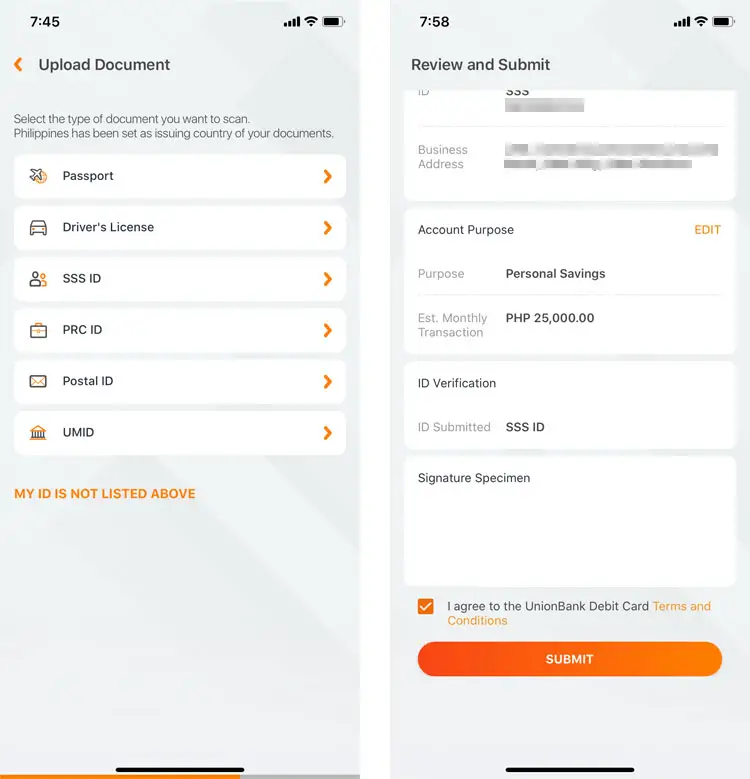 Congratulations, you have successfully opened your UnionBank savings account.
Check your email for the verification link and click that link to verify your account. Your UnionBank account will be activated within 24 hours and you will receive another email when that happens.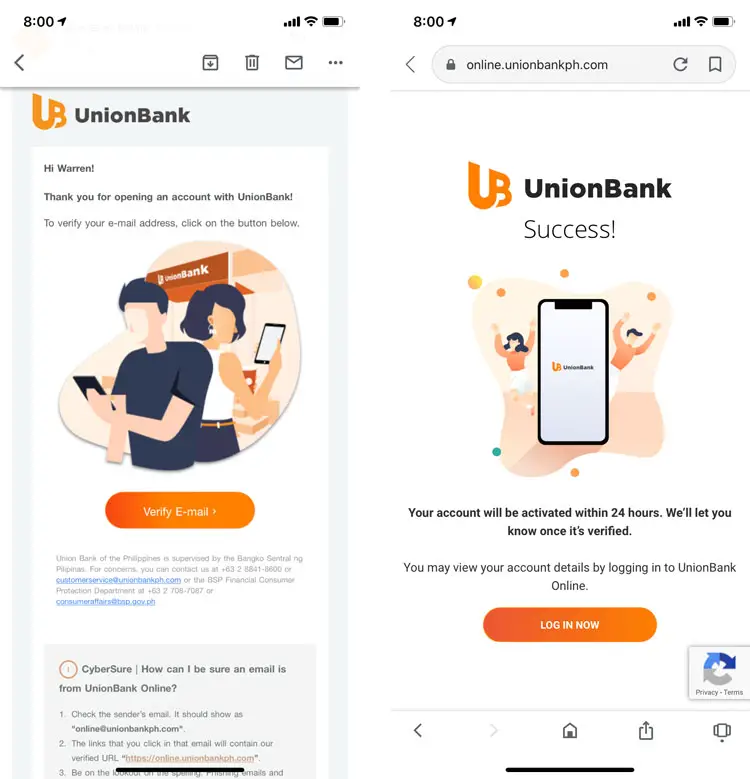 After activation, you can login to your UnionBank online banking account to check your balance, add cash, transfer money, pay bills and more.
How to Order a UnionBank Visa Debit Card
Your UnionBank savings account comes with a Visa debit card that can be used for cashless transactions, ATM withdrawals, and online purchases. You can order your physical card through the UnionBank mobile app and it will be delivered to your address within 1-2 weeks.
To order your UnionBank debit card, login to your account on the mobile app and select your available balance. Choose "Order a Physical Card."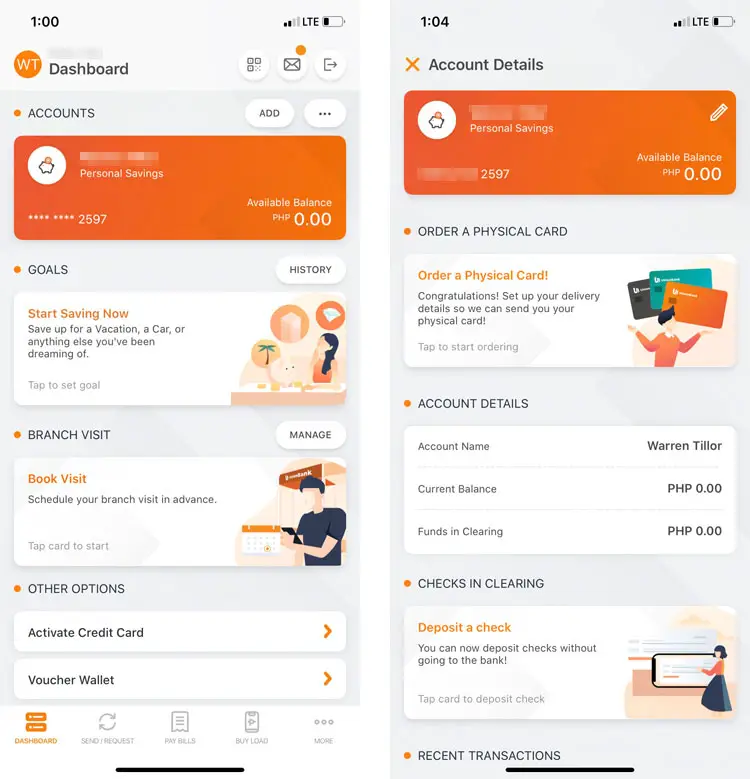 Select your card delivery address from the dropdown box and tap "NEXT."
Sit back and relax while you wait for your UnionBank debit card to be delivered to your doorstep, which is usually in 5-10 banking days.
The UnionBank debit card is free so you don't have to pay anything.
Activate your card by opening the UnionBank mobile app and clicking "Activate Card." Enter your card details to activate your new debit card. You don't need to activate it at an ATM.
What's Next?
Now that you have successfully opened your UnionBank savings account, you can start using it for all kinds of financial transactions such as:
Deposit money at any UnionBank branch
Send money to and from other local banks via InstaPay or PESONet
Send money to and from mobile wallets like GCash, PayMaya and Coins.ph
Transfer money to and from other UnionBank accounts
Withdraw money from PayPal
Make an in-app check deposit
Pay bills
Buy prepaid load
Don't forget to order your free UnionBank Visa debit card so you can withdraw your money at a UnionBank or BancNet ATM.
Final Thoughts
As you can see, opening a UnionBank savings account online is not that hard. All you need is a valid ID and you will soon have your own UnionBank account and debit card. You don't even have to prepare money for your initial deposit. Just follow the steps outlined in this article to get your own bank account without leaving the house.
Have any questions about applying for a UnionBank savings account? Just leave a comment below and we'll try our best to help.