Both natural and man-made disasters usually result in economic hardship for those who are affected by these calamities. When there's a disaster or calamity, people cannot work or earn their livelihood. That is why the Social Security System (SSS) has come up with the SSS Calamity Loan Assistance Program (CLAP) for their members who are negatively affected by the crisis. The CLAP provides emergency cash loans to SSS members who meet the basic requirements and criteria set by the agency.
The ongoing coronavirus (COVID-19) pandemic has undoubtedly caused hardship and difficulties to millions of Filipinos who can no longer make ends meet due to job layoffs, work cessation and business closures. Knowing this, the SSS launched the Calamity Loan Assistance Program to support members affected by the crisis.
The SSS calamity loan is available to all qualified SSS members, whether employed, self-employed or voluntary, and is equivalent to one monthly salary credit (MSC) based on the average of the last 12 MSC (rounded up to the nearest thousand).
So if you're interested in availing of the SSS calamity loan, we've come up with this short guide to help you breeze through the application process. You don't have to go to the SSS office since the entire application process is done online via the SSS website.
For this procedure, you'll need a computer or smartphone with a stable Internet connection. Make sure that you already have a My.SSS account. If you don't have a My.SSS account, you can register here.
SSS Calamity Loan Requirements and Eligibility
Are you eligible to apply for the SSS calamity loan? The following are qualified for the SSS Calamity Loan Assistance Program:
Must be a resident of the Philippines (with a home or work address in the Philippines).
Must have at least thirty-six (36) monthly contributions, six (6) of which must be posted within the last 12 months prior to the month of filing of application.
Has not been granted any final benefit, such as total permanent disability or retirement.
Must not have an outstanding Calamity Loan Assistance Program (CLAP) or Loan Restructuring Program (LRP).
The SSS Calamity Loan Assistance Program can be availed from June 15, 2020 to September 14, 2020.
SSS Calamity Loan Application Process
The SSS calamity loan application process is done solely through the Internet using your My.SSS account. What you need is a computer or laptop with a web browser (e.g. Google Chrome) and a reliable Internet connection. As of now, the SSS mobile app cannot be used to apply for the calamity loan.
If you encounter errors during the application process, you may refresh the page by clicking the reload button on your browser or hitting F5 on your keyboard.
Step 1: Log In to Your My.SSS Account
Go to the SSS website and log in to your My.SSS account.
Enter your user ID and password, solve the captcha ("I'm not a robot") and click Submit.
Once logged in, go to "E-SERVICES" in the menu bar and click "Apply for Calamity Loan."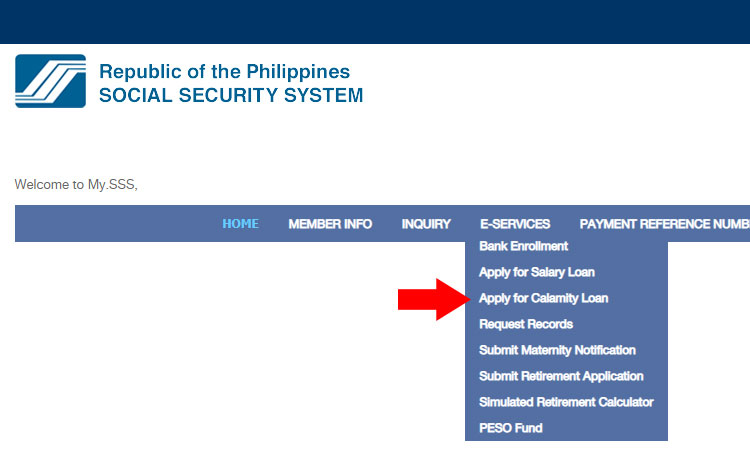 You might be asked to update your local mailing address before you can proceed with your application. If you have already updated your local mailing address in the past, then you can immediately fill out the SSS calamity loan online application form.
Step 2: Update Your Local Mailing Address
To update your local mailing address, check the box with the label "MAILING ADDRESS" as shown in the screenshot.
Provide your mailing address including house number, street, province, city or municipality, and barangay.
You can also update your telephone number, mobile number or email address if you wish, but these are optional.
After providing your mailing address, click the "NEXT" button. In some cases, this button may disappear after selecting the mailing address form. What you can do is to select and then unselect another box (such as "FOREIGN ADDRESS") so that the "NEXT" button will reappear.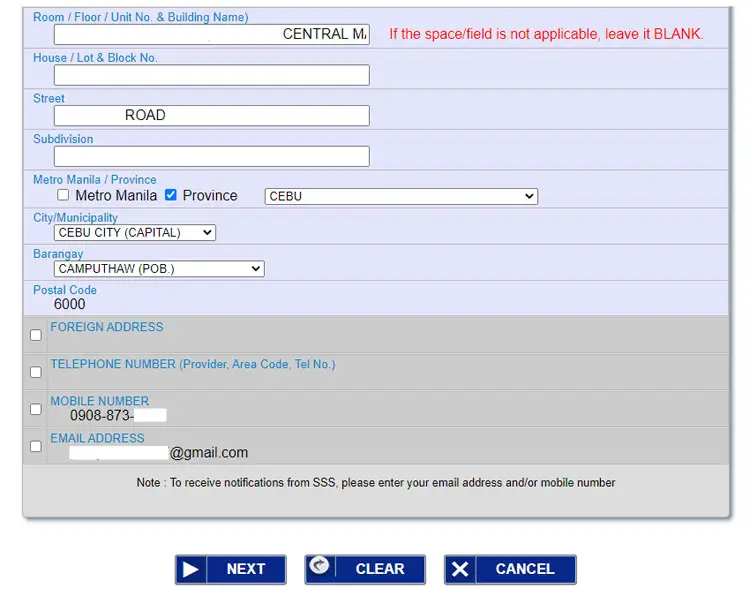 Review the details of your data change and everything is correct, click the "SUBMIT" button.
Click "OK" when the success dialog appears.
Step 3: Enter Your Bank Account Details (Optional)
Provide your bank account details if you want to have your loan proceeds credited to your bank account. At the moment, only UnionBank of the Philippines (UBP) savings accounts and UnionBank Quick Cards are eligible for electronic loan disbursement.
Select your bank (UNION BANK OF THE PHILIPPINES) from the dropdown box and enter your bank account number twice. Make sure that the bank account is in your name.
Check the box agreeing to the use of your personal data and click "Enroll Bank Account."
A dialog will appear asking if you want to submit your bank account details to SSS. Click "OK."
Your bank account is now enrolled with SSS and you can have your loan proceeds credited to your UnionBank account.
Step 4: Fill Out SSS Calamity Loan Application Form
Access the SSS calamity loan online application form by going to "E-SERVICES" and clicking "Apply for Calamity Loan."
Select the loanable amount from the dropdown box.
If you want to receive the loan proceeds in your bank account, choose the bank as well. Otherwise, choose your preferred check address, whether it's "Employer Address" or "Mailing Address." This is where your check will be sent.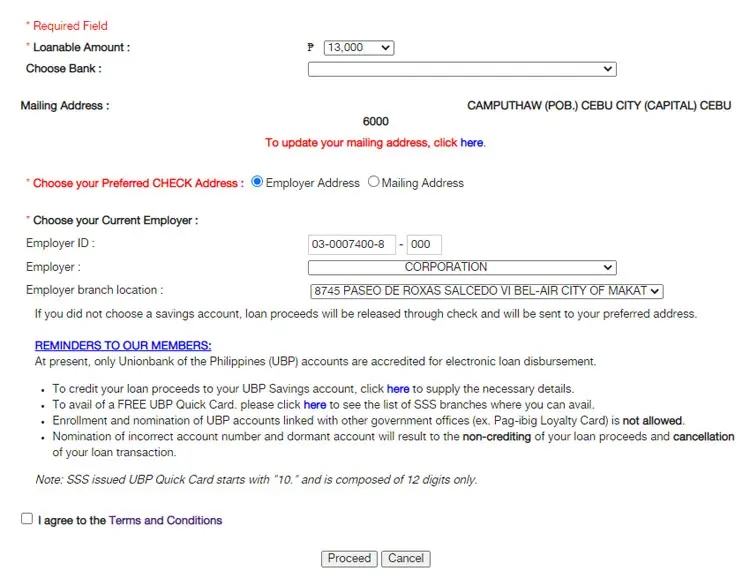 Choose your current employer. The employer ID and employer branch location will be automatically provided by the system.
Check the box agreeing to the terms and conditions. The SSS calamity loan terms and conditions document will open in a new window. You can read or print this PDF document.
Click "Proceed."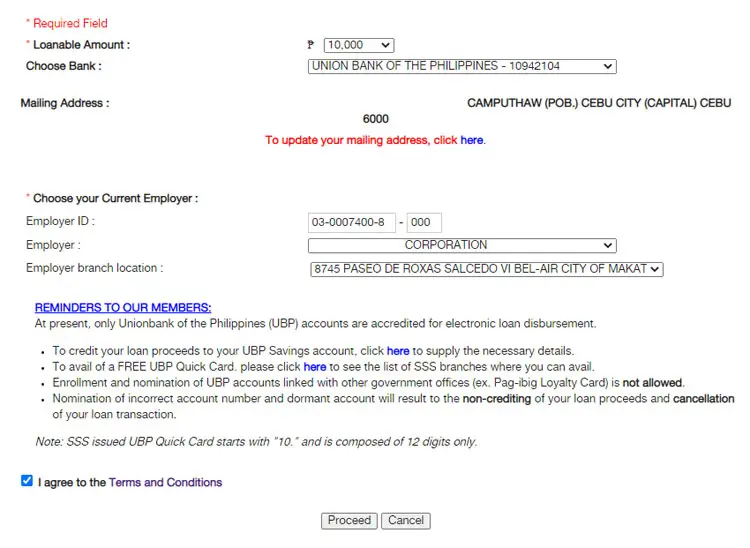 Review the Disclosure Statement on Loan/Credit Transaction. This document contains all the details of your SSS calamity loan including loan amount, charges or deductions, and the schedule of payments. You can download or print if you like.
Click "Proceed" for the next step.
Review your SSS calamity loan application and read the Certification, Agreement and Promissory Note.
Click "Submit" to proceed with your application and click "OK" when prompted.
You now have successfully submit your SSS calamity loan application. Save or copy your transaction number because you might need it for your inquiries.

You may regularly log in to your My.SSS account to check the status of your application. You will also receive a text message from the SSS informing you that your loan application has been approved. Loan proceeds will be credited to your account within 3 to 5 working days from approval date.
Schedule of Payments
The SSS calamity loan is payable in 27 months including the three-month moratorium period.
The loan amortization will start on the fourth month following the date of the approval of the calamity loan. For example, if your loan was approved on April 2020, then the loan amortization will start on August 2020.
The payment deadline will be on the last day of the month following the applicable month. If the deadline falls on a Saturday, Sunday or holiday, you can pay on the next working day. For instance, if the applicable month is August 2020, the payment deadline is on September 30, 2020.
Loan amortizations can be paid at SSS branches with payment facilities, SSS-accredited banks and SSS -authorized payment centers.
Interest, Fees and Penalties
The SSS calamity loan will be charged an interest rate of 6% per annum (year) commencing on the fourth month and computed on a diminishing principal balance. The loan will be amortized over the remaining 24 months. No advanced interest will be charged for the loan. A service fee of 1% of the loan amount will also be deducted from the loan proceeds.
Any excess amortization payment will be applied to the outstanding principal balance. A penalty of 1% per month will be charged for amortizations that are not remitted on or before the due date.
Amortizations that remain unpaid for more than 6 months shall result in loan default. In case of loan default, the full balance of the loan will become due and demandable. A defaulted loan will be charged an interest of 10% per annum based on the outstanding principal balance as well as a 1% penalty per month on the unpaid principal and interest until the loan is fully paid.
Conclusion
If you're one of those adversely affected by a disaster or calamity, you can take advantage of the SSS calamity loan program to help you during the difficult times. If you haven't done so already, you can also apply for an SSS salary loan. Both loans can be applied through the Internet so you don't need to visit the SSS branch and submit documents. After approval, the money will be sent via check or deposited directly to your bank account for you to use as you please. Don't forget to pay your amortizations on time to avoid additional fees and penalties.
If you have further questions about the SSS calamity loan and CLAP, visit the SSS website or call the SSS toll-free hotline 1-800-10-2255777 (1-800-10-CALLSSS).