You might think of IP addresses such as 10.0.0.0.1 as the unique identifiers that can point people on the Internet to your network (and allow you to start browsing in the first place).
Made up of four sets of numbers ranging from 0 to 255, each separated by dots, these public IP addresses are digital calling cards that can – with enough know-how – point people back to our physical locations.
There's more to IP addresses than the numbers people on the Internet may be able to associate with us, though. Sometimes, "I know your IP address" isn't frightening. Sometimes, it's a welcome reassurance that you'll always be able to adjust your router settings.
Enter 10.0.0.0.1.
You came here to learn about it, but the true magic of this IP address is more fascinating than you may think.
What is 10.0.0.0.1?
Let's clarify one thing to start off with: there's no such IP address as 10.0.0.0.1.
You can tell that 10.0.0.0.1 isn't an IP address because four sets of numbers go into each "traditional" (IPv4 – Internet Protocol version 4) IP address. Called octets, these numbers can range from 0 to 255 and are separated by dots.
The "famous IP address with all the ones and zeroes" is actually 10.0.0.1, but what's it for?
A Brief Look at the Purpose of IP Addresses
Internet Protocol (IP) addresses are numerical identifiers assigned to individual devices or Internet networks. They do two things. They identify the host (network interface), and they point to a device's location within the network.
Until 2011 when the more complex IPv6 protocol was first launched, each IP address was an IPv4 address. IPv4 remains the more common protocol worldwide, and it's based on 32 bits.
Some IPv4 addresses are public – they can connect to the Internet, where the websites users interact with can view them.
Others are private.
These IP addresses cannot be used to connect to the Internet. They're reserved for closed networks – such as to connect your computer to your router, whether within an office or home setting. (It goes beyond your router, though! Printers, wireless access points, network switches, and Network-Attached Storage devices also rely on private IP addresses.)
The Internet Assigned Numbers Authority (IANA) has reserved the following numerical ranges (or "blocks") for such private IP addresses, which are also called gateway IP addresses:
10.0.0.0 – 10.255.255.255
172.16.0.0 – 172.31.255.255
192.168.0.0 – 192.168.255.255
You'll quickly notice that 10.0.0.1 is the second out of millions of possible options here, making the IP address an obvious choice. It's also incredibly easy to remember.
OK, So What is 10.0.0.1?
The private IP address 10.0.0.1 is the default IP address for certain routers, including:
Xfinity routers (through Comcast)
LPB Piso Wifi routers – coin-operated wifi routers for public hotspots that charge by the hour
Some Cisco routers
Both 10.0.0.1 and other private IP addresses within the first block are most commonly used in professional settings, where numerous devices use the same router to connect to the Internet. Meanwhile, most home routers and other devices, such as printers, fall into the "192" range by default.
Don't be shocked if your home router doesn't use 10.0.0.1, in other words – but don't be too surprised if it does, either.
Each router has a default private IP address, but this default may subsequently be changed to any of the IP addresses reserved for private networks. System administrators may choose a new IP address for a number of reasons, including security and avoiding confusion with other devices.
Why Does Your Router Need an IP Address?
We're going to assume that you're not a system administrator or other IT professional – or you wouldn't be reading this. With that in mind, some additional background info can be helpful.
Your Internet service provider (ISP) supplies the IP address that lets you surf the Internet (and allows others to track you if you're not careful and hiding behind a VPN).
But all that Internet traffic has to go through your trusty router and it, too, needs an IP address so you can interface with it.
If you're lucky, someone from your ISP's tech support team comes to set your router up for you when you first sign your contract, and everything works just right from there.
If you're not, you'll have to connect to your router directly. You do that with your router's private IP address.
Although the output is a little different from what you're used to from the modern Internet, connecting to your browser is as easy as opening any website. Just type http:// followed by your router's IP address, hit enter, and Bob's your uncle.
From there, you can view your dashboard, change the password, alter your port settings, install firmware updates, and engage in troubleshooting. (If you know what you're doing. If you don't, don't worry – your ISP's tech support team can usually help you out with that over the phone.)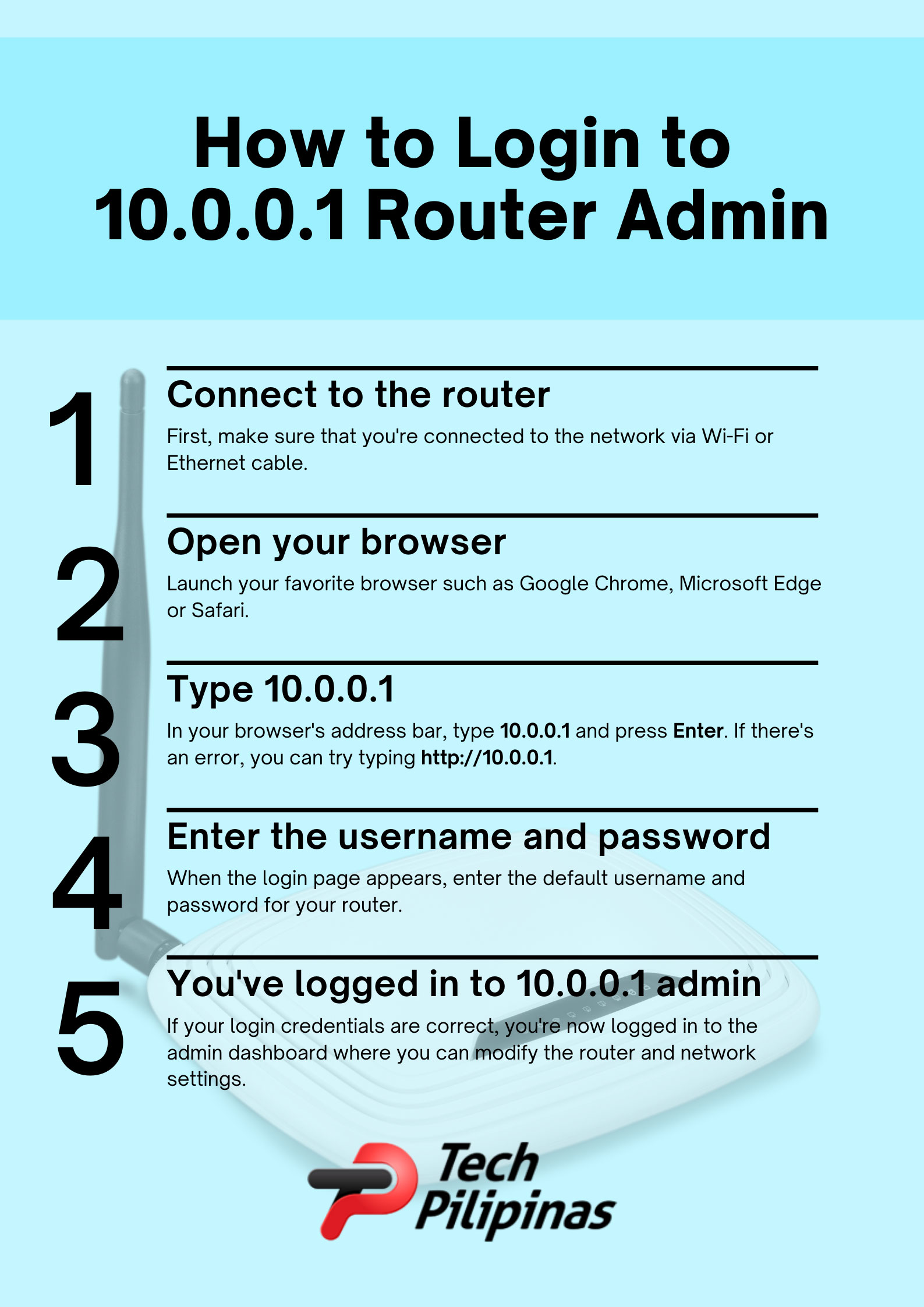 How to Check Your Router's IP Address
You might want to connect to your router to troubleshoot Internet connectivity issues or change key settings. That can be intimidating if you have never done it before, but first, you have another problem.
How can you find out what your router's IP address is in the first place?
Thankfully, you have several options.
Inspect Your Router
Taking a good look at your router should always be your first step. (Trying to find your router's IP address is just about the one time nobody would offer "Have you tried turning it off and on again?" as your gateway to tech hell.)
Manufacturers often place a label on the back or bottom of the router. The essential info you'll find there usually includes the router's default IP address – which is amazing!
Don't worry if you don't find that label, though, or if it's been scratched off or damaged. You should still be able to gain information about the router's brand and model.
If you attain success in that domain, you're probably just a few Google searches away from your router's default IP address. Router manufacturers usually publish it on their websites, and that's true for Xfinity/Comcast (which uses 10.0.0.1) as well!
Hint: If you still have the router's manual, that can also contain valuable information. It will, at the very least, provide the model number or name. That allows you to dig further and find the manufacturer's default IP address.
Use Command Prompt (on Windows, Mac, and Linux)
People who are comfortable with the command prompt interface or terminal (and even those who aren't) can also try figuring out their router's IP address there.
Using command prompts is easier than you think:
On Windows, press the Windows key + R to launch that scary Run dialog. Next, type "ipconfig," hit enter, and wait for a list of network configurations to show up. Your router's IP address should be under "Default Gateway."
On Mac, launch your terminal, type "ifconfig," hit enter, and look for "default" to find your router's IP address.
Last but not least, people running Linux systems can (on most distros) open the terminal, type "ip route show," hit enter, and note the numbers after "default via."
'Obligatory Other': What if This Doesn't Work?
It will, but some routers don't have identifiable brands or model numbers, and some people are scared of the command line.
You can also:
Call your Internet service provider. ISPs and router manufacturers can both have dedicated apps through which you can access your router's configurations.
Call in tech support – in the form of your sys admin grandson, ISP's tech support staff (if your Internet provider supplied your router alongside your contract), an independent professional, or random strangers on the Internet.
Congratulations: You're In!
Once you know your router's IP address, you just have to type http://[your router IP] into your regular Internet browser, such as Firefox, Safari, or Google Chrome, to begin interfacing with your router.
If your router's IP is indeed 10.0.0.1, you'll just have to type http://10.0.0.1 – without any suffixes at the end. Hit Enter, and you'll be prompted to log in.
How to Login to 10.0.0.0.1 Router Admin
The private (or gateway) IP address 10.0.0.1 unlocks access to your router's configuration panel, allowing you to modify your network settings and ensure a smooth Internet experience.
After navigating to http://10.0.0.1, you'll have to enter your username and password. Hopefully, you have them written down or saved in your password manager.
Follow these steps to login to 10.0.0.1 (10.0.0.0.1) admin:
Connect to the router if you haven't done so already.
Open your Internet browser such as Google Chrome, Firefox or Safari.
Type 10.0.0.1 in your browser's address bar and press Enter.
Enter the default username and password in the provided fields and press Sign In.
Congratulations! You've successfully logged in to the admin dashboard.
10.0.0.1 (10.0.0.0.1) Login Problems and Issues
Accessing a router with a 10.0.0.1 default IP address gives you the power of a mini-god in your network. Unfortunately, you may come face to face with Murphy's Law along the way.
Can't Remember Username or Password
If you don't know the username or password (because someone else set the router up), you can try:
Calling your Internet service provider (if it supplied the router you're using).
Googling the defaults for your manufacturer.
Simply entering "admin" as your username and password. It works more often than you might think because many manufacturers set it as the default.
Take this as a learning opportunity.
You do want to change the default username and password, because failure to do so leaves you vulnerable. If you can "hack" into your router by putting "admin" in twice, so can anyone else in the vicinity.
Your Connection is Not Private
That's usually OK. Your router might not have an SSL certificate like most websites do these days. It might have a self-signed certificate that your browser doesn't trust.
You're connecting to your router, not a scam site, so don't worry too much here and just make the connection.
This Site Can't Be Reached
This error indicates connection issues and can be caused by various factors:
You may have switched your router off.
Your router's IP may not be 10.0.0.1 but something else. Check!
You may have typed the address in incorrectly. Try copy/pasting http://10.0.0.1.
Your firewall may be blocking access. Try disabling it while you configure your router.
The router's firmware may be outdated and require updating before you can access the configuration panel.
Incorrect IP Address
It's common to mistype 10.0.0.1 as 10.0.0.0.1. That will cause an error message.
You also have to make sure to include the http:// part! It's http://10.0.0.1.
10.0.0.1 Took Too Long to Respond
This particular error message indicates that your computer tried but failed to connect to the IP address in a reasonable time. It gives up after a while, resulting in the "Took Too Long to Respond" error.
Try restarting your router. It sometimes does the trick.
What is 10.0.0.0.1 (10.0.0.1)? A Final Word
You now know that 10.0.0.1 (commonly mistyped as 10.0.0.0.1) is a common default gateway IP address.
Private IP addresses allow users to connect directly to electronic devices such as printers and routers, and Xfinity/Comcast routers and LPB Piso Wifi routers (coin-operated wifi hotspots) both use 10.0.0.1 by default. The same holds true for some Cisco modems.
The IP address 10.0.0.1 falls into the assigned private IP address range, meaning it's only ever meant for local network use and can't be used to connect to the world wide web.
People mistype this common default IP address as "10.0.0.0.1" quite often, a problem that can lead to an inability to connect to the router's interface.
To avoid this issue, simply remind yourself that 10.0.0.1 is an IPv4 address. They always have four sets of numbers, separated by dots – so count. If your router's default IP address is 10.0.0.1, you're going for a 10, a dot, a zero, a dot, and a 1 (without a final dot). That makes for a total of four numbers.
If your router's gateway IP is 10.0.0.1, you can access its configuration panel by typing (or copy/pasting) http://10.0.0.1 into your browser's address bar. Prepare to be met with a username and password prompt, and learn how to make the changes you're after before you set off on this adventure!