You've probably landed in this page because you want to know how to activate your DITO SIM. You're excited to experience DITO but the problem is that you don't know how to activate and use their SIM on your phone. Look no further because we're here to teach you how to activate the DITO Telecommunity SIM so that you can immediately enjoy the blazing fast connectivity of the Philippines' newest telecommunications network.
DITO Telecommunity had their commercial launch last March 8, 2021 to much fanfare and since then has racked up more than 12 million subscribers (and counting). At the moment, DITO is available only in selected cities and towns in Metro Manila, Luzon, Visayas and Mindanao, although it's widely expected that the whole country will be covered by the end of the year.
If you don't have the DITO SIM card yet, you can purchase one from Lazada for only ₱199 which includes 25GB mobile data, unlimited texts to all network, unlimited DITO-to-DITO calls, and 300 minutes of calls to other networks – good for 30 days.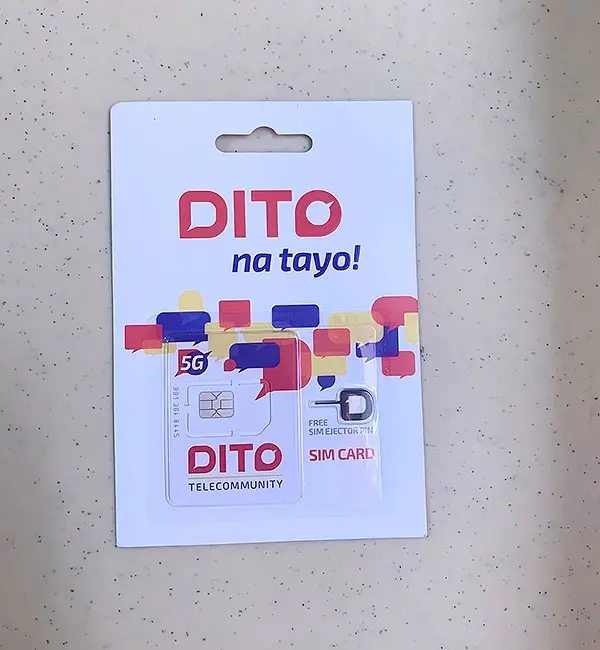 So without further ado, let's talk about how to activate your DITO SIM so that you can enjoy the best that DITO can offer.
Attention:
If you want to register your DITO SIM instead, you can
read this article
to learn how.
DITO SIM Activation Process
Before you activate your DITO SIM, first make sure that your mobile device is DITO-compatible. If your device is not on the DITO-compatible phone list yet, you can still enjoy high-speed data as long as you are within the DITO-covered areas and your mobile device is 4G or VoLTE-capable. However, calls and SMS are not guaranteed.
Follow these steps to activate your DITO SIM:
Step 1: Download the DITO app
The first thing you have to do is to download and install the DITO app from Google Play or the App Store. You can use your WiFi connection or mobile data from another network.
The DITO mobile app is your gateway to all DITO services, allowing you to buy load, check your balances, register to promos, share load or data, contact customer support, and many more.
Step 2: Insert the DITO SIM
Using the free SIM ejector pin, insert the DITO SIM on your mobile device's SIM slot. If your phone is dual SIM, insert the DITO SIM into the SIM 1 slot only.
Step 3: Turn on VoLTE
Next is to turn on Voice over LTE (VoLTE), a technology that allows you to make clearer calls over modern LTE networks like DITO. Follow these steps to enable VoLTE for your mobile device (the steps may differ depending on your phone):
Turn on mobile data.
Go to Settings and click Connections.
Choose Mobile Networks.
Locate and turn on VoLTE Calls.
If successful, you will see the VoLTE icon on the status bar.
If you can't locate VoLTE using the steps above, the option might be found in Cellular Network, Call or Call Settings (or something similar). You can also try searching for "VoLTE" or "Voice over LTE" in Settings.
Step 4: Change APN Settings
If you still can't access the data service after turning on VoLTE, you will have to change your APN settings. APN stands for Access Point Name and is the gateway between a mobile network and another network.
Follow these steps to edit the DITO APN settings (the steps might differ depending on your phone):
Go to Settings and click Connections.
Select Mobile Networks.
Choose Access Point Names.
Click the Add button and type internet.dito.ph in the APN field. Click OK to save.
Turn on mobile data (if you haven't done so already) and wait for the welcome message.
You will receive a welcome text message from DITO that contains a link to download the DITO app and your initial login password.
Step 5: Log in to the DITO app
Open the DITO app. Click "Sign in with your DITO number" and login using the initial password included in the welcome message.
Step 6: Enjoy DITO
Congratulations! You have now activated your DITO SIM. Use the DITO app to buy load and register to promos. You can also buy load from your DITO SIM retailer.
Frequently Asked Questions
Do I need to load my DITO SIM in order to activate it?
You don't need to load your DITO SIM before proceeding with activation. Newly purchased DITO SIMs come with enough mobile data to facilitate the activation process.
How do I know if my mobile phone is compatible with DITO?
Check out this list of mobile phones that are compatible with the DITO network. Take note that if your phone is not on the list, it doesn't mean that your device is incompatible with DITO. Sometimes, it takes time to include phones in the list.
Can I still send text messages or make calls if my phone is not DITO compatible?
You can still send text messages and make calls even if your mobile phone doesn't support VoLTE and is deemed incompatible with the DITO network. However, the quality of calls and the delivery of SMS are not guaranteed.
I've followed all the steps but my DITO SIM is not yet activated. What should I do?
Should you encounter issues with DITO SIM activation, you may visit any DITO store to request assistance or call the customer support hotline 185.
My DITO SIM is already activated. How can I register it?
If you have already activated your DITO SIM, you may proceed to the SIM registration process using the DITO mobile app. Read this article to learn how to register your DITO SIM.
Wrapping Up
There you have it. You've just learned how to activate your DITO SIM card and experience the exciting new world of DITO. If you're still having issues with activating and using your new DITO SIM, call the customer support hotline 185 or message the DITO Facebook page.