There are several reasons why you'd want to temporarily disable Avast antivirus on your computer or laptop. Maybe you want to access a website or install a program that's being blocked by the software. Whatever the reason is, we're here to teach you how to disable Avast antivirus temporarily.
Avast is one of the most trusted names in the IT security industry, and Avast antivirus software is one of the best-selling antivirus programs in the market. Due to the fact that Avast offers a free version of their popular antivirus software, it's no wonder why it's so popular among many computer users. That said, Avast is not perfect and there may be times when it gives you problems like blocking your favorite website or preventing you from installing software. False positives are not uncommon among many antivirus programs although they tend to be reliable for the most part.
So instead of removing Avast from your computer, you can temporarily disable it for specified period of time. You can also manually re-enable Avast after you're done accessing a website or application that was blocked by the antivirus.
Method 1: Disable All Avast Shields
The easiest and quickest way to disable Avast is to turn off all Avast shields, which are components that help protect your computer from threats. Avast antivirus has four shields: File Shield, Behaviour Shield, Web Shield and Mail Shield.
In this method, we will disable all Avast shields for a temporary period of time, or even permanently. We don't recommend disabling Avast permanently as it will leave your computer vulnerable to external threats like viruses and malware. Disabling Avast for 10 minutes will usually give you enough time to install that software or driver that the antivirus has been blocking.
To disable Avast shields, click the arrow on the taskbar (as shown in the screenshot below). A list of hidden icons will appear, one of which is the Avast antivirus (the Avast icon is orange colored). Right-click the Avast icon and a menu will appear.
Go to "Avast shields control" and then click any of the following options:
Disable for 10 minutes
Disable for 1 hour
Disable until computer is restarted
Disable permanently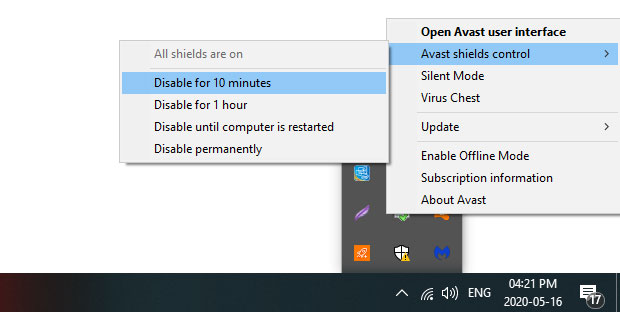 A warning dialog will appear with the message, "Are you sure you want to stop All shields?"
Click "OK, STOP" to disable Avast shields.
The Avast antivirus is now temporarily disabled. To re-enable all shields, just go to "Avast shields control" and click "Enable all shields."
If you disabled all Avast shields for a long time, such as 1 hour or permanently, be sure to re-enable it manually to prevent your computer from being infected by viruses, malware or ransomware.
Method 2: Disable Core Shields
Another way to disable Avast temporarily is to disable a core shield. This is safer compared to disabling all shields since you're only turning off a single shield, allowing other shields to continue protecting your computer.
For example, if Avast is preventing you from opening your files, you can temporarily disable File Shield only. That way, Avast stops scanning your files while you continue to enjoy antivirus protection as you surf the web.
To disable Avast core shields, launch the Avast user interface by clicking the arrow on the taskbar (as shown in the screenshot below) and then double-clicking the Avast icon. You can also right-click the Avast icon and then click "Open Avast user interface."
On the Avast user interface, click the "Protection" icon on the left navigation menu.
A slideout menu will appear. Click "Core Shields."
Choose the core shield that you want to disable:
File Shield – Scans any file added to or opened on your PC
Behaviour Shield – Warns you if any application behaves suspiciously
Web Shield – Blocks web attacks and unsafe downloads
Mail Shield – Blocks dangerous email attachments
To disable a core shield, click the green toggle button.
Select how long you want to turn the shield off, either 10 minutes, one hour, until the next restart, or indefinitely.
A warning dialog will appear, asking if you really want to stop the shield.
Click "OK, STOP" to disable the core shield.
Avast antivirus is now temporarily disabled for the specified period of time. To re-enable Avast, just switch on the disabled core shield.
That's It!
You've just realized how quick and easy it is to temporarily disable Avast. Keep in mind that turning off your antivirus is only a temporary workaround and you should not disable it permanently. With so many online threats from viruses and malware, a computer without a reliable antivirus is like a house without a door. Be sure to re-enable your antivirus program after you've done your work.