When sending money through Western Union, you usually go to the remittance center and then your recipient also claims the money at the nearest Western Union agent. But do you know that you can claim your Western Union remittance online using GCash? That's right, you don't need to go the remittance center to claim your Western Union payout. You can just do it right on your mobile phone through the GCash app.
Western Union is arguably the biggest name in international money remittance and countless Filipinos use it to send their hard-earned money to their families and loved ones back home. With over 500,000 agent locations in more than 200 countries, everyone can send money to anyone anywhere in the world.
Just like most people, I used to go to the Western Union agent outlet to claim my money. It takes some time and effort because I had to fill up a payout form, present a valid ID and wait for the teller to release the cash after converting it into the local currency. All that is a thing of the past as I can now claim my Western Union payouts easily and conveniently through the GCash app. There's no need to leave the house and go to the nearest Western Union outlet to claim my money.
If you don't have a GCash account, you can sign up here to get free ₱50 in your wallet after verifying your account. Your GCash account must be verified in order to claim money from Western Union. Read this article to learn how to verify your GCash account.
How to Transfer Money From Western Union to Gcash
First, log in to your GCash app and click "Cash In."
Scroll down and select "Western Union" under "Remittance."
Enter the expected amount in Philippine pesos and the Western Union reference number or MTCN.
If the payment amount is in US dollars or other foreign currency, you'll have to convert it first to Philippine pesos. Click here to convert your foreign currency to pesos. Don't worry if you entered the exact peso amount since the system will automatically provide the exact amount in the next step.
Tap "NEXT" to proceed to the next step.
On the confirmation screen, you can now see the actual amount that you'll receive, the MTCN and the sender's name. Tap "CONFIRM" to finalize the transaction.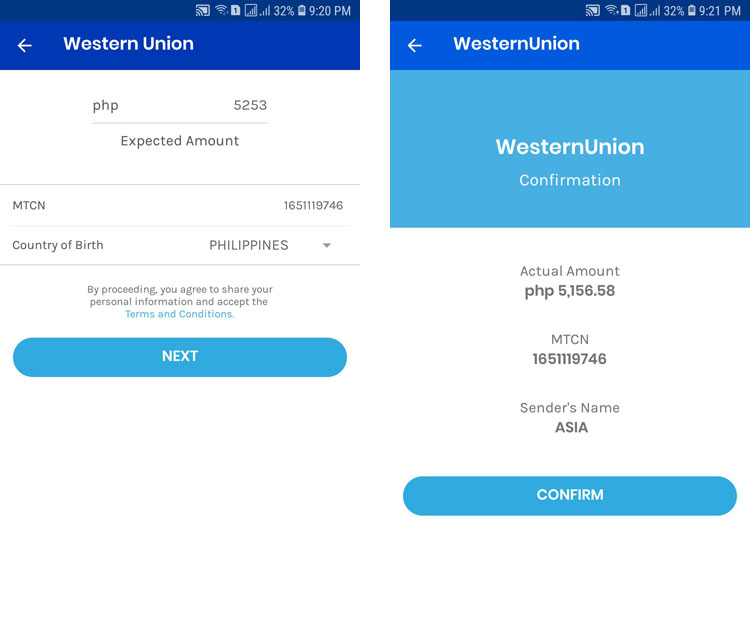 Congratulations! You have successfully cashed in from Western Union to your GCash wallet. Check your available GCash balance to see if the amount has been added to your wallet.
You will also receive a text message confirming your Western Union cash-in transaction and the reference number. Keep it just in case of dispute.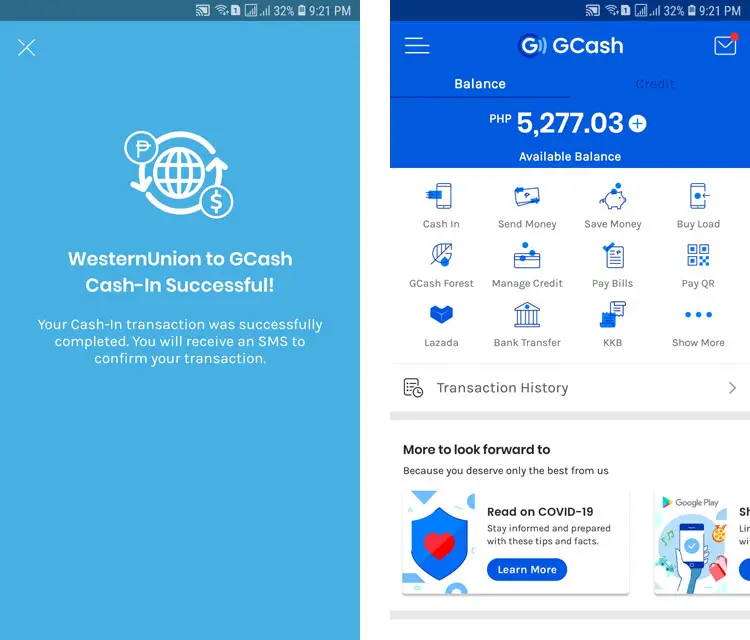 Take note that the name of the Western Union recipient must be the same as the name of the GCash account holder. So it's not possible to claim a Western Union remittance via GCash aside from your own.
Once the money is in your GCash account, you can transfer it to your bank account or you can use your GCash MasterCard for easy cash withdrawals at any BancNet ATM.
Transaction Limits
There's a limit of $500 (approximately ₱25,000) per transaction. You can receive up to $1,500 (about ₱75,000) per day.
Keep in mind that verified GCash users have a monthly incoming transaction limit of ₱100,000. So if you attempt to cash in an amount that exceeds your remaining transaction limit, then the cash-in transaction will be unsuccessful. You can contact GCash and they may increase your transaction limit temporarily subject to their evaluation.
Conclusion
Claiming your Western Union remittance using GCash is so easy and straightforward. Since GCash is licensed and monitored by the Bangko Sentral ng Pilipinas, you can be assured that your money is safe and secure. You can use the GCash app for online shopping, bills payments and other cashless transactions.
If you have any questions or concerns about claiming your Western Union remittance through GCash, don't hesitate to call the customer service hotline 2882.