Aside from photos, videos and documents, Facebook users can also send audio files or voice clips via Messenger. Some people like to create and send voice clips because it takes relatively less effort than typing messages. Unfortunately, Facebook by default doesn't allow you to download audio from Messenger – at least through the app. Luckily for you, there are some ways to download audio files from Facebook Messenger and we're here to show you how.
Maybe you want to download audio from Messenger and save it on your device for future playback. The Messenger app doesn't have the ability to save or download voice clips or audio files, even though you can share delete or share them. So you're stuck with audio that you can't save to your smartphone and which you will have to play solely in the chat window. But if there's a will, there's a way. We're here to teach you how to download audio files from Facebook Messenger with just a few simple steps.
Method 1: Use Your Mobile Browser
Every smartphone comes with a stock mobile browser for accessing the Internet, but if your phone doesn't have one or if you don't like the stock browser, you can download Chrome or Firefox.
Type m.facebook.com on your mobile browser (or just enter facebook.com and the browser will redirect you to the mobile site) and log in to your Facebook account. Go to your messages and open the conversation where the audio file or voice clip is located.
Click the audio file or voice clip (it starts with "audioclip") and the file will be downloaded immediately.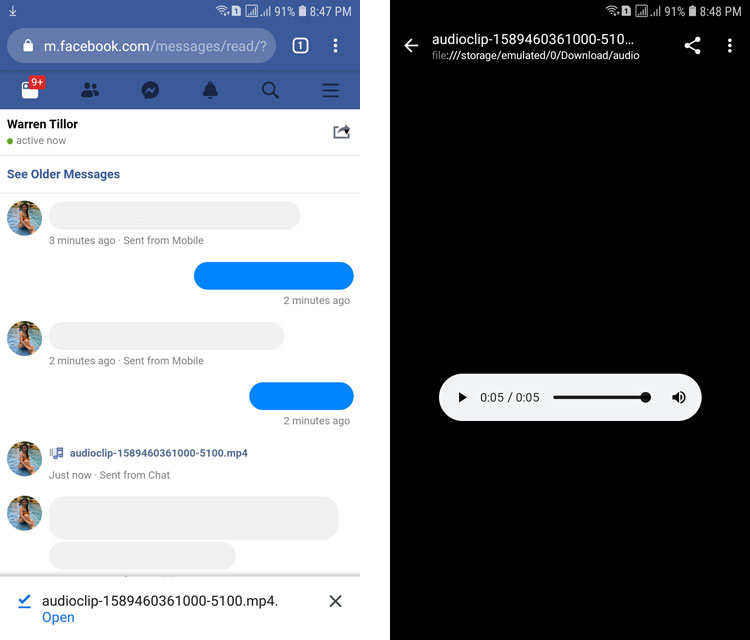 Easy, isn't it? This method also works on desktop browsers as long as you access the mobile version of Facebook.
To download audio files from Messenger on your desktop computer or laptop, open m.facebook.com on your web browser, go to your messages and open the conversation where the audio file is located. Locate the voice clip or audio file, and then click the three vertical dots to the right of the audio. Finally, click "Download." The audio file will be downloaded to your computer's designated download folder.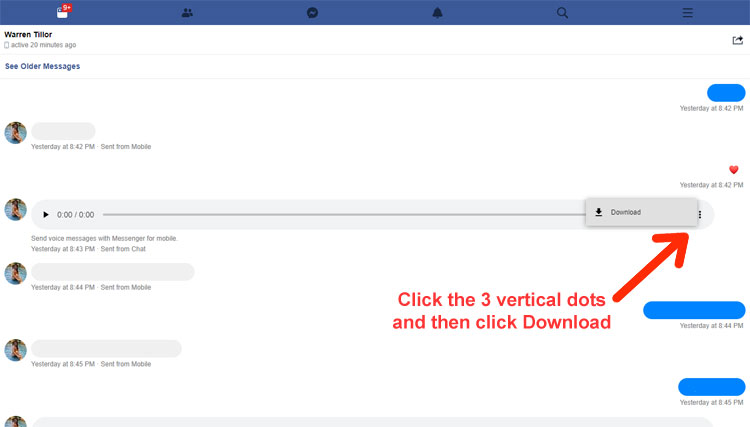 Method 2: Use Chrome Developer Tools
This method is quite advanced and involves using Chrome's Developer Tools to download the audio file from Facebook Messenger.
On Google Chrome, go to the Facebook conversation or chat window where the audio file is located. Launch Developer Tools by clicking the kebab icon (3 vertical dots) on the top-right portion of Chrome, navigating to "More Tools," and then clicking "Developer Tools."
You can also launch Developer Tools using the keyboard shortcut Ctrl + Shift + I.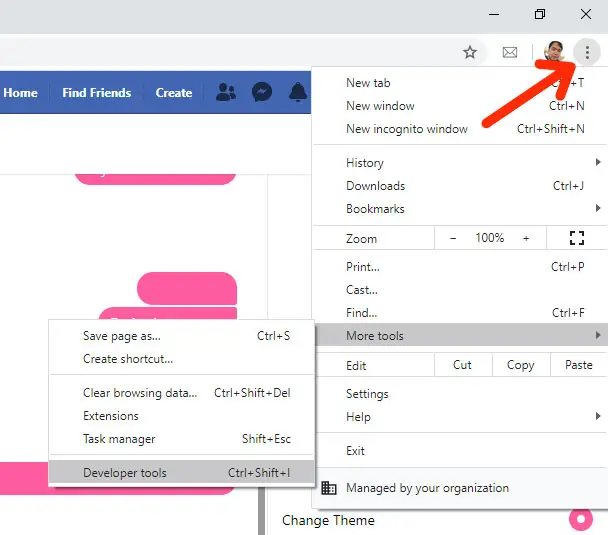 A pop-up window called DevTools will appear. Click the "Network" tab at the top of the window.
On the Facebook chat window, play the audio file or voice clip. While the audio is playing, go back to the DevTools window and you will see the audio file with a name starting with "audioclip." Double click that name to download the audio file.
The audio file will be automatically downloaded to your designated download folder (e.g. C:\Users\user\Download).

If your computer cannot play the audio file, you can install VLC media player or simply convert the file into a compatible format like MP3.
Method 3: Use an Audio Recorder
Another way to "download" audio from Messenger is to record it using an audio recorder application. There are several software and apps that allow you to record audio playback on your screen, such as Audacity for Windows computers or Piezo for Mac.
Technically, you will not be downloading the audio file or voice clip. Instead, you will be playing it on your device and then recording the audio, which will then be saved as an audio file.
The disadvantage with this method is that background noise will tend to be included in your recorded audio. So don't be surprised if the sound of your barking dog or crowing roosters will be heard in the audio that you recorded. However, background noise can be easily removed using audio editing software like Audacity.
If you're using an Android smartphone, we recommend the Hi-Q MP3 Voice Recorder app to record your audio on Messenger because it has a notification drawer and widgets for one-tap recording. This means that you don't have to open the audio recorder app. Just play the audio clip on Messenger and tap the notification drawer to start recording right away.
Conclusion
Saving or downloading audio files and clips from Messenger might take a little bit of work but it's better than nothing. You don't need any special tools – all you need is a web browser on your mobile phone or computer. You can even use an audio recording app or software if you prefer.