Many of us already know that GCash is an excellent way to send and receive money, pay bills, buy prepaid load, shop online, and more. But do you know that you can earn money by recommending the country's number one e-wallet app to your friends? Simply share your GCash referral code and you will earn handsome commissions for every signup made through your code or link.
With your GCash referral code, you can earn up to ₱1,250 per month inviting your friends, family and even complete strangers to sign up to GCash. It's not much but it's extra cash for doing nothing more than sharing your GCash referral code on Facebook, Messenger and other social media sites. Once your friend clicks your referral link and then registers to GCash, you will earn ₱50 after account verification.
You will not earn anything until your referral verifies his GCash account and completes his first cash-in, so make sure to remind him to verify and upgrade his account. All you need to verify your GCash account is a valid ID and a selfie photo. Read this article to know more about how to verify your GCash account.
Since each user is only limited to ₱1,250 per month in referral commissions, you can only refer up to 25 new signups within that month. After that, you will no longer earn money for new signups until the next month. It's certainly a bummer but GCash probably put those limits to prevent abuse and to promote an even playing field.
Referring your friends to GCash may not make you a millionaire but it helps you to pay the bills and keep the lights on. The great news is that all GCash users have their own referral code that they can share with their friends via text message, social media and online messaging apps. There's no need to apply to be an affiliate because the GCash referral code is readily available on the GCash app, waiting for you to promote it on Facebook, Messenger, WhatsApp and many more.
Some of you may not know where to find their GCash referral code, so we've come up with this guide to help you get your own referral code or link. If you don't have a GCash account yet, follow this link to register for free. You can also read our complete guide on how to register to GCash and verify your account.
Where to Find Your GCash Referral Code
It takes only three simple steps to find your GCash referral code. Actually, GCash will not give you a "code" but only a link along with a short invitation message. The GCash referral code is appended to the link or URL but your referrals will have to click on your link to register an account.
Here are the steps to find your GCash referral code (make sure that you have the GCash mobile app already installed):
Step 1: Open the GCash app on your smartphone and login using your MPIN. Once logged in, tap the "PROFILE" button at the lower-right portion of the screen.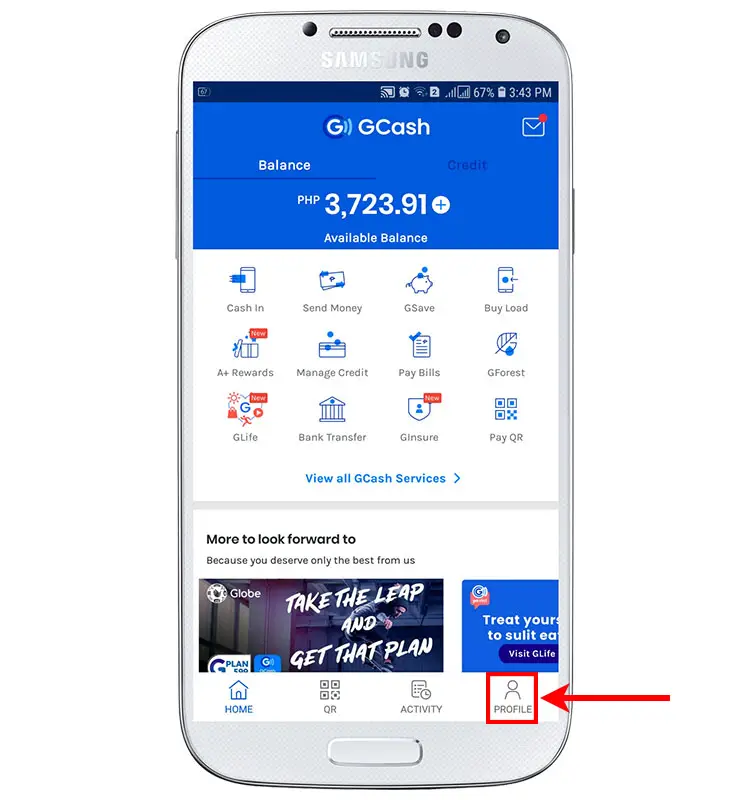 Step 2: The main menu will appear. Select "Refer Friends."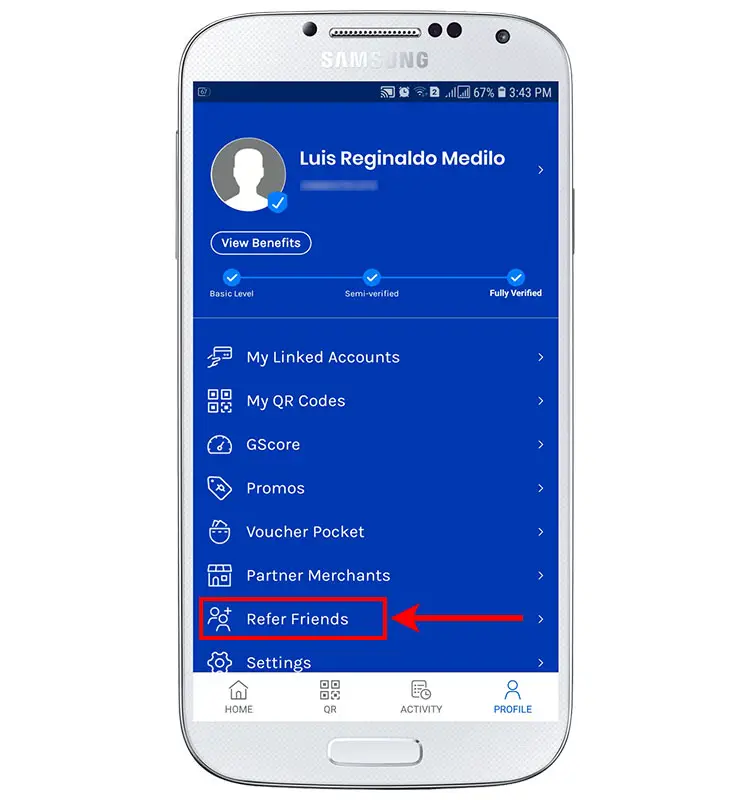 Step 3: You're now in the "Refer Friends" screen where you can see how many friends you have referred and how much you have earned. There are also buttons for easy sharing of your GCash referral code and link to Messenger, SMS, QR code and more.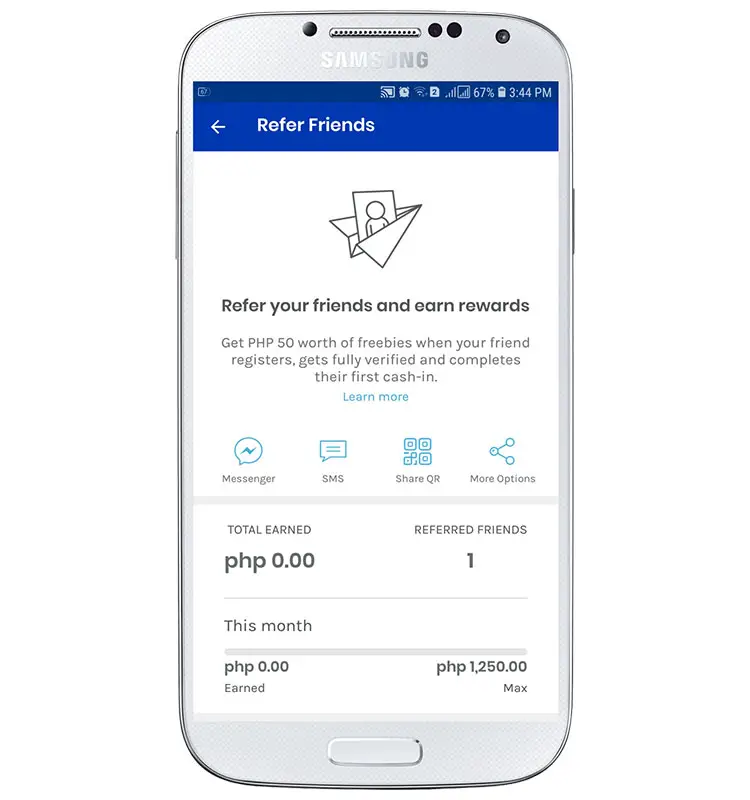 How to Share Your GCash Referral Code
Now that you know where to find your GCash referral code, it's time to use your code by texting it to your friends or by sharing it on social media platforms and messaging apps. On the GCash Refer Friends screen, there are four buttons for sharing your GCash referral code:
Messenger – Share your referral code with your contacts in Facebook Messenger.
SMS – Text your GCash referral link to anyone.
Share QR – Show your QR code that can be scanned by your referrals.
More Options – Reveal more sharing options using the apps available on your phone, such as Facebook, Twitter, Instagram, WhatsApp, Viber and more.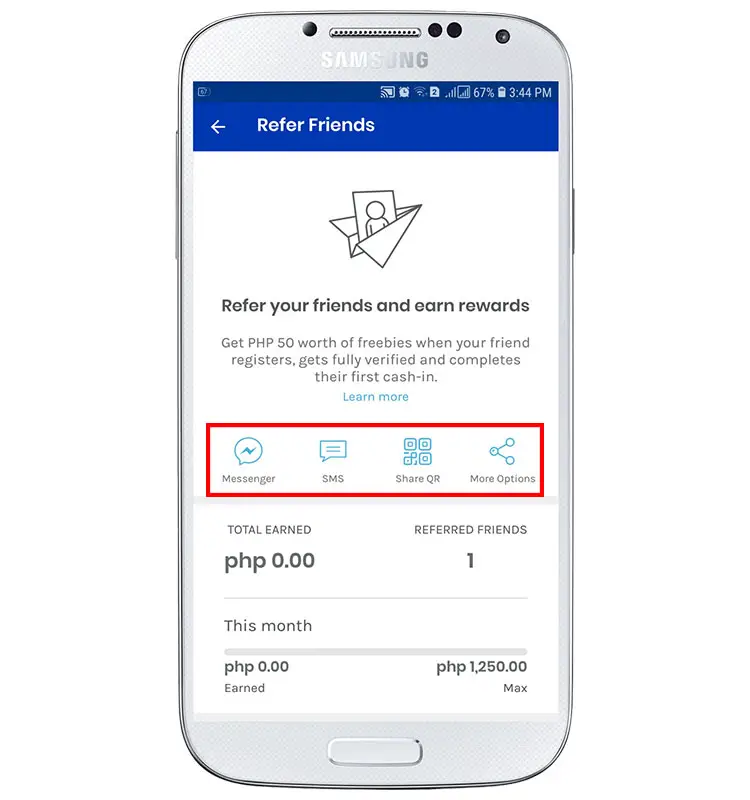 For example, tapping the SMS button will launch your text messaging app and immediately fill the message field with an invitation to join GCash along with your referral link. So all you need to do is to send the message to your recipient.
If your recipient clicks the link in your message and proceeds to register to GCash, you will earn a commission but only after he verifies his account and performs his first cash-in. If your referral only signs up to GCash but doesn't verify or upgrade his account, then you will not earn money from it. All it takes to get verified in GCash is a valid ID and a selfie photo, so be sure to remind your referral to verify his account so that you will earn a commission from it.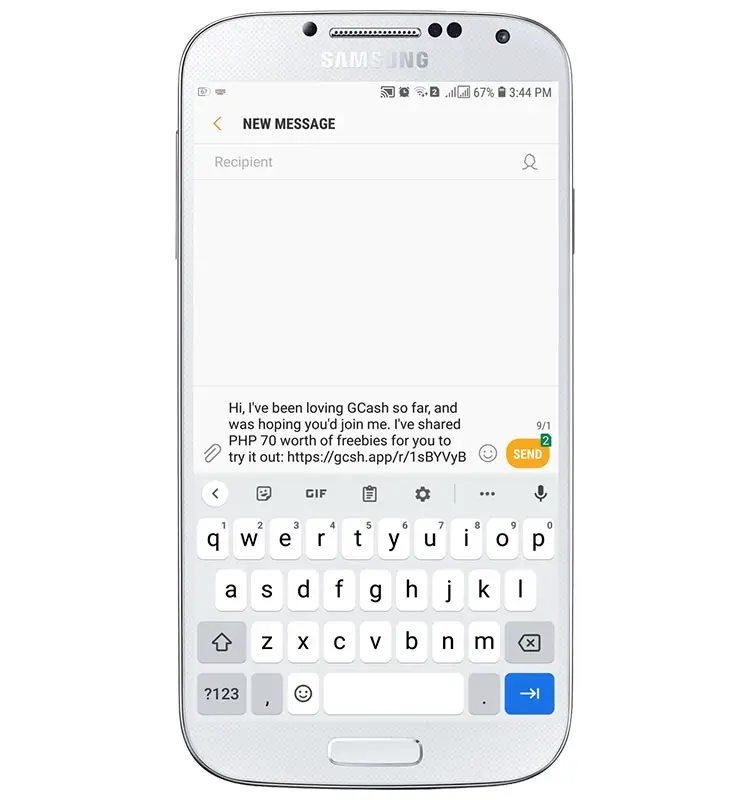 In case you're wondering, your GCash referral code is the 7-digit code at the end of your referral link. For example, if your referral link is https://gcsh.app/r/1sBYVyB, then your GCash referral code is 1sBYVyB.
How to Promote Your GCash Referral Code and Link
No idea on how to share and promote your GCash referral code? Here are a few tips that will help you get started:
Invite your friends and family to join GCash by texting them your referral link.
Share your referral code to your Facebook feed or timeline.
Post your referral link or code to Facebook groups.
Tweet your GCash referral code on Twitter.
Comment your referral link in YouTube videos.
Make a YouTube video and invite your viewers to sign up to GCash using your link.
Share your referral code to your friends in Messenger, WhatsApp, Viber, Telegram and other messaging apps.
Include your referral link in your Instagram posts.
Write an article in your blog (if you have one) and include your GCash referral link.
Take note that most websites have strict rules against promoting affiliate links, so make sure that you read the terms and policies of these sites before you share your GCash referral code there. Otherwise, you might get suspended or banned from such platforms. Don't spam your referral code!
Wrapping Up
There are several ways to earn money in GCash but sharing your referral code is the easiest one. All you have to do is to post your referral code or link on Facebook, Messenger, Instagram, WhatsApp and other social media and messaging apps, and wait for the money to roll in. It may not make you rich because of commission and referral limits, but it's still a quick and effortless way to make some beer money on the side.
If you have any questions and concerns about GCash, call the customer service hotline 2882 or email [email protected].