Do you need your SSS static information as a requirement before starting a new job or for any other purpose? Through your SSS online account, you can get your SSS static information as an alternative to the SSS E1 form or personal record. You don't have to personally visit the SSS office to access your membership information.
The SSS static information is a summary of your membership details with the Social Security System. It outlines your membership type and status, the date of SS number issuance, reporting date, employer name, changes in coverage status, and more. It also contains your address and contact information such as home and mailing addresses, email address and mobile number.
The following membership details are included in your SSS static information page:
SSS Number Status – Indicates the status of your social security number, whether active or inactive.
Document Compliance – Specifies if you have submitted your documentary requirements to the SSS.
Membership Status – Shows the status of your SSS membership, whether temporary or permanent.
Prior Registrant – Indicates if you have a previous registration with the SSS.
Date of SS Number Issuance – This is the date when your social security number was issued.
Reporting Date – This is the date when your first premium contribution was reported to the SSS.
Reporting ID – The SSS ID number of your employer when you first made a contribution to the SSS.
Latest ER ID – The SSS ID number of your latest and most recent employer.
Latest ER Name – The name of your latest and most recent employer (this entry is blank if you're a voluntary, self-employed or non-working spouse member).
Claim Flag Status – Shows the status of your SSS final (retirement) or funeral benefits application.
Transferred to (New SS Number) – This shows your new SS number if it was changed or transferred from your old number.
Membership Type – Indicates your type of coverage, whether compulsory or voluntary.
Change in Coverage Status – Shows any changes in your membership type or coverage. For example, employee to voluntary.
Date of Loan Disqualification – The date when you were disqualified from your loan application, if applicable.
SS Number Withdrawal Reason – States the reason why your SS number was withdrawn.
Record Location – The location (city or municipality) where your SSS records are stored.
Aside from the abovementioned data, the SSS static information page also includes your social security (SS) number and common reference number (CRN).
Why would you need your SSS static information? Some employers will ask for your personal records with the SSS to verify the information you've provided to the HR. Since not everyone has a copy of their SSS E1 form, and getting a new copy usually takes months, you can provide your SSS static information instead as it contains most of the information contained in your original SSS E1 form.
Some foreign embassies may also request for your SSS employee static information and employment history as proof of your employment in the Philippines before granting you a visa. Fortunately, getting your SSS records is as easy as logging in to your My.SSS account and then printing out the page. In this article, we'll teach you how to access and print your SSS static information.
How to View Your SSS Static Information
The only way to access your SSS static information is through your My.SSS online account. If you don't have a My.SSS account yet, you can sign up here. Read this article to learn how to register and activate your SSS account.
Follow these steps to view and print your SSS static information:
Step 1: Open the SSS member portal and login to your SSS online account. If you lost or forgot your username or password, follow the steps in this article to reset it.
Step 2: Once logged in to My.SSS, go to the main menu and click "MEMBER INFO." If this doesn't work, you may click "Member Details" on the dropdown menu.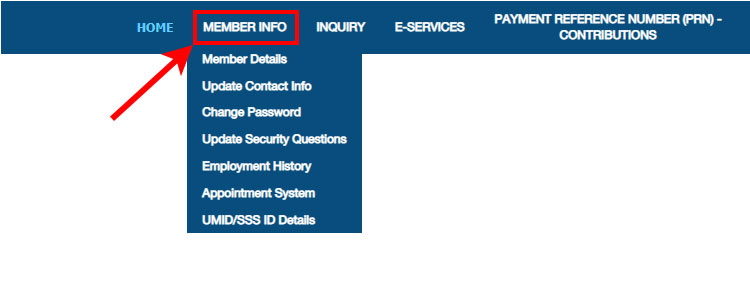 Step 3: You can now view your SSS static information under "Member Details."
If you want to view your address and contact information, just click the blue plus (+) button to reveal it. Be sure to click this button if you want your contact information included in the printout.
Step 4: You can choose to save your SSS static information or print it. To save the page, you can press Ctrl + S on your keyboard, or right-click with your mouse and select "Save as."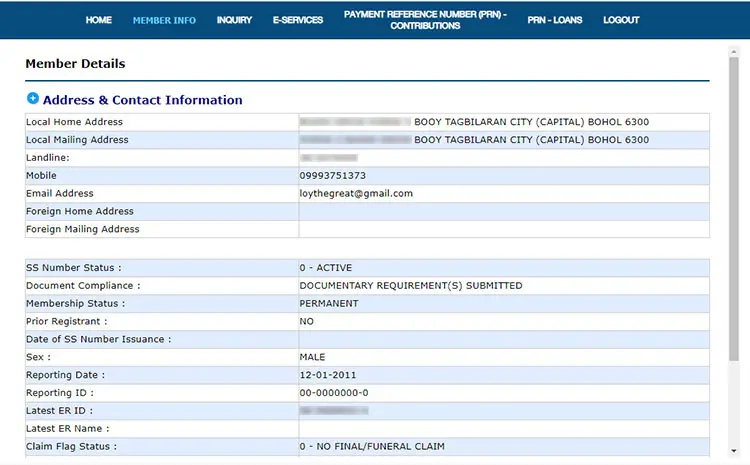 Step 5: To print your SSS static information page, click the menu button (in Chrome, it's located near the upper-right corner) and select "Print." You can also press Ctrl + P on your keyboard.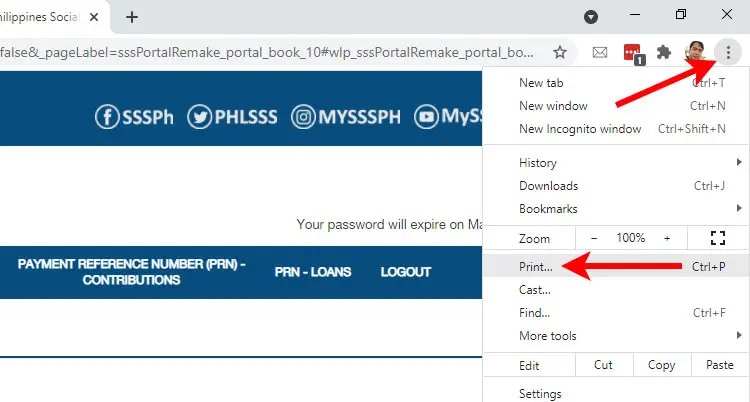 The print window will appear showing a preview of the page on the left pane and the print settings on the right. From there, you can choose the printer, number of copies, color, etc. To start printing, click the "Print" button.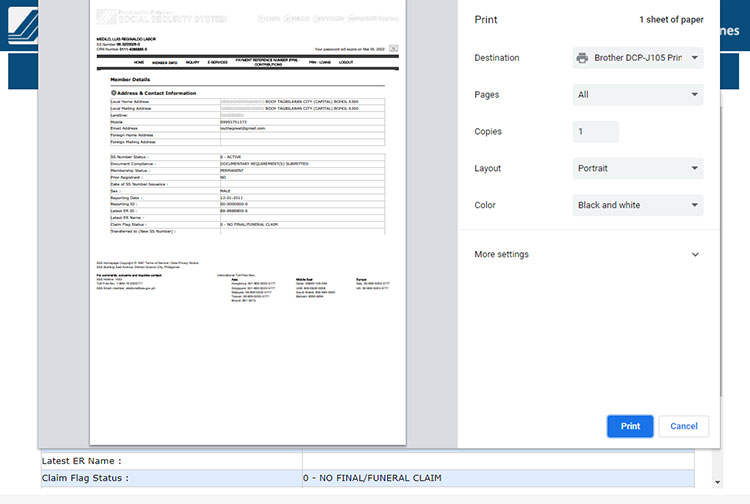 If everything goes well, you now have a printout of your SSS static information which you can use for your pre-employment requirements and other purposes. Remember that you can print as many copies as you want for future use. However, as some information may change over time (e.g. membership type, latest employer name), it's probably better to print your latest static information right before using it.
Final Words
As an SSS member, it's important to have your own copies of your personal records and membership information as you never know when you will need them. Thanks to the SSS website, getting access to your records is just a matter of logging in to your online account on your computer or mobile phone. You don't have to waste your time queueing at the SSS office because almost everything can be done online nowadays.
If you have any questions and concerns about your SSS membership, you may call the SSS hotline (02) 8920-6446 to 55 or send an email to [email protected].