GCash and Coins.ph are two of the most commonly mobile wallet applications in the Philippines. These mobile wallets allow just about anybody to pay bills, send money, go shopping and buy prepaid load using their smartphones.
I have both GCash and Coins.ph (as well as PayMaya) on my smartphone. You might be wondering why I have that many e-wallet apps on my phone. That's because there are features in one app that might not be available on the other. For example, I can cash out to Palawan Pawnshop or M Lhuillier using my Coins.ph wallet – this is not yet possible on GCash or PayMaya.
If I want to pay some bills through Coins.ph, I can simply transfer money from my GCash wallet to Coins.ph. Thanks to InstaPay, you can easily send money from GCash to Coins.ph, as well as from Coins.ph to GCash. There are no fees involved with either transaction.
So if you want to know how to transfer money from GCash to Coins.ph, and vice versa, I've come up with this short tutorial. Make sure that you or your recipient have a verified GCash account and that the GCash mobile app is already installed in your smartphone. Read this article to learn how to verify your GCash account, top up your wallet, and many more.
How to Transfer Money From GCash to Coins.ph
Assuming that you already have verified GCash and Coins.ph accounts, transferring money from your GCash wallet to your Coins.ph account is easy. After opening the GCash app, tap "Bank Transfer" in the home screen.
Next, tap "View All" under the list of select partner banks.
Choose "Coins.ph (DCPay)" from the list of bank transfer options.
Enter the amount that you want to send, making sure that you enough balance to cover the transaction. Fill up your Coins.ph account name, account number (the mobile number associated with your Coins.ph account), and email. Press "SEND MONEY" to continue.
Review your payment details and then tap "CONFIRM."
Your GCash to Coins.ph fund transfer will usually be completed in a few minutes since it's powered by InstaPay. You will receive a text message and an email once the money transfer is complete.
Be sure to check your Coins.ph wallet to verify that you have received the money.
How to Transfer Money From Coins.ph to GCash
Transferring money from your Coins.ph wallet to your GCash account can also be done with a few taps on your smartphone.
Launch the Coins.ph app and tap "Cash Out" on the home screen. On the Cash Out screen, select the GCash logo under "E-Wallets" as shown in the screenshot below.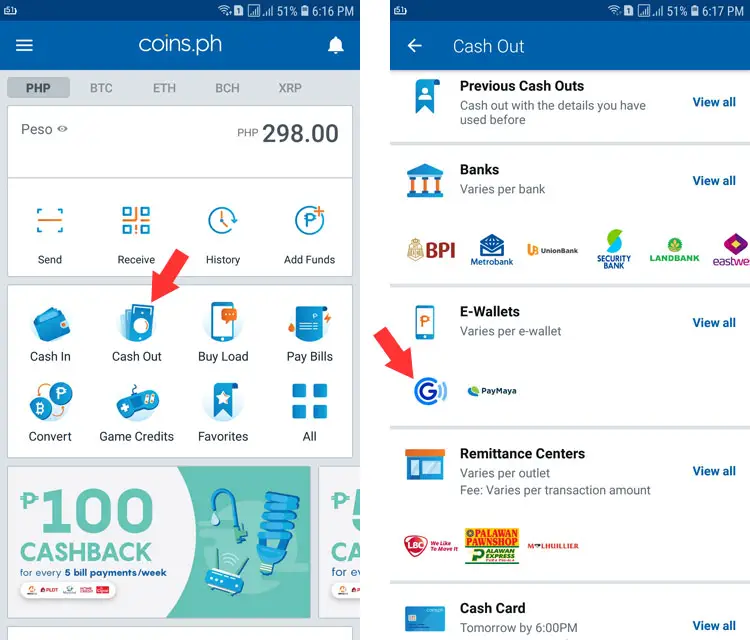 Enter the amount that you want to cash out. Tap "Next."
Fill up your payment details such as the GCash account name, GCash mobile number, and the recipient's mobile number. Press "Next."
Review your payment details and if everything is correct, slide your finger across the "Slide to confirm" button.
You will be asked to enter the verification code that was sent to you via email. Tap "Submit" to continue.
Wait for a few seconds as the system processes your cash out request in real time. This should take less than a minute to complete.
You will receive text messages from both Coins.ph and GCash confirming your successful transaction. Check your GCash wallet to make sure that the money is already in your account.
What If You Didn't Receive the Money?
Since both Gcash to Coins.ph and Coins.ph to GCash transfers are powered by InstaPay, the money will be transferred almost instantly, no matter what time of the day it is. But in rare cases, it will take a longer time than usual for your money to arrive in the recipient's wallet.
Based on my experience, both Gcash and Coins.ph will immediately refund you the money if the fund transfer was unsuccessful. That could happen due to several factors like a system error or if you entered the wrong payment information.
If the amount was already deducted from your wallet, just give it some time to complete the transfer. If the money was not returned to your account, then that means that the fund transfer was not yet completed. You may call the GCash hotline 2882 or send an email to Coins.ph at [email protected] if you need assistance with your fund transfers.
That's it. You just learned how simple and easy it is to send money from GCash to Coins.ph and vice versa. Please share this article with your friends who might want to learn how to transfer money between the two mobile wallets.