Ran out of money to pay for your Grab car fare or food order? Don't worry because you can use GCash to top up your GrabPay wallet. We'll teach you how to transfer money from GCash to GrabPay with just a few taps on your smartphone.
GrabPay is a mobile wallet that allows you to make cashless payments to Grab services like transportation and food delivery. You can top up your GrabPay wallet through online banking and other mobile wallets like GCash and PayMaya. You can withdraw money from your GrabPay wallet, too.
GrabPay also offers a virtual prepaid card powered by MasterCard. With a GrabPay card, you can make both online and in-store purchases that will be charged to your GrabPay wallet.
If you have a GrabPay wallet, you can easily top up using your GCash. You can also send money to a friend's GrabPay wallet from your GCash account. So the next time you want to order food from Grab, just fire up your GCash app and transfer money quickly and easily to your GrabPay account.
How to Top Up Your GrabPay Wallet Using Gcash
Open the GCash app and login using your MPIN. On the home screen, select "Bank Transfer."
Tap "View All" under "Select Partner Banks."
You will be shown a list of banks. Scroll down and choose "GrabPay."
Enter the payment details as follows:
Amount – The maximum amount you can send is ₱50,000.
Account Name – This is the receiver's GrabPay account name.
Account Number – The 11-digit mobile number associated with the GrabPay account.
Send Receipt to – Enter the email address of the receiver.
Take note that there is a ₱15 fee for every transaction starting November 1, 2020. Make sure that your GCash balance is enough to cover the principal amount plus the transaction fee. Otherwise, the transfer will not push through.
Tap "SEND MONEY" when you're finished.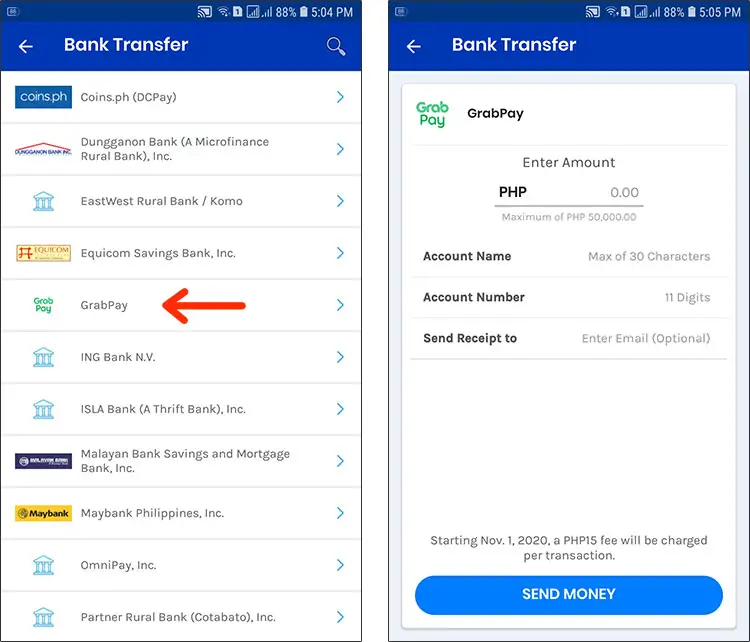 Review your payment details. If everything is correct, click "CONFIRM."
Your GCash to GrabPay transfer is now being processed. You will receive a text confirmation once the transfer was successful.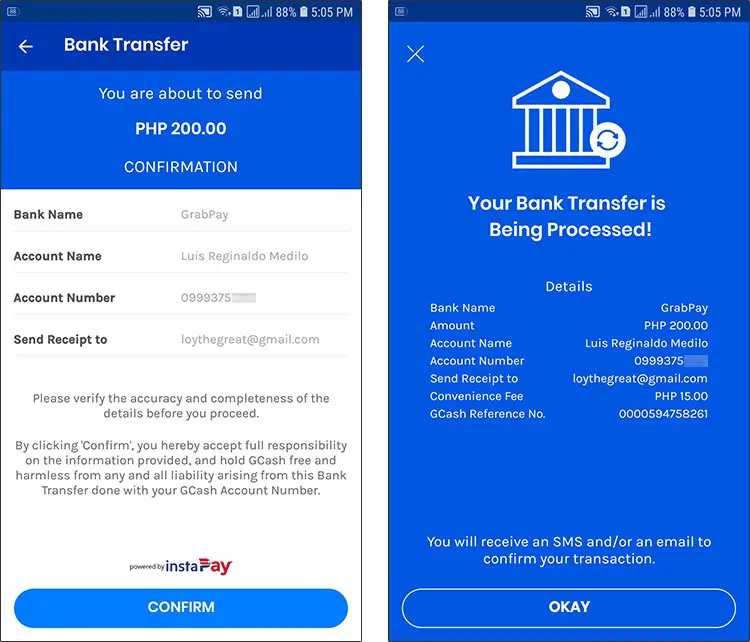 Easy, isn't it? Thanks to InstaPay, you or your recipient will receive the money within seconds. If the money was not credited after one hour, call the GCash hotline 2882.
Conclusion
You just learned how easy it is to transfer money from GCash to GrabPay. You no longer have to worry about how to top up your GrabPay account because you can do it using your GCash e-wallet.
Don't forget to share this article with your friends who might be interested to top up their GrabPay wallets via GCash.