Globe prepaid subscribers can have something to cheer about this holiday season with the GoEXTRA90 promo. For only ₱90, you can enjoy 2GB of mobile data, 1GB of GoWiFi access, free 1GB per day for Facebook, Instagram, videos and games, unlimited texts to all networks, and unlimited calls to Globe and TM, good for 7 days. Amazing, isn't it?
To summarize, these are the inclusions in GoEXTRA 90:
2GB of Internet data
1GB of GoWiFi access
Unlimited texts to all networks
Unlimited calls to Globe and TM
1GB per day for Facebook, Instagram, videos and games (GoWatch and Play)
Free GCash QR voucher
That means that you will get a total of 10GB of mobile data to spend on Internet surfing, browsing Facebook, watching YouTube videos and Netflix movies, playing mobile games, and more! What's more, you will also get a free GCash QR voucher that you can spend in stores that accept GCash.
But before you get all excited, you should know that you can only avail of the Globe GoEXTRA 90 promo through the GCash app. Only Globe prepaid subscribers can avail of the promo. But don't worry because you will realize how easy it is to register for GCash.
How to Register for GoEXTRA90
If you don't have a GCash account, you can follow this step-by-step tutorial to sign up for GCash. Once you've signed up for GCash (it's 100% free), you can immediately buy the GoEXTRA90 promo even without account verification.
You can use this link to sign up for GCash and you will earn ₱70 worth of freebies.
Open the GCash app and log in using your MPIN. On the home screen, tap "Buy Load."
Enter the Globe mobile number that you want to buy the GoEXTRA90 promo for, or choose from your contacts list. Tap "NEXT."
Select the "ONLY ON GCASH!" tab and choose "GoEXTRA90." Click "NEXT" to continue.
On the payment screen, review the details of your transaction and then press "Pay php 90.00." Make sure that you have enough money in your GCash wallet to pay for the promo. Read this article to learn how to add money to your GCash wallet.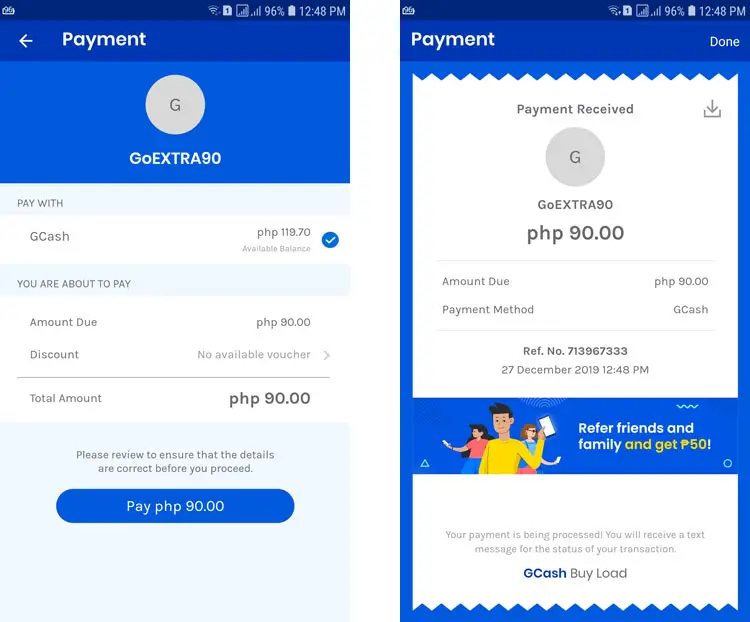 If your Gcash balance is enough, the payment will be successful and you will receive a text message informing you that you have successfully registered for GoEXTRA 90.
You can now start using the GoEXTRA90 promo for Internet surfing, texting, calling and playing games. To check your data and freebie balance, text DATA BAL to 8080.
These are the video and streaming apps that you can enjoy using your 1GB/day data allocation in GoEXTRA90:
YouTube
Netflix
DisneyLife
HOOQ
iWant
iflix
Viu
Fox+
NBA
ONE
Meanwhile, these are the mobile gaming apps included in your 1GB per day data allocation in GoEXTRA 90:
Arena of Valor
Rules of Survival
Clash of Clans
Clash Royale
Mobile Legends
Garena Free Fire
Your 1GB/day data allocation will be refreshed daily once you access Facebook, Instagram, or any video or gaming app included in GoWatch and Play.
How to Redeem Your Free GCash QR Voucher
Aside from the generous Internet data allocation included in the GoEXTRA 90 promo, you will also get a free GCash voucher that you can redeem in selected stores. The voucher can only be used or redeemed by GCash users (you don't need to be a Globe subscriber).
All you need to do is to visit the link in the text message sent from 8080 and then enter your GCash mobile number. Solve the captcha and click "CLAIM."
After that, you can choose a free voucher from a list of stores. In this example, I chose "The Coffee Bean & Tea Leaf." Tap "CLAIM NOW."
Congratulations! You have now claimed your free voucher through the Globe GoEXTRA90 promo. Just go to your chosen store and redeem your Gcash QR voucher.
You can find your free voucher in the GCash app by tapping the menu and going to Voucher Pocket.
The Globe GoEXTRA90 promo is probably the most "bang for the buck" Internet promo that you can find. It's such a shame that the promo is only available to GCash users for now. Hopefully, this promo will become available for registration via SMS and e-loading stations soon.