If you're looking for affordable and budget-friendly prepaid promos, you can't go wrong with Globe GoSakto promos. These promos give you generous amounts of mobile data as well as unlimited SMS or call minutes. Not only that, you can also create your own GoSakto promo with your preferred choices of data, SMS and call minutes.
With Globe GoSakto promos, you can enjoy open access Internet as well as a daily allocation of mobile data for social media, videos, gaming and online shopping. GoSakto promos also provide you with unlimited texts and/or calls, either within the Globe network or to all networks. So even if you browse Facebook all day, you can still call your friends to say your hello or watch an episode of your favorite Korean drama series on Netflix. What's more, you might also get some freebies like a GCash voucher or a surprise gift from Globe!
When you register to a GoSakto promo, you can enjoy 1GB per day for GoWATCH&PLAY or GoSHARE&SHOP. With GoWATCH&PLAY, you can access your favorite video and online gaming apps like YouTube, Netflix, iWant, iflix, Mobile Legends, Clash of Clans, PUBG, Call of Duty Mobile and more. With GoSHARE&SHOP, you can enjoy social media and online shopping apps such as Facebook, Instagram, TikTok, Lazada and Shopee.
If you can't afford to subscribe to a regular GoSakto promo, don't worry because you can make your own GoSakto combo that suits your needs and budget. Just choose the number of call minutes, SMS and data, and then select the duration of your promo. You can even share your newly created GoSakto promo with your friends for them to register.
List of Globe GoSakto Promos
Below is our updated list of Globe GoSakto promos that you can register. You can use the search box on the top-right part of the table to look for specific terms (such as "unlimited texts") or sort the data by cost or validity.
The following apps are included in GoWATCH&PLAY:
YouTube
Netflix
iWant
NBA League Pass
Viu
ONE
iflix
HBO GO
VLive
Mobile Legends
Arena of Valor
Rules of Survival
Clash of Clans
Free Fire
PUBG
Call of Duty Mobile
Marvel Super War
These apps are included in GoSHARE&SHOP:
Facebook
Instagram
Twitter
TikTok
Lazada
Zalora
Shopee
Remember that unlimited Internet surfing is subject to Globe's Fair Use Policy which means that you will experience slower browsing speeds when you exceed the 800MB daily limit. The daily bandwidth will be reset on midnight the following day.
How to Register to GoSakto Promos
To register or subscribe to a GoSakto promo, just text the specific keyword to 8080. If you want to register to GOSAKTO70, for example, just text GOSAKTO70 to 8080. Make sure that you have enough load balance to pay for the registration.
You will immediately receive a text message confirming that you have successfully registered to the promo.
Another way to register to a GoSakto promo without remembering any keyword is by dialing *143# and choosing "GoSAKTO". Go to "Discover Promos" to choose the GoSakto promo that you like.
How to Create a GoSakto Promo
Do you know that you can create your own GoSakto promo? If you don't like any of the promos that are being offered, you can make your own one by choosing the amount of texts, call minutes and/or mobile data.
Dial *143#.
Choose "GoSakto" by entering the corresponding number (usually 1).
Select "Create a Promo."
Choose what kind of promo that you want to create. For example, "Call, Text and Surf."
Choose the type of calls that you want, whether "To Globe/TM/Cherry" or "To All Networks."
Choose how many minutes of calls, from "10" to "Unlimited."
Choose the type of texts that you want, whether "To Globe/TM/Cherry" or "To All Networks."
Choose how many texts, from "20" to "Unlimited."
Choose the type of surfing that you want, whether "Bulk (MB)" or "Unlimited."
If you selected "Bulk/MB," choose how many MBs.
Choose how many days your promo will be valid (from 1 to 30 days).
Select "Create & Subscribe."
You have successfully created your own GoSakto promo. You will receive an SMS confirmation upon your successful subscription.
Your new GoSakto promo will be given its own name (for example, GOCTCOMBOAE19), and you can register for it by texting the keyword or name to 808. You can even share your new GoSakto promo to your friends for them to subscribe to.
How to Check Your Balance or Stop GoSakto
To check the status of your GoSakto subscription and to know when your promo subscription will expire, text GOSAKTO STATUS to 8080.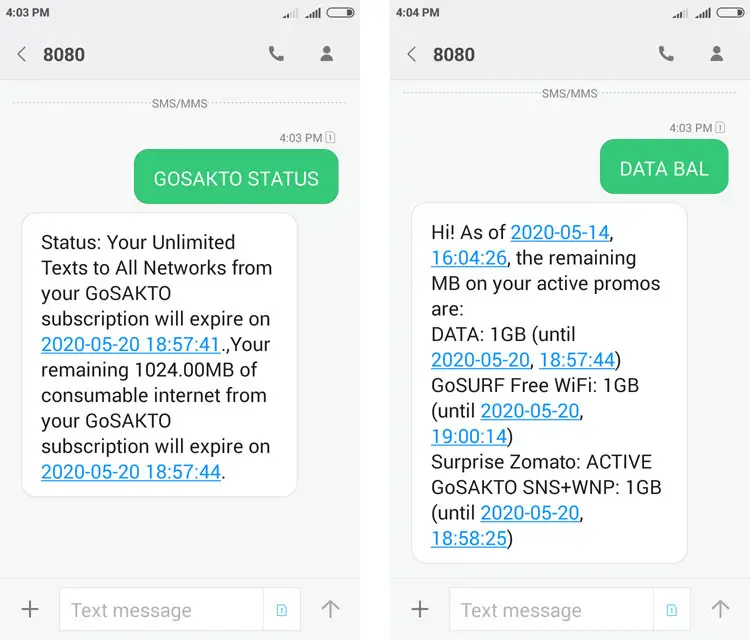 To know how many MBs you have left in your subscription as well as when they will expire, text DATA BAL to 8080.
To stop your GoSakto subscription, text GOSAKTO STOP to 8080.
How to Claim Your GCash Voucher
Some GoSakto promos will give you free GCash vouchers every time you register for the promo. These GCash vouchers entitle you to freebies or discounts in participating shops and restaurants.
To claim your free GCash voucher, just follow or click the link that was sent to you via SMS after registering to the GoSakto promo.
Once you're in the page for claiming your freebie, enter your GCash mobile number. The promo code will be automatically filled up. Solve the captcha and click "CLAIM."
Choose from any of the free vouchers that are being offered. If you want the Zalora voucher, click on it and then click "CLAIM NOW."
You have now claimed your free GCash voucher! All you have to do is to use your GCash mobile wallet to redeem the voucher at your preferred store.
Remember that your GCash voucher is only available for a limited time. It's just one of several perks that you can get when you subscribe to GoSakto. The other one is a surprise gift that you can get by texting SURPRISE to 8080.
Conclusion
Globe GoSakto promos are definitely popular among many Filipinos who desire fast Internet or generous text and call minutes at an affordable price. With so many GoSakto promos available for registration, there's always one that fits your budget or lifestyle. You can even make your own Globe GoSakto promo with your desired inclusions (SMS, calls and mobile data) and validity period.
If you have any questions or concerns about Globe text, call and Internet promos, don't hesitate the Globe hotline 211 on your mobile phone.