Imagine playing your favorite video game at home and all of a sudden, your Internet connection went kaput. Instead of scratching your head trying to find the root cause of the issue, why not call the Globe hotline number to request for prompt and expert assistance? Globe customer service is available 24/7, and you have a wide range of options to choose from, such as phone, mobile and chat, so that you can get the immediate help that your sorely need.
As a Globe customer, it's your right to request for assistance whenever you are experiencing technical issues with your Internet connection or mobile phone subscription, or if you have any support questions and billing concerns. After all, a fast Internet is useless if you regularly experience disconnection problems and your ISP cannot help you. Thankfully, Globe customer service is just a phone call away, and if you can't make a call, you can reach out to them via social media or mobile app.
How slow or how fast a customer service replies is often a dealbreaker for many. Most people don't want to wait for several days to get their Wi-Fi fixed, especially if they are working or studying from home. That is why telecommunication companies like Globe are investing big sums of money in improving their customer service infrastructure to keep up with the changing times.
You might be wondering how to contact the Globe hotline and customer service to get immediate assistance with your most pressing concerns. So we've come up with this guide to help you choose the right customer service channel based on your personal circumstances and the type of service you're subscribed to, whether it's Globe at Home Fiber, a Globe mobile postpaid plan, or a free prepaid subscription.
Call the Globe Hotline 211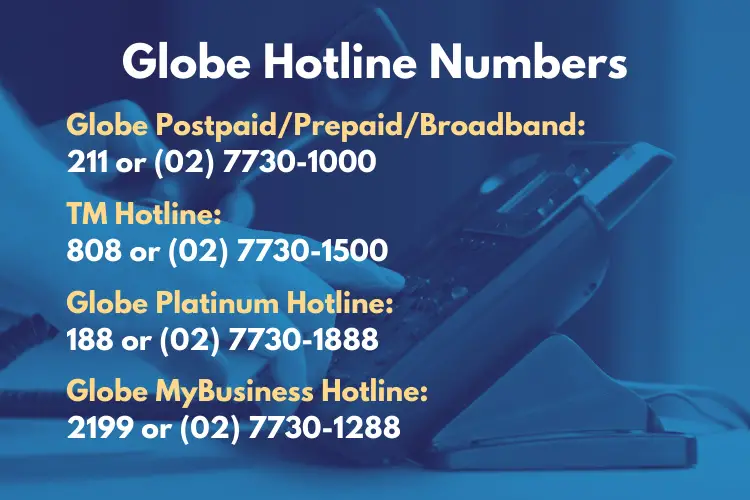 The best (and most recommended) way to contact Globe customer service is to call the hotline number 211 for free on your Globe mobile phone. You only need at least ₱1 load balance to make the call.
If you prefer to call via telephone, you may call (02) 7730-1000 instead. This call is free if made from a Globe landline number.
Take note that 211 and (02) 7730-1000 are both self-service hotline numbers. This means that a "Globe digital assistant" will answer your call and allow you to select from a self-service menu by entering the appropriate number based on your specific concern or query:
Report an issue with your Internet connection.
Buy load, register to promos, track data usage, report issues and more.
Call about your broadband account.
Apply for a mobile or broadband plan.
Apply for a postpaid or broadband plan.
At the moment, it's no longer possible to speak with a customer service representative due to the fact that Globe has transitioned their agent support to their mobile apps and social media accounts starting September 2020. If you wish to connect with Globe customer support for personalized assistance, you may send a message to their Facebook and Twitter accounts.
If you are a TM subscriber, you may call 808 on your TM mobile phone or (02) 7730-1500 via landline. If you are a Globe Platinum customer, call 188 or (02) 7730-1888.
Send a Message on Facebook
If calling the Globe hotline 211 isn't sufficient to answer your queries or resolve your technical issues, you can opt to send a message on the Globe official Facebook account. You can also click this link to go straight to Messenger.
Globe at Home customers (e.g. GFiber, Globe at Home Prepaid Wi-Fi) may send a message to the Globe at Home official Facebook account.
To start the conversation, click the "Get Started" button and then "Gie," the automated Globe digital assistant or chatbot, will present you with several options to select on the self-service menu such as reporting an Internet issue, inquiring about your bill, requesting reconnection, checking your balance, following up on your application, reporting GCash concerns, and many more.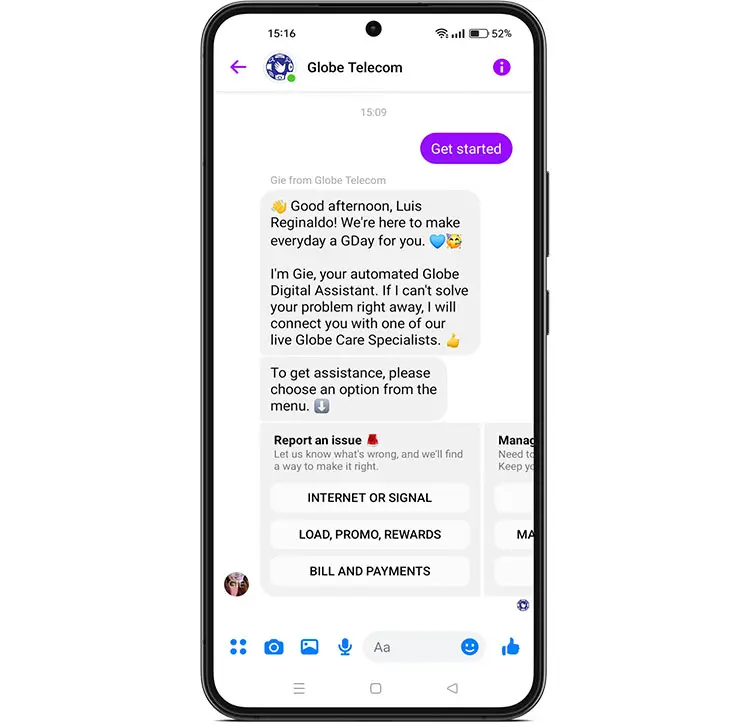 To chat with a live Globe Care Specialist, just select the appropriate option on the self-service menu that is related to your question or concern, and then follow the instructions on the next steps. You may have to provide your account information such as mobile number or Globe account number in order to proceed.
Send a Message on Twitter
Another way to reach out to Globe customer service on social media is through their Twitter account @talk2GLOBE. The Globe official Twitter account is quite active and usually replies to tweets and direct messages.
Are You a Globe MyBusiness Customer?
If you are a Globe MyBusiness customer, you can contact support through the following channels:
Final Thoughts
Having an excellent customer service team is one way to show that you care for your customers, and Globe is showing exactly that. Despite the company's move to automation in their phone and chat support channels, customers can still get personalized assistance through Facebook and Twitter.
To save time and effort, you can visit the Globe Help website to browse the frequently asked questions (FAQ). Chances are, you might find the answer to your question there, which will save you from having to make a phone call to the Globe hotline and customer service team.