Imagine this: you've transferred money from your Maya (formerly PayMaya) wallet to your bank account about an hour ago, but you realized that the funds are not yet reflected in your account. Before you panic and start calling the PayMaya hotline number, there are a few things you should know before you contact the Maya customer service hotline.
Maya is one of the leading mobile wallet platforms in the Philippines, along with GCash. PayMaya allows you to send and receive money using your mobile phone, as well as to perform cashless transactions like paying bills, buying prepaid load, and purchasing stuff online. With the Maya debit card and the Maya virtual card, you can make in-store and online purchases using your wallet balance.
There's no doubt that Maya and other e-wallets such as GCash have made life easier for many Filipinos. However, these mobile wallets are not without their share of problems. Some of the problems encountered by Maya users are delayed fund transfers and failed withdrawals, sometimes with the amount already deducted from the sender's wallet.
If you're having issues with your e-wallet transactions, your best course of action is to contact PayMaya customer service to get immediate support and assistance with your problem. There are several ways to contact PayMaya customer service, such as calling the Maya hotline number or sending a complaint email. We'll discuss these options one-by-one and the steps involved in each.
When to Contact Maya (PayMaya) Customer Service
Issues and problems with your Maya transactions can be quite frustrating, especially if they involve a large amount of money. Even then, you don't have to panic if and when those things happen.
Should you encounter a problem with a Maya transaction, such as a delayed fund transfer, there's no real need to call the Maya hotline immediately. In fact, it's recommended to wait for a day or two before contacting Maya customer support.
In case of fund transfers where the money was deducted from your Maya wallet but failed to arrive in your recipient's account, it will take up to three (3) days for the funds to be returned to your wallet. If three days have passed and the money was not yet credited to your account, you should contact Maya customer service to seek a reversal of the transaction.
It's also a good idea to browse the Maya knowledge base before contacting PayMaya support. There you can read the frequently asked questions and answers on topics such as adding money, upgrading your account, getting help with transactions, enhancing account security, and many more.
Call the Maya (PayMaya) Customer Service Hotline
The fastest way to reach out to Maya is to dial the toll-free hotline number *788 using your Smart mobile phone. When prompted, select any of the following options by pressing the corresponding number:
Load up Maya account
Information on bank transfers
Bills payments
Status of upgrade application
Lost card and incidents of fraud
Other concerns and more information
Globe and other non-Smart subscribers may call the Maya hotline at (+632) 8845-7788 or the toll-free number 1800-1084-57788. Airtime and long-distance charges may apply.
Write an Email to Maya Support
Another effective way to contact Maya customer service is to send an email to [email protected].
In your email, don't forget to include your complete name, Maya account number or mobile number, date and time of the transaction, and the reference ID.
Here's a template that you can use to email Maya support (be sure to edit it with your own information):
Dear Maya Customer Support,
Good day! I am a registered Maya user with account number 09123456789. I would like to report an issue with my transaction wherein my fund transfer failed but the money was deducted from my account (replace this with your particular issue). Here are the details of my transaction:
Name: Juan dela Cruz
Account Number: 09123456789
Date of transaction: August 11, 2021
Time of transaction: 2:30 PM
Amount: 500.00
Reference ID: 02A1234567BC
Thank you so much and I'm looking forward to hearing from you.
Sincerely,
Juan dela Cruz
Attach a screenshot of your transaction (if possible) and send the email to [email protected]. You will immediately receive a confirmation email with your case number, which you can use to track your support request.
In most cases, Maya support will reply within an hour. Maya may request additional information, such as your date of birth and home address, for verification purposes.
Send a Message on Facebook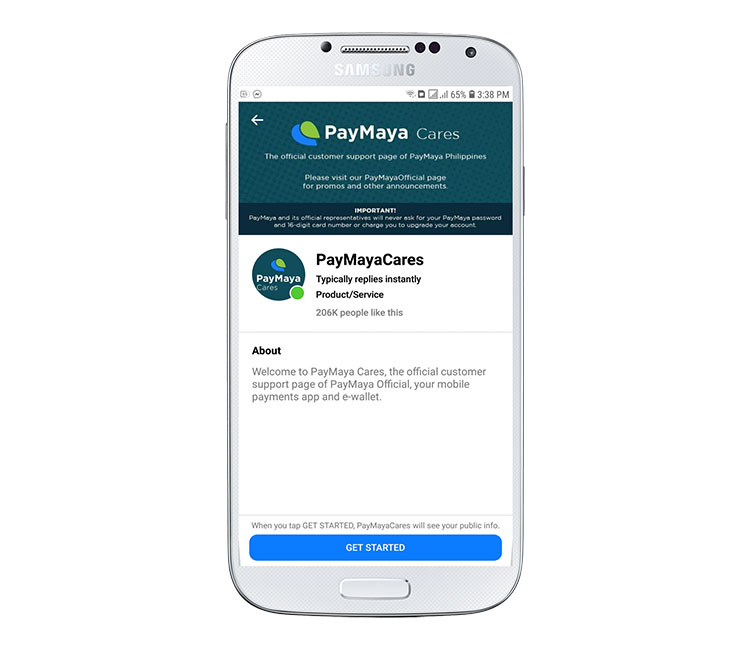 The Maya Cares Facebook page is the one and only customer support page of Maya. Make sure that you are dealing with the real and legitimate Maya Cares page by checking the "verified badge" or blue check mark next to its name.
Click the "Send Message" button to get started. Once the chat window is opened, click "Get Started." You will be presented with a set of options. Usually, you'll have to navigate to Continue > I have an account > More Options > Chat with Us in order to chat with a PayMaya customer service agent.
Make sure that you have your transaction details (e.g. reference ID, transaction date and time, account number) ready for a quicker response. Take note that Maya support will not ask you for your 16-digit card number, account password or OTP, so refrain from giving them even if asked.
Send a Message on Twitter
Do you have a Twitter account? You may send a direct message to the official Maya Twitter account or tweet @mayaofficialph. Include your case number if you have already contacted Maya support.
Final Considerations
As you can see, there are several ways to raise your issues and concerns with Maya. There's the toll-free Maya (PayMaya) hotline number *788 as well as their email and social media accounts. Whatever your problems with Maya is, there's a customer service channel ready to attend to your concerns and complaints.
Maya is regulated by the Bangko Sentral ng Pilipinas (BSP). If you are not satisfied with the way Maya handled your concerns, you can report them to the BSP so that they will take immediate action to resolve your issues.