Do you want to know your Metrobank account number but you don't have access to your ATM card or passbook? No worries because there are several ways to retrieve your account number without personally going to the bank. I'll discuss each method of retrieval and the steps you need to take.
Knowing your bank account number is crucial when conducting online and over-the-counter banking transactions. This is because providing an incorrect account number may result in major inconveniences such as failed fund transfers.
There have been instances where money was transferred to the wrong account because the sender entered the wrong account number. You certainly don't want that to happen so it's important to get the correct bank account number before sending money.
The Metrobank account number is a unique 13-digit number that is associated with a Metrobank deposit or savings account. The bank account number is needed to transfer or deposit money to a specific bank account, along with the name of the account holder, and in the case of international wire transfers, the SWIFT code.
But what if you lost or forgot your bank account number? Some debit and ATM cards contain the bank account number, so it's just a matter of checking your ATM card. However, that is not often the case and you might have to login to your online banking portal or call your bank in order to get your account number.
In this tutorial, I'll teach you how to find your bank account number if you don't have an ATM card, passbook or online banking account.
Metrobank Account Number vs. Metrobank ATM Card Number
What is the difference between the bank account number and the ATM card number?
The Metrobank account number consists of 13 digits and is assigned to your bank account, while the Metrobank ATM card number is made up of 16 digits and is associated with your ATM card or debit card. The bank account number is permanent and lasts for as long as the account is active, while the card number is only good until the expiration date of the card (typically for 2 to 5 years).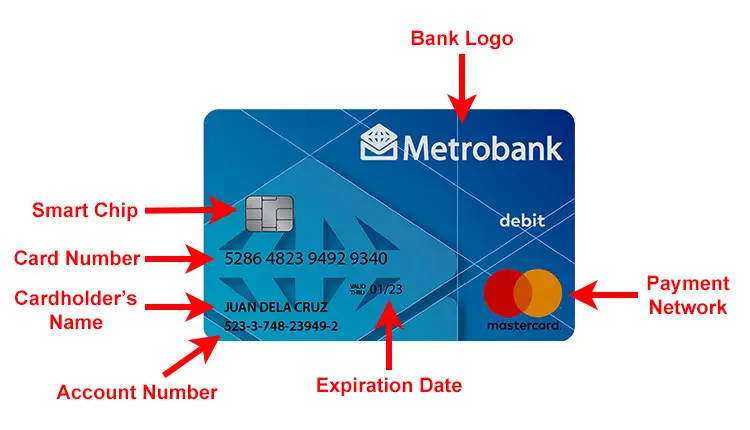 The first 6 digits of the debit or credit card number are known as the Bank Identification Number which specifies the bank that issued the card, while the next 9 digits are unique identifiers linked to the bank account. The last digit is the check digit which determines the validity of the card.
The first digit of the debit or credit card number indicates the payment network of the card. Card numbers that start with "4" are Visa and those with "5" are MasterCard.
Metrobank debit and prepaid cards typically have the bank account number printed on them. The account number is placed just below the name of the cardholder, while the card number is located above the cardholder's name and below the EMV chip. Metrobank credit cards usually only have the credit card number aside from the cardholder's name and expiry date.
How to Find Your Metrobank Account Number
Here are several ways to recover or retrieve your bank account number in case you've lost or forgotten it.
Check Your Metrobank ATM Card or Debit Card
The most obvious place to find your account number is to check your debit or prepaid card. The bank account number can be found at the lower-left corner of the card, just below the cardholder's name.
Check Your Passbook
The next obvious place to find your bank account number is your passbook (if you have one). You can find the account number on the first leaflet of your savings passbook.
Login to Metrobank Online Banking
If your bank account is enrolled to online banking, simply login to Metrobank Online on the website or mobile app. On the Metrobank Online website, you can find your bank account number by selecting your account.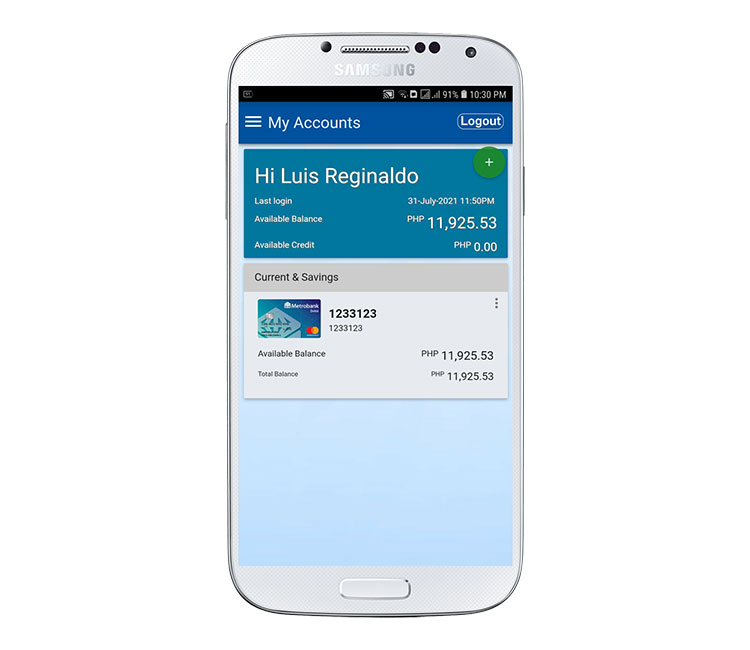 The mobile app, on the other hand, will show your account number immediately upon logging in.
Call Metrobank Customer Support
Don't have any of the above? You can instead call the Metrobank contact center at any of the following numbers:
Metro Manila: (02) 88-700-700
Domestic Toll Free: 1-800-1888-5775
Metrobank customer support hotlines are available 24 hours a day, 7 days a week. Airtime and long-distance charges may apply when calling from a mobile number or from a non-PLDT landline.
When calling Metrobank support, you may be asked to provide personal information such as your date of birth. Also, be sure to have a pen and paper ready in which to write down your account number.
Write an Email to Metrobank
You can also send an email to [email protected] requesting for your account number. You may follow this email template (be sure to replace your personal information with your own):
Dear Metrobank,
Good day! I would like to request for my bank account number because I've lost my copy of it. I have provided my personal details below for identification and verification purposes:
Name: Juan dela Cruz
Birthday: January 1, 1990
Address: Maria Clara Street, Tondo, Manila
Mobile Number: 09123456789
Attached is my valid ID for verification. Thank you and I'm looking forward to hearing from you.
Respectfully,
Juan dela Cruz
Attach a scanned copy or photo of your valid ID and send the email to [email protected] with the subject line "Account number inquiry."
Metrobank will respond to your email within 2 to 3 banking days. You may also use their contact form to send them a message.
Visit the Metrobank Branch
If everything else fails, you can always drop by the Metrobank branch to inquire about your bank account number. Don't forget to bring a valid ID for verification and identification purposes.
Metrobank branches are open from 9:00 AM to 2:00 PM, Monday to Friday (except holidays).
Frequently Asked Questions
Is the Metrobank account number and card number the same?
The bank account number is different from the card number. The account number indicates your deposit account while the card number represents your credit or debit card.
How many numbers or digits does a Metrobank account number have?
The Metrobank account number consists of 13 digits, wherein the first 3 digits pertains to the branch code.
Where can I find my Metrobank card number?
You can find your 16-digit card number on the front of your debit or credit card. Visa cards start with "4" while MasterCard begins with "5."
Is it safe to share or post my bank account number?
It's generally safe to share your bank account number. However, avoid sharing extra information such as your home address and date of birth to prevent them from being used in fraud and scams.
Conclusion
I hope that this article helped you in finding your Metrobank account number if you've lost or forgotten it. Once you've recovered your account number, make sure to store it in safe and secure place such as a private notebook or a note-taking app on your phone.
For any questions and concerns, just reach out to customer support by calling the Metrobank toll-free hotline 1-800-1888-5775 or emailing [email protected].