If you frequently use PayPal for freelance work, you might have experience transferring or withdrawing your hard-earned money to your bank account. You probably know that you can make fund transfers from PayPal to UnionBank or GCash, for example. But do you know that you can also transfer money from PayPal to BPI?
I've been using my UnionBank account to receive money from PayPal for as long as I can remember, so I was pleasantly surprised to know that I can also withdraw my PayPal funds to my BPI account. Don't get me wrong, I'm happy and satisfied with my UnionBank EON account, but it's nice to know that PayPal users in the Philippines now have several withdrawal options to choose from. I can now move my money to two different bank accounts instead of relying on a single account to receive my PayPal funds.
If you're interested to know how to transfer money from PayPal to BPI, you've come to the right place. I'll teach you how to link your BPI account to PayPal as well as to transfer or withdraw your PayPal funds to BPI.
How to Link BPI with PayPal
The first thing you'll need to do before you can transfer money from PayPal to BPI is to link your bank account to PayPal.
Keep in mind that you can only link a bank account with the same registered name as your PayPal account. This means that you cannot link your friend's or anybody else's bank account. Your PayPal account must also be verified. Read this article to learn how to verify your PayPal account.
Linking is a one-time procedure. After your BPI account is linked to PayPal, you can perform as many withdrawals and transfers as you want.
Login to your PayPal account and click "Wallet" on the top menu bar.
Click "Link a bank" as shown on the screenshot below.
Provide the following bank information:
Bank Name – Select "Bank of the Philippine Islands."
Bank Code – The BPI bank code is 010040018. This will automatically be filled up after selecting the bank.
Account Number – Enter your BPI account number.
Double-check that you provided the correct BPI account number, and then click "Link Your Bank."
Enter the security code that will be sent your mobile number.
Voila! Your BPI account is now linked to PayPal. You can now start transferring money from PayPal to BPI.
You can also link your BPI debit card to PayPal. Just click "Link a Card" on the PayPal wallet page and enter your card details.
You can transfer money from PayPal to your BPI debit card but it incurs a 1% fee instead of a fixed charge. The advantage of a debit card is that transfers are completed within minutes compared to several days for transfers to bank accounts.
How to Transfer Funds From PayPal to Your BPI Account
Now that your BPI account is linked to PayPal, it's time to transfer your funds. Click "Transfer Funds" on the PayPal summary page.
Choose the bank where you want to transfer the money. In this case, it's "Bank of the Philippine Islands."
Click "Next" to proceed.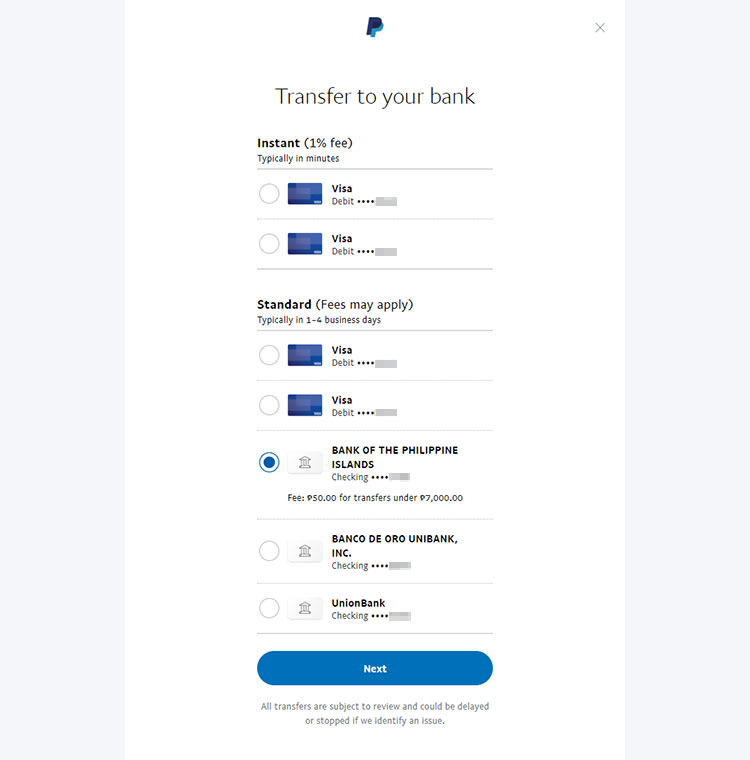 Enter the amount that you want to transfer. PayPal will automatically convert foreign currency to the local currency (Philippine pesos) before transferring it to your bank account.
There is a ₱50 fee for transfers under ₱7,000. Transfers of ₱7,000 or more are free.
Click "Next" to continue.
Review your transfer details. You can see the estimated number of days the money will arrive in your BPI account, as well as the conversion rate, transfer fee and the transfer amount in Philippine pesos.
Click the "Transfer (amount) Now" button to push through with the transfer.
The fund transfer is now being processed. You will receive an email with the details about the transfer. Keep this email as it contains the transaction ID which could be useful in case you need to contact PayPal support.
It will take anywhere between 2 to 4 business days for the money to be credited to your BPI account. So if the fund transfer was done on Friday, the money should arrive between Tuesday and Thursday of the next week.
Parting Words
As you can see, transferring money from PayPal to BPI is as easy as 1-2-3. You don't have to jump through hoops to convert your PayPal funds into cash. The only downside is that it takes a few days for the money to be credited to your bank account. But if you urgently need the money, you can opt to link your BPI debit card and transfer your PayPal funds to it. You will then receive the money in minutes.
Should you encounter any problems with your PayPal transfers, call the PayPal customer service number +1-402-935-2050.