Getting connected to the Internet is easy nowadays as almost everyone possesses a mobile phone. Most people no longer need a computer to access the Internet since they can use their smartphones to do so. Aside from that, mobile data packages and plans are cheaper than ever. Smart prepaid subscribers, for example, can purchase mobile data by registering to All Out Surf promos.
Smart All Out Surf promos are three-in-one packages that offer mobile Internet, SMS and call minutes at an affordable price. All Out Surf promos cost as low as ₱15 and lasts up to 7 days. The promo also comes with 100MB of data per day for Facebook and Messenger on top of the open access data allocation. So if you subscribe to All Out Surf 99 which is good for 7 days, you can enjoy up to 700MB of mobile data for Facebook aside from the 1GB open access data.
With such generous offerings, it's no wonder that AOS promos are popular among Smart prepaid subscribers looking for a budget-friendly way to access the Internet. And with unlimited SMS and plenty of call minutes, All Out Surf subscribers can communicate with their friends and loved ones while they browse Facebook, watch Netflix or play their favorite mobile games.
List of All Out Surf Promos
Refer to the table below for the complete list of Smart All Out Surf promos.
Take note that AOS 15 and 25 are not available to Smart subscribers in the National Capital Region (NCR).
How to Register to All Out Surf Promos
It's easy to register to Smart All Out Surf. All you have to do is to text the corresponding keyword to 9999. For example, if you want to register to All Out Surf 50, just text ALLOUT50 to 9999. Make sure that you have enough prepaid load to buy the promo. A maintaining balance is not required.
You will receive a text message confirming your successful subscription to All Out Surf.
Another way to register to AOS promos is by dialing *123# on your phone. You can use this method if the SMS method is not working.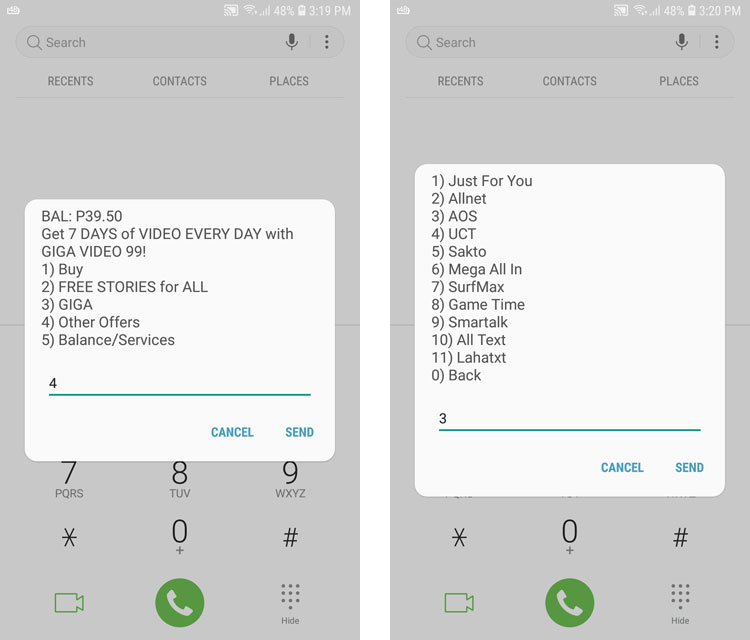 Select your choices by entering the corresponding number and pressing "Send." Choose "Other Offers" and then "AOS." Select your desired promo, with "20" referring to All Out Surf 20 and so on. Finally, select "Subscribe" to register to the promo.
A text confirmation will inform you that you have successfully subscribed to the promo.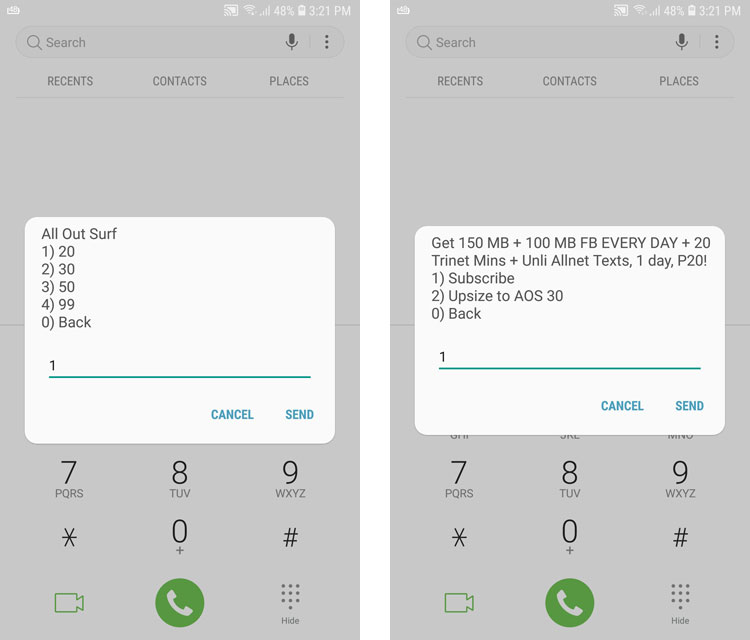 Smart All Out Surf promos can be stacked or extended. To stack or extend your promo, just register to the same or different All Out Surf promo before your current promo expires. The new mobile data, SMS and call minutes will be added to your unused promo allocation or resources.
How to Check Your All Out Surf Balance
To check your balance, text BAL to 2200. You will receive a text message containing your remaining MBs and call minutes as well as the expiry dates.
You can also check your balance by dialing *123# and selecting "Balance/Services" and then "Check Balance."
Need Help?
There's no doubt that Smart All Out Surf is popular due to the fact that it contains everything you want in a promo. While most other promos have only one or two inclusions, All Out Surf gives you a generous amount of mobile data as well as unlimited texts to all networks and calls to Smart, TNT and Sun. You don't need to register to another promo just to text or call your friends and loved ones.
If you have any questions or concerns about this Smart promo, call the toll-free number *888 for assistance.