For computers and laptops without built-in WiFi, USB WiFi adapters are definitely a lifesaver. These are small devices that can be inserted to your computer's USB port to enable WiFi connections for your device. If a USB WiFi adapter keeps disconnecting, however, it can be quite frustrating and annoying.
If your USB WiFi adapter or dongle keeps disconnecting, you can take several steps to prevent the problem from recurring. You have to make sure that your WiFi adapter or dongle is still functional and working properly. Some USB WiFi adapters tend to suffer from overheating with prolonged use, and as a result, their lifespan are drastically shortened.
Another reason why your WiFi or network adapter keeps disconnecting is because of a loose connection with the USB port. You might have to transfer the adapter to a different USB port to ensure that it fits tightly and securely.
If you're pretty sure that your WiFi adapter is not damaged or malfunctioning, but it still keeps disconnecting, you can take several steps to remedy the problem. Read on to learn how.
Run Windows Network Diagnostics
The quickest way to solve the problem of your USB WiFi adapter disconnecting is to run Windows network diagnostics. To start, right-click the WiFi icon on the Windows taskbar and click "Troubleshoot problems."
Windows Network Diagnostics will immediately attempt to detect and fix problems with your wireless network adapter. Depending on the cause of the problem, this will take a few seconds to more than a minute.
After troubleshooting has completed, it will display the problems it found on your computer and the action it has taken. If it shows that it has fixed your problem with the wireless adapter or access point, your Internet connection will be restored almost immediately.
You can repeat this process if the problem keeps recurring, although if the issue persists, there might be a physical defect with your wireless adapter.
Configure Power Management
One reason why your WiFi adapter keeps disconnecting is due to your Windows power settings. Since Windows tries to reduce power consumption, some devices such as the network adapter could become underpowered.
Start by right-clicking the WiFi icon on the Windows taskbar and selecting "Open Network & Internet settings."
The network status settings will appear. Under "Change your network settings," click "Change adapter options."
Select your network connection which is WiFi or Wi-Fi. Right-click and then select Properties.
On the Wi-Fi Properties dialog, click Configure.
Click the Power Management tab.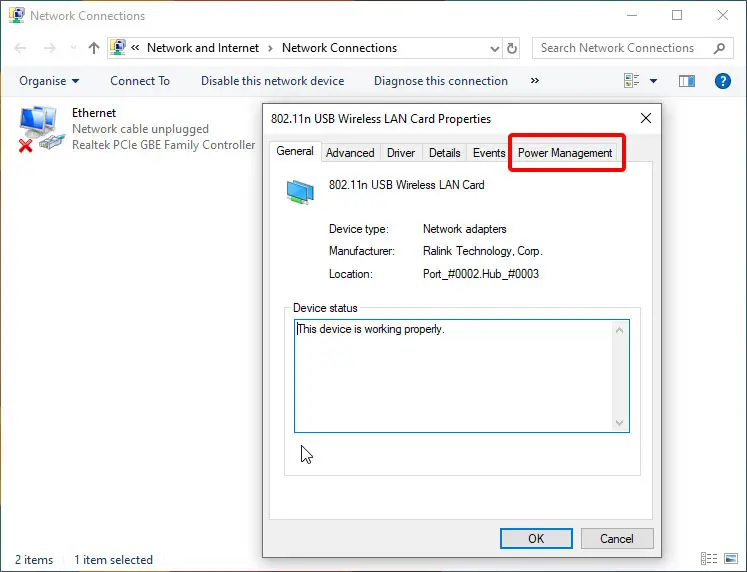 Finally, uncheck the box for "Allow the computer to turn off this device to save power." Click OK.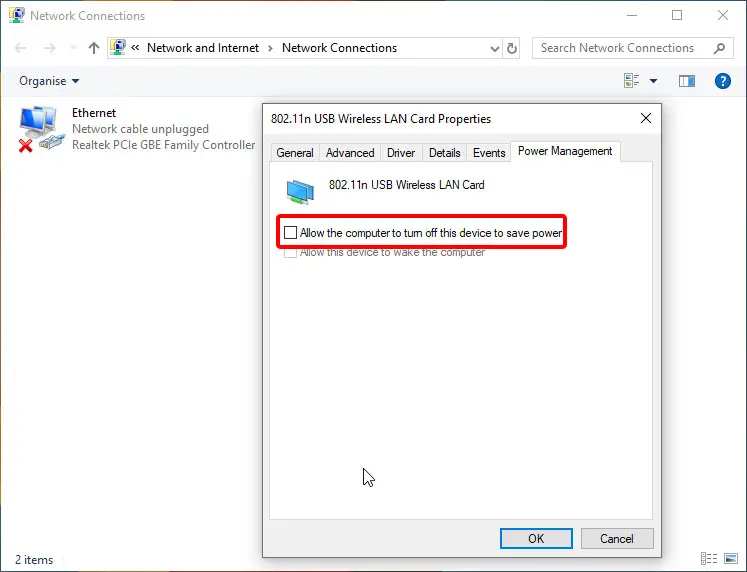 Reset WLAN AutoConfig
If the previous methods don't work, you can try to reset WLAN AutoConfig so that your WLAN adapter will start up automatically.
To start, tap the Windows key and R at the same time (Windows + R). Type services.msc and click OK (or press Enter).
Scroll down the list of services and double-click WLAN AutoConfig.
On the WLAN AutoConfig Properties dialog, change the Startup type to "Automatic."
Click Apply and then OK.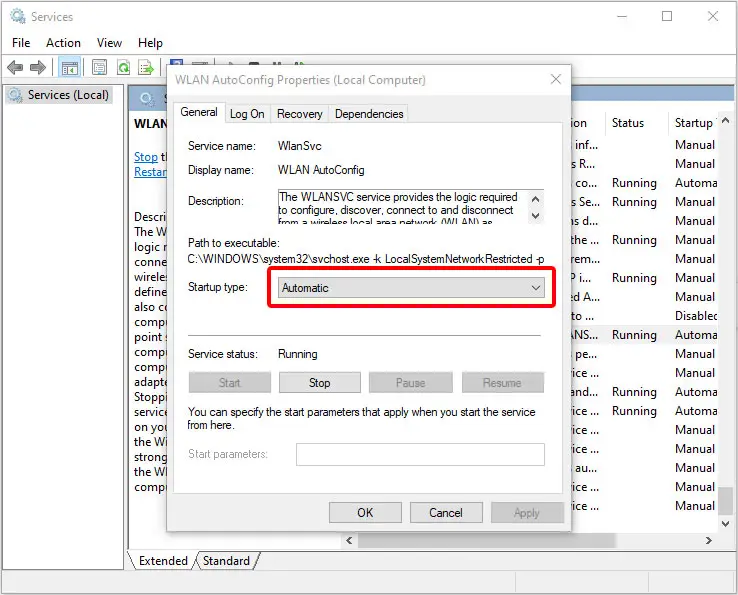 Uninstall the Network Adapter Driver
If all else fails, there's probably an issue with your network adapter driver. You can try uninstalling the driver, after which Windows will reinstall and update the driver upon reboot.
Right-click the Windows Start button and select Device Manager.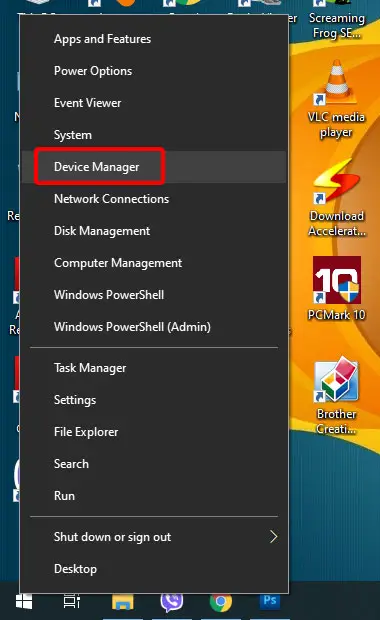 Find Network adapters and double-click it to expand this section.
Select your USB WiFi adapter on the list and right-click it. Click Uninstall device.
You'll be prompted with a warning. Click Uninstall to proceed.
Restart your computer while keeping your WiFi adapter plugged in. Windows will immediately reinstall the correct driver after the restart.
Reinstall the Network Driver Manually
Another possible reason why your WiFi adapter keeps disconnection is because of a wrong, outdated or corrupted network driver. You can either uninstall the driver to force Windows to install the correct driver, or reinstall the driver manually and update it to the latest version.
You can visit the WiFi adapter's manufacturer website to download the latest driver for your device. There are also third-party websites that allows you to download drivers, but make sure that they come from a reputable source and are free from viruses and malware.
Software like Driver Easy and Driver Booster provide an easy way to download and install drivers. These driver updater programs automatically finds the correct drivers for your computer and operating system, and then download and install them properly.
To reinstall or update the driver manually, open the Device Manager by right-clicking the Windows Start button and selecting Device Manager.
Double-click Network adapters to expand it and then right-click your USB WiFi adapter. Click Update driver.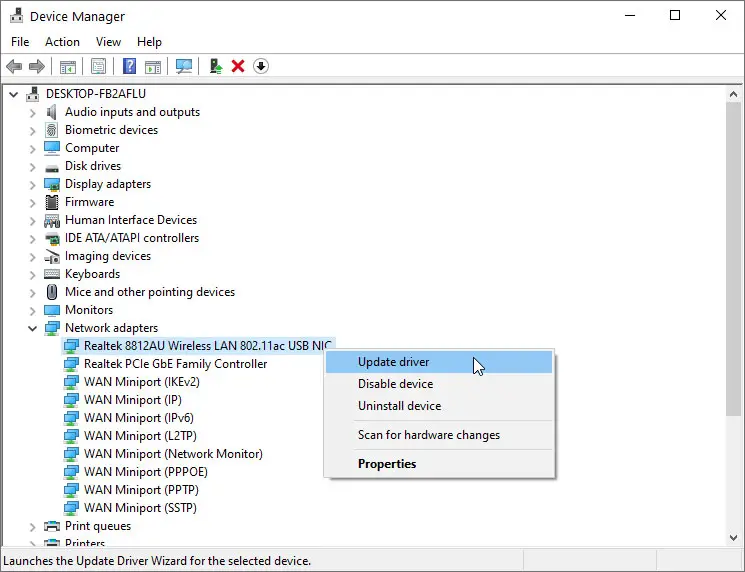 Select "Browse my computer for drivers" to find and install a driver manually.
Click "Let me pick from a list of available drivers on my computer." This will show the available drivers that are compatible with your WiFi adapter.
Select the driver that you want to install, and then click Next.
If you have an installation disk, insert the disk and click Have Disk.
Wait until Windows has finished installing the driver, and then check if your Wi-Fi connection is back to normal.
Final Thoughts
As you can see, there are several steps to take to resolve your WiFi adapter connection issues. If any of the aforementioned methods don't work, your USB WiFi adapter might be defective and it's time to buy a new one. Should you have any questions or suggestions, feel free to comment below.