Perhaps you have a new TNT prepaid SIM and you want to start using it for calls, texts and Internet. The first thing you should do is to activate it so that you will enjoy the benefits of Smart's nationwide LTE and 5G network. In this article, you will learn how to activate your TNT SIM card so you can connect with your friends and start surfing the Internet right away.
TNT or Talk 'N Text is a cellular service powered by Smart Communications and is known for its incredibly affordable prepaid promos. For as low as ₱10 per day, you can enjoy unlimited texts or calls to anyone in the Philippines. Mobile data promos from TNT are pretty affordable, too. With promos like GaanSurf, you can visit websites, browse Facebook or watch YouTube videos for as low as ₱5. It's no wonder why many Filipinos are switching to TNT to save money on texts, calls and mobile data.
With 5G already rolling out in some areas of the country, it's a good idea to get a TNT 5G-ready SIM to prepare for the future. 5G is at least 10 times faster than 4G/LTE so you might enjoy speeds of 1Gbps or more if things go according to plan. With the latest SIM from TNT, you will only need to buy a 5G-capable device to enjoy 5G Internet speed once it's available in your area.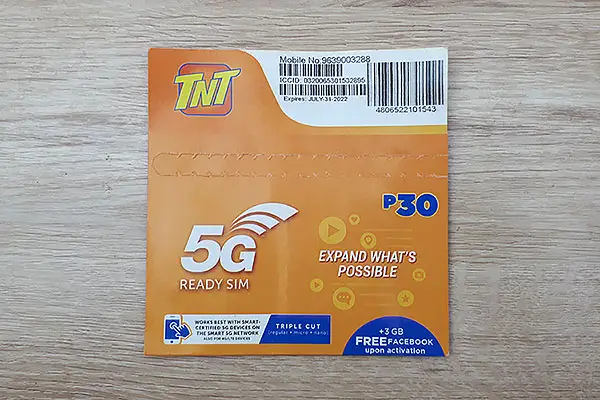 Your new TNT SIM will also work with 4G/LTE and 3G networks, so you can enjoy fast mobile Internet courtesy of Smart's nationwide LTE network. If you're still using an old TNT SIM that can only access 3G, you can buy an LTE Upgrade SIM to upgrade to 4G while still retaining your old number.
3 Ways to Activate Your New TNT SIM
Make sure that your TNT SIM is not yet expired and follow these steps to activate your TNT SIM.
Turn on mobile data
The recommended way to activate your TNT SIM card is to turn on mobile data. First, insert the TNT SIM into your handset's SIM slot and turn on mobile data. Open your phone's web browser and go to the TNT website (type tntph.com on your browser's address bar).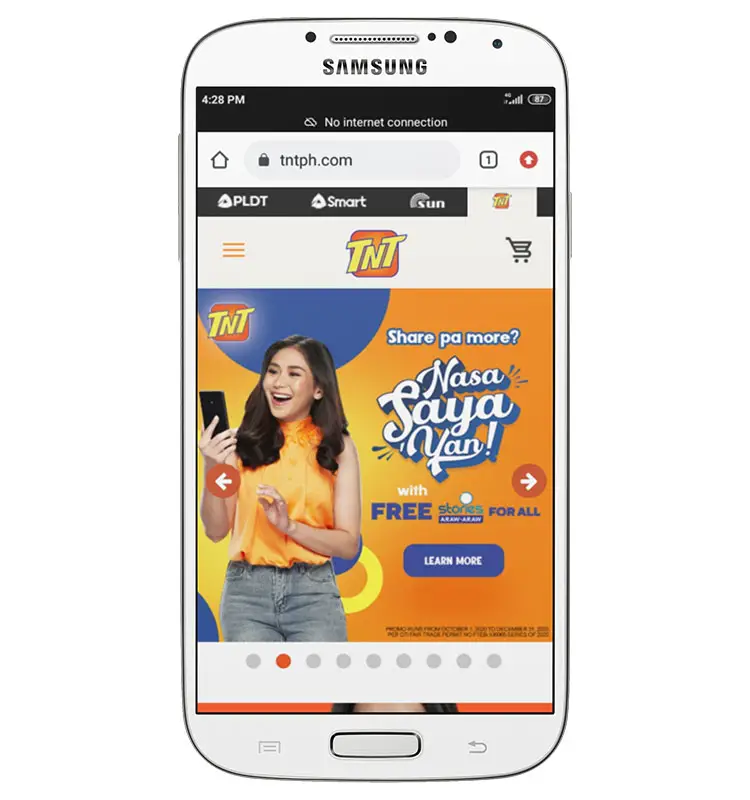 You will then receive a text message welcoming you to TNT. This means that your new TNT SIM is activated and you can start texting, calling and surfing the Internet.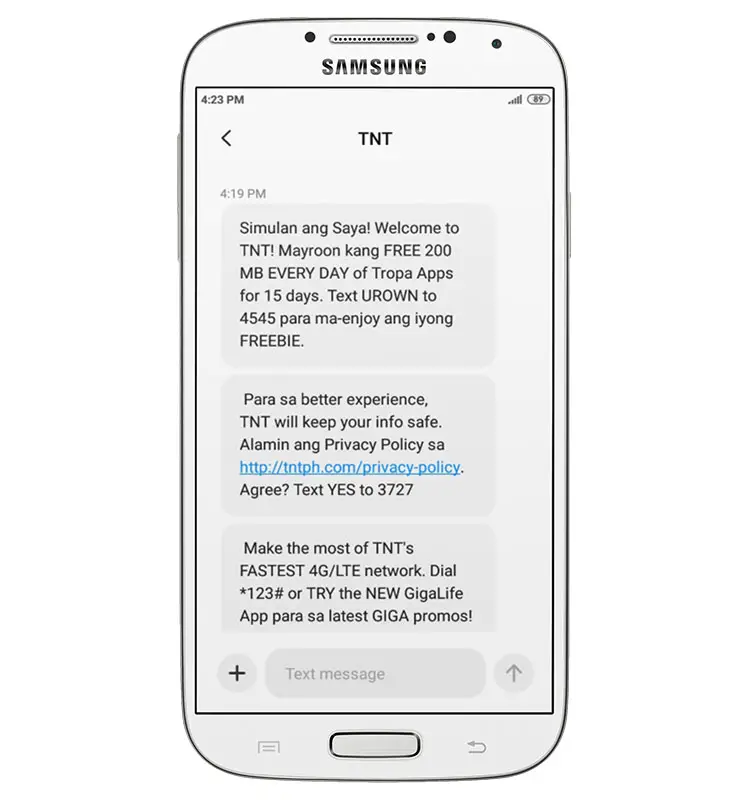 To get your free 200MB of Facebook access (good for 15 days), text UROWN to 4545 and choose FBREE.
You can download the GigaLife app from Google Play (Android) or the App Store (iOS) to manage your TNT account, register to promos, buy prepaid load, check your balance and many more.
Text ?15001 to 214
You can also activate your TNT SIM by texting ?15001 to 214. You will receive a text message with information about your remaining load balance, as well as the welcome message which indicates that you have successfully activated your TNT SIM.
Dial *123#
Still another way to activate your new TNT prepaid SIM is to dial the USSD code *123# and navigate to Balance/Services > Check Balance. You will be shown your load balance in real time and you will also receive a text message with your balance details. If you receive a text message that says, "Welcome to TNT!" that means your TNT SIM is already activated.
Frequently Asked Questions
Do I need to load my TNT SIM in order to activate it?
It's not necessary to load your TNT SIM before activation. However, it's recommended to top up your load balance after you have activated your TNT SIM, in order to prevent eventual deactivation.
I've followed all the steps but my TNT SIM was not yet activated. What should I do?
In case you were not able to activate your TNT SIM successfully, you may request assistance by calling the TNT toll-free hotline *888.
How do I register my TNT SIM?
After you have activated your TNT SIM, the next step is to register it in accordance with the SIM Registration Act. Read this article to learn how to register your TNT SIM.
Need Help?
There you have it, the different ways to activate your TNT SIM card. With your new TNT prepaid SIM, you will enjoy the cheapest and most budget-friendly promos from TNT. Don't forget to load your new SIM regularly to keep your subscription active and to avoid possible disconnection.
Should you have any questions about anything related to TNT, just call *888 for free.