If you're not yet a member of SSS, now is a good time to become one. Thanks to the wonders of the Internet, you can now register as an SSS member using a computer or mobile device. Our SSS online registration and application guide will help you apply for SSS membership, so read on.
The Social Security System (SSS) is the Philippine government's social insurance program for workers in the professional, private and informal sectors. The SSS' mission is to "provide meaningful protection to members and their families against the hazards of disability, sickness, maternity, old age, death and other contingencies resulting in loss of income or financial burden."
SSS members in good standing are entitled to benefits under the Social Security and Employees' Compensation (EC) Programs in case of sickness, death, disability, maternity, and old age. Except for benefits under the EC Program, self-employed and voluntary members are entitled to the same benefits as covered employees.
Being a member of the Social Security System or SSS entitles you to a wide range of benefits including, but not limited to, retirement benefit, disability benefit, maternity benefit, and funeral grant.
Cash benefits are given as monthly pension or lump sum amount (for retirement, disability or death) or daily cash allowances (for sickness and maternity). SSS members can also apply for an SSS salary loan and calamity loan.
Who Can Be a Member of SSS?
Any Filipino of working age and not over 60 years old can become a member of SSS. Employers, employees and self-employed individuals who are earning at least P1,000 per month are required to become SSS members.
Overseas Filipino workers (OFWs) and non-working spouses of SSS members can also register as voluntary members. Those who are unemployed or are no longer working can opt to become voluntary members and continue paying SSS contributions on their own accounts.
If you're an employee, your employer or company will be responsible for your SSS contributions. Self-employed individuals, OFWs, freelancers, and voluntary members will need to pay their contributions on their own. Check out the SSS contribution table here.
SSS Online Registration and Application Process
If you're not yet an SSS member and you would like to become one, you can apply for membership online. Just follow our SSS online application step-by-step guide as follows:
Note: This guide is for new SSS number applications only. If you already have an existing SSS number, you can register for the My.SSS online system to access your account, check your contributions, and more. Read this article to learn how to sign up to My.SSS.
Step 1: Visit SSS online registration page
Open the SSS online registration page through this link. Once the page is open, click the link as shown in the screenshot below.
Read the instructions and other important information on the next page. Then click the Start button.
Step 2: Enter your personal information
Enter your personal details such as last name, first name, date of birth, and email address.
You can switch between "Complete Name," "Last Name and First Name only," and "Single Name only." This is applicable for those without middle names and those who only have one name.
Last Name – Enter your family name or surname. If you don't have one, select "Single Name only" above it.
First Name – Provide your given name.
Middle Name – If you don't have a middle name, select "Last Name and First Name only" above it.
Suffix – If your name has a suffix (e.g. Sr., Jr., II), choose it from the dropdown box.
Date of Birth – Indicate your birthdate in MM/DD/YYYY format. For example, if your birthdate is on September 15, 1990, choose 09/15/1990.
Email – Provide an active email address where the confirmation email will be sent.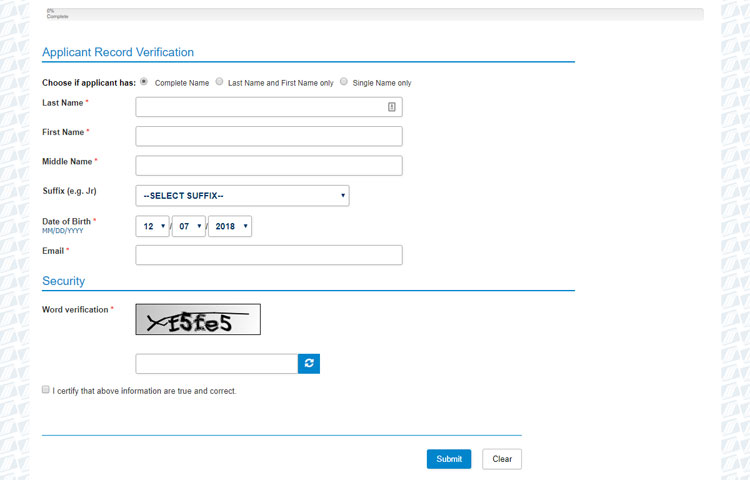 Solve the captcha code ("I'm not a robot") and then tick the checkbox for "I certify that above information are true and correct."
Click the Submit button when you're done, or Clear to start over again.
Step 3: Check your email
Check your email inbox for the confirmation email with the subject "SSS Number Application Continue Link." Open that email and click the "Continue" link.
The link is valid for only 5 days. If you fail to complete the SSS online application within 5 days, you will need to submit a new application again.
If you didn't receive the confirmation email, you can try checking your Spam or Junk Mail folder. Emails from the SSS sometimes land there.
Step 4: Complete your application
Fill out the SSS online application form as honestly and accurately as possible. Click Next to go to the next stage in the SSS online registration process, until you reach "80% complete" on the green progress bar at the top of the page.
You can also click Save anytime during the application process to save your data, in case of a computer shutdown or power interruption.
Basic Information

Gender – Select your biological sex or gender – either male or female.
Mother's Maiden Name – Enter your mother's maiden name (her name before marriage). If she doesn't have a middle name, select "Last Name and First Name only" above it.

Contact Information

Mobile No. – Enter your 11-digit cellphone number.
Telephone No. (optional) – If you have a landline or telephone number, enter it here.

Home Address – Check if your address is in Metro Manila or provincial. If provincial, select your province.

City/Municipality – Choose your city or municipality on the dropdown box.
Barangay – After selecting city/municipality, choose your barangay.
Building Name (optional) – If your residence has a building name, type it here.
House No. (optional)
Street (optional)
Subdivision (optional)

Purpose of Application – Select the purpose of your application as follows:

For Employment – Choose this option if you're presently employed.
Self Employed – Select this option if you're self-employed (e.g. professional, businessman, freelancer).
Overseas Filipino Worker – Select this if you're working as an OFW abroad.
Non Working Spouse – If you're an unemployed spouse (housewife or husband), select this option.

Review all the information that you entered to make sure these are correct. If you find any mistakes, click the Previous button to correct them. Mistakes in your SSS online application could lead to problems in your transactions later on, so be extra careful with this step.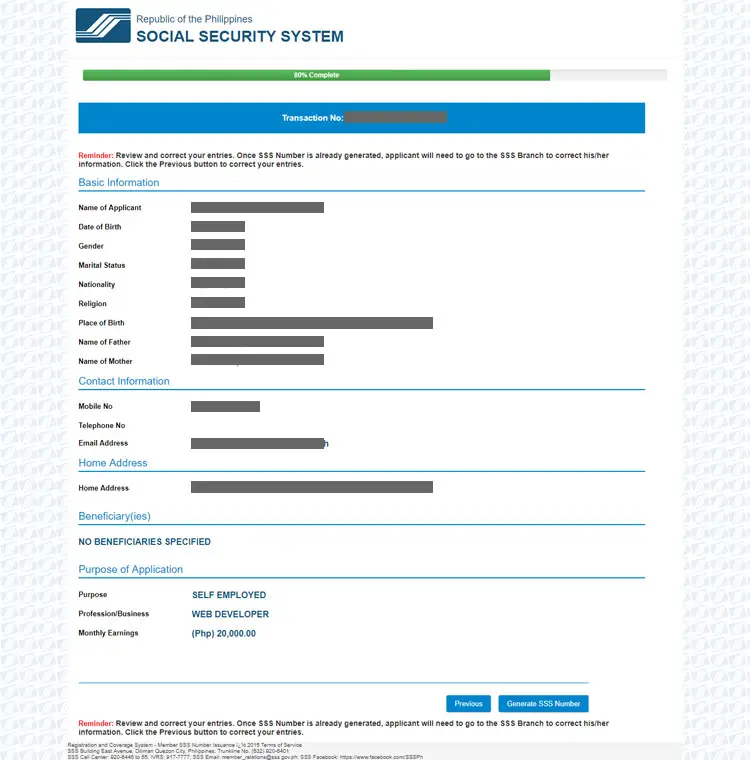 Once you have reviewed that all the entries are correct, click Generate SSS Number.
Step 5: Print your records
Congratulations! You now have your own SSS number. Print your SSS Number Slip, Personal Record Form, and the confirmation email that was sent to you by SSS.
Tip: If you don't have a printer or if you cannot print, you can save your records as PDF files for future printing. Just click Print (or Ctrl + P), click "Change" under Destination, and then select "Save PDF." Click "Save" to generate the PDF file.
Step 6: Proceed to the nearest SSS branch
Take note that the generated SSS number is only temporary. You can make your SSS number permanent by bringing your printed records (the ones that you printed in step 5) and the required documents (see below) to the nearest SSS branch in your locality.
SSS Requirements for Registration
Bring an original/certified true copy and a photocopy of any one (1) of the following documents to the SSS branch near you to complete your SSS online application:
Baptismal certificate
Driver's license
Professional Regulation Commission (PRC) card
Seaman's Book
If you don't have any of the documents mentioned above, you can submit any two (2) of the following secondary documents:
Alien certificate of registration
ATM card with the cardholder's name
ATM card and certification from the issuing bank that the account number belongs to the cardholder, if the card does not bear the cardholder's name
Bank account passbook
Birth/baptismal certificate of children
Certificate from the Office of the Southern/Northern Cultural Communities
Certificate from the Office of Muslim Affairs
Certificate of licensure/qualification document/seafarer's ID and record book from the Maritime Industry Authority
Certificate of naturalization issued by the Bureau of Immigration
Company ID
Company representative authorization card issued by SSS
Credit card
Fisherman's card issued by the Bureau of Fisheries and Aquatic Resources (BFAR)
GSIS card/certificate of membership
Health or medical card
ID card issued by local government units (e.g. barangay/municipality/city)
ID card issued by professional organizations recognized by the Professional Regulation Commission (PRC)
Life insurance policy
Marriage contract
Membership card issued by private companies
Overseas Workers Welfare Administration (OWWA) card
Permit to carry firearms issued by the Firearms and Explosives Unit of the Philippine National Police (PNP)
PHIC member's data record
School ID
Seafarer's registration certificate issued by the Philippine Overseas Employment Administration (POEA)
Senior citizen card
Temporary license and student permit issued by the Land Transportation Office (LTO)
Transcript of school records
Voter's ID card/affidavit
Married applicants are required to submit their marriage certificate. Married applicants with children should bring copies of the birth certificates of their children.
Unemployed married applicants applying for voluntary or self-employed membership are instructed to have their spouse sign the Personal Record Form to confirm that the spouse agrees with the SSS membership application.
Pay Your SSS Contributions
Start paying your SSS monthly contributions to be eligible for benefits and assistance. Visit this page to learn more about your SSS contribution amount and your payment schedule or due dates.
As you can see, applying for an SSS membership is fairly easy and straightforward. No need to endure long lines because you can register in the relative ease and comfort of your home. So what are you waiting for? Apply to be a member of SSS and enjoy social security benefits and privileges.
If you have any questions or concerns, contact the Social Security System or visit the SSS website at https://www.sss.gov.ph. Please share this SSS online registration guide with your friends or follow us on Facebook for the latest updates.