If you don't want your WiFi network to be seen and accessed by other people, then you can choose to hide it and make it private. That way, only you can connect to your wireless network. So how do you hide your WiFi network so that others will never know that it exists?
WiFi networks are inherently less secure than wired networks, due to the fact that the former is visible and accessible to just about everyone. With wired networks, you have to connect a cable to your router to browse the Internet, but with wireless networks, you only need a computer or mobile phone. This means that strangers and your neighbors can see your WiFi and possibly access your Internet. Worse, hackers and malicious individuals can potentially steal your personal data by accessing your wireless network.
So if you're a bit on the paranoid side and you really want to hide your WiFi network from your neighbors, you can take steps to make it invisible – at least to the casual Internet user. There are ways to uncover hidden wireless networks, which require technical knowledge, but ordinary Internet users usually will not bother. By hiding your WiFi network, you will no longer have to worry about your neighbors stealing your Internet.
As mentioned already, this is not totally foolproof because there are ways to uncover hidden WiFi networks. But most people will only look for and connect to available WiFi networks. If someone knows the Service Set Identifier (SSID) or network name of your WiFi, he could add that network and it will then show up in the list of available networks on his device. So make sure that you change the SSID to something that you only know and that's hard to guess.
This article is all about hiding your Globe WiFi network. Make sure that you have administrator access for your Globe modem before proceeding with this tutorial.
How to Hide Your Globe WiFi Network
Type 192.168.254.254 into your browser's address bar (make sure that you're connected to your Globe network while doing this).
Click the "Log In" link at the top-right corner.
Enter your Globe admin username and password. Click "Log In."
The default username is user and the password is @l03e1t3.
Once logged in to the Globe admin dashboard, click "Advance."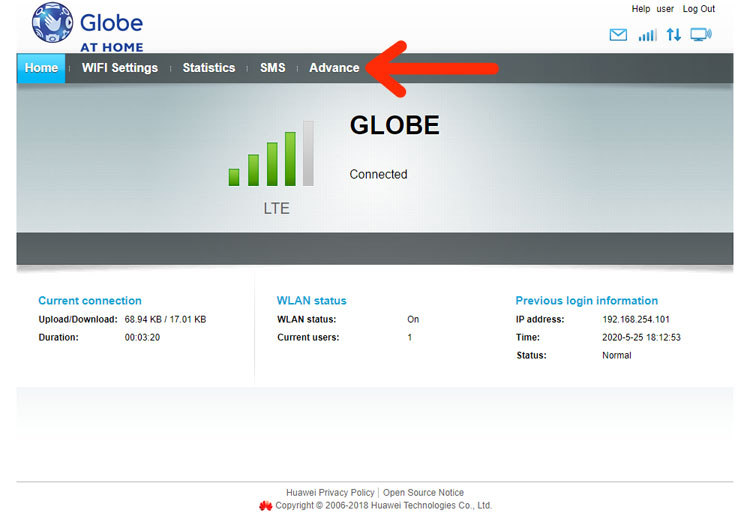 On the left navigation menu, go to "WLAN" and click "WLAN Basic Settings."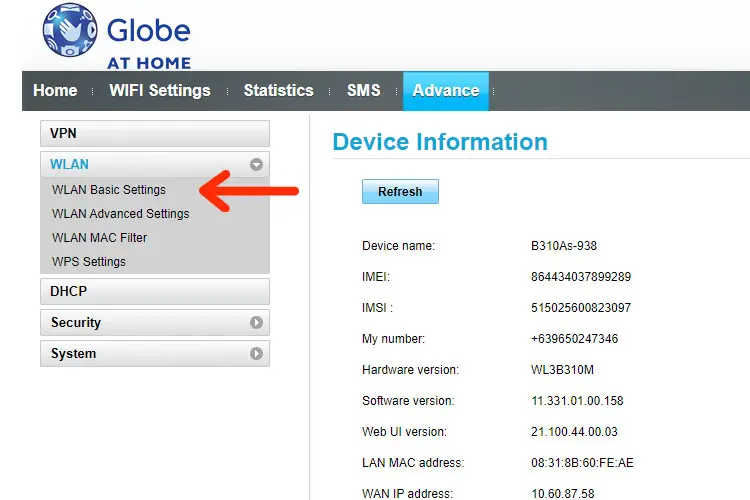 You're now in the WLAN Basic Settings page. Go to the "SSID broadcast" part and select the "Disable" radio button.
Click "Apply" to disable SSID.
Your WiFi device will now be restarted. Check your available WiFi networks and you'll see that your Globe WiFi is no longer there.
Remember or save the SSID or network name as you will need it to connect to your hidden WiFi.
To unhide your WiFi, you will have to connect to your hidden WiFi and enable SSID in the Globe admin dashboard. The next section will teach you how to connect to your hidden Globe WiFi network.
How to Connect to Your Hidden WiFi
To connect to your hidden WiFi, you must know the SSID and the WiFi password.
On your computer, go to the WiFi settings page (Settings > Network & Internet > WiFi) and click "Manage known networks."
You will see a list of known networks.
Select "Add a new network."
You will be prompted to add a new network. Enter or select the following information:
Network name: SSID or WiFi name
Security type: Choose "WPA2-Personal AES" for extra security
Security key: This is the WiFi password
You may also check "Connect even if this network is not broadcasting."
Click "Save."
Your hidden WiFi will now appear in your list of available networks. Don't worry because your hidden WiFi will remain invisible to other users, unless they also know the SSID or WiFi name.
For mobile users, connecting to your hidden WiFi is pretty straightforward. Just to go to your phone's Wi-Fi settings and select "Add network."
Enter or select the following information when prompted:
Network name: SSID or WiFi name
Security: Choose "WPA/WPA2/FT PSK" for security reasons
Password: This is the WiFi password
Tap "Connect" to connect to your hidden Globe WiFi network.
Final Thoughts
Hiding your WiFi network is one of the best ways to secure your wireless Internet connection. With a hidden WiFi and a strong password, you can finally say goodbye to the age-old problem of neighbors and strangers accessing your Internet. If you forgot the network name and can't access your hidden WiFi, just log in to your modem's admin dashboard using a LAN cable and enable SSID broadcast.
If you have any questions, don't hesitate to let us know by commenting below.