Imagine that you want to send money to someone through Palawan Express Pera Padala, M Lhuillier Kwarta Padala or LBC Padala, but you can't be bothered to go to a remittance center to send the money. What are you going to do in that situation?
Good thing that you can send money online to Palawan Express, M Lhuillier and LBC using your smartphone or computer. After sending the money online, your recipient can then claim it by going to the remittance center and filling out a cash out form. That is all possible with the Coins.ph mobile wallet.
Instead of travelling to a remittance outlet in order to send cash, you can just use your Coins.ph wallet to make a payout to your intended recipient. Coins.ph will be the one to process your payout request at your chosen remittance service. Once the payout is successfully processed and is ready for pickup, you give the transaction code to the recipient. The recipient then claims the money at the remittance outlet.
To summarize, these are the steps in sending money from your Coins.ph wallet:
You send money to the recipient using Coins.ph.
Coins.ph processes your payout request.
Payout is ready for pickup after a few minutes or hours.
You give the transaction number or code to the recipient.
The recipient goes to the nearest remittance outlet to claim the money.
Sounds easy, isn't it? All you need is a Coins.ph account and you can easily send money online to other people via Palawan Express, LBC and M Lhuillier. No need to visit the remittance center and waste your precious time filling out forms and waiting for your turn at the cashier.
Remittance Center Cash Out Options
These are the available cash out options for remittance centers and how long it takes to receive the money:
Palawan Express Pera Padala (by 6:00 PM)
LBC Instant Peso Padala (within 10 minutes)
M Lhuillier Cash Padala (within 10 minutes)
For Palawan Express Pera Padala, the cut-off time to receive the money on the same day is 3:00 PM. Cash out orders made after 3:00 PM will be available by 6:00 PM on the next day. Orders done during Sundays and holidays will be processed on the next business day.
How to Sign Up and Use Coins.ph
If you don't have a Coins.ph account yet, click here to sign up for free and get a ₱50 reward. You must verify your account using an ID or selfie to redeem the reward.
To start sending money, you must top up your wallet by tapping "Cash In" and then choose from any of the cash in options like online bank transfers, over-the-counter banking, 7-Eleven, GCash and many more.
Depending on the cash in option that you chose, it will take anywhere from instant to 24 hours for the money to be reflected in your Coins.ph wallet.
How to Send Money to Remittance Centers Using Coins.ph
Sending money to local remittance centers from your Coins.ph wallet is easy; just follow these steps. The procedure below is for Palawan Express Pera Padala but is also applicable to M Lhuillier Kwarta Padala and LBC Instant Peso Padala. The steps are basically the same, except for the name of the remittance center.
First, open the Coins.ph and login using your PIN. On the home screen, tap "Cash Out." You can also tap "Send" and then "Pera Padala."
Choose the remittance service from the featured cash out options: LBC Instant Peso Padala, Palawan Express Pera Padala or M Lhuillier Cash Padala.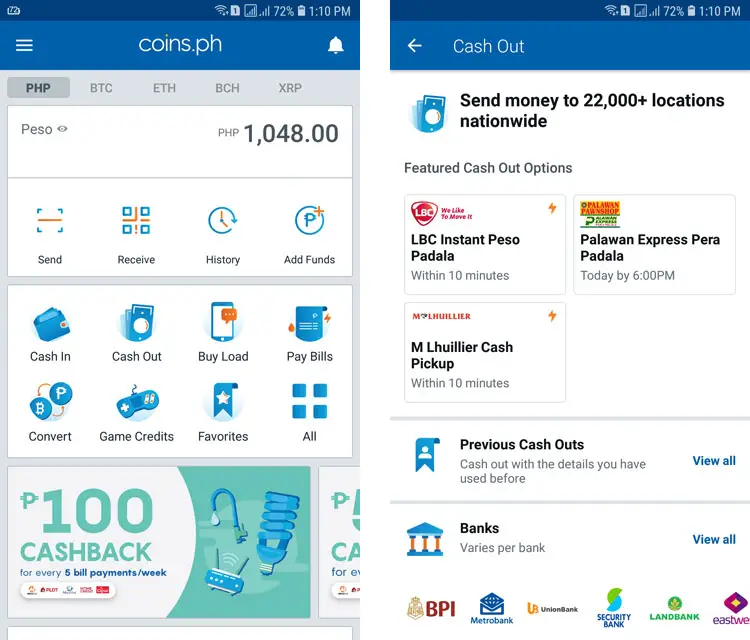 Enter the amount that you want to send, and then press "Next." Take note of the transfer fee, making sure that your wallet is sufficient to pay the total amount.
Type in the details of your recipient, such as first name, last name, phone number, and full address.
If you're sure that everything is correct, tap "Next."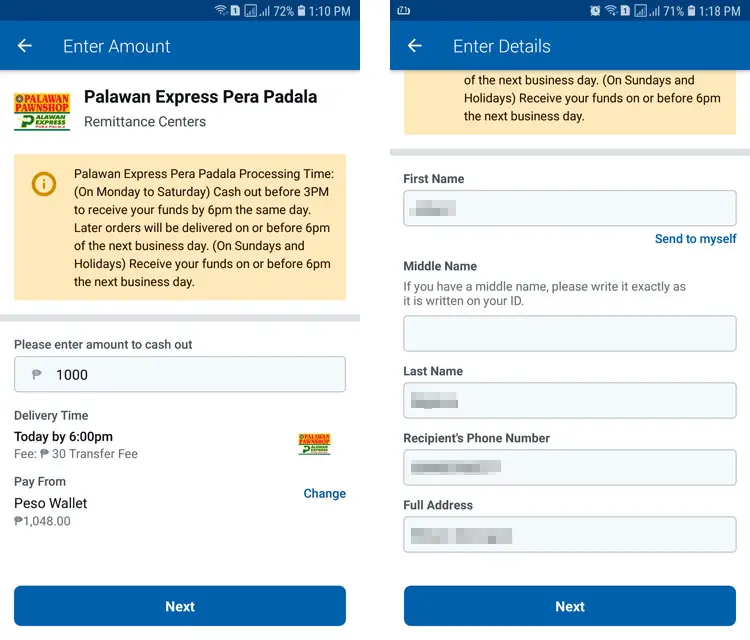 Read the payment summary to check if all the details are correct. If they are, confirm your payment by sliding your finger over the "Slide to confirm" button.
Enter the verification code that was sent to you by email. Press "Submit."
Your cash out order is now being processed.
You can view the status of your cash out order by going to your transaction history (tap "History" in the home screen) and then clicking your cash out transaction.
When your payout is ready, tap "Show More Details" to see the transaction reference code. Copy the transaction code and give it to your recipient for claiming.
Unfortunately, Coins.ph will not inform you that your payout is ready for pickup. So we suggest opening the Coins.ph app from time to time to check the status of your cash out order.
For M Lhuillier payout requests, you can easily copy the tracking number or send it to your recipient as a text message, as you can see in the screenshot below.
If you need help with your cash out request, like for example, you entered the wrong name, just click "I need help with my cash out" or "Need help?" to message Coins.ph customer support.
Don't forget to give the transaction number to your recipient as he will not be able to claim the money without the code. Tell him to bring a valid ID as well.
That's it. You just saw how easy and fast it is to send money online to Palawan Express Pera Padala, LBC Instant Peso Padala and M Lhuillier Kwarta Padala. No more waiting at the remittance outlet to send money, when you can do it through Coins.ph.