Online banking apps and mobile wallets have grown in popularity in recent years due to their cashless nature. Given the choice of going to the bank and carrying bundles of cash, or performing online transactions using a mobile app, most people would definitely prefer the latter. You can even perform cashless transactions with the government; the SSS, for example, now allows you to enroll your bank account online and receive your benefits directly in your bank account or e-wallet.
Through the Disbursement Account Enrollment Module (DAEM) of My.SSS, you can enroll your bank account or e-wallet with the Social Security System (SSS) to expedite the release and disbursement of your loan proceeds and benefits. In fact, the SSS has made it compulsory for employers and members to enroll their bank accounts in DAEM. SSS members who have not enrolled their bank accounts will not be able to receive their benefit claims and loan proceeds.
With that in mind, enrolling your bank account in SSS online is definitely what you should do as soon as possible. Even if you are not applying for a salary loan or claiming benefits right now, it's still advisable to enroll your bank account because you might have to apply for a loan or claim benefits in the future. It will take some time for the SSS to approve your enrolled disbursement account, so it's definitely better to do it now than wait for the moment when you have to apply for benefits.
If you don't have a bank account, you can apply for a UnionBank account online using your mobile phone. All you need is a valid ID and you will have your own bank account without personally going to the bank. You can also enroll your GCash or PayMaya e-wallet if you can't open a bank account.
SSS Bank Enrollment Step-by-Step Process
To enroll your bank account in SSS, you must have an active My.SSS account, as well as a PESONet-participating bank account or e-wallet account (GCash or PayMaya). You must be the owner of the said bank account or e-wallet.
First, login to your My.SSS account and navigate to E-SERVICES. On the dropdown menu, click Disbursement Account Enrollment Module.
Read the reminders and tick the checkbox that says, "I certify that I have read and understood the foregoing reminders on account enrollment." Click Proceed.
Enter your bank account details by following these steps (refer to the screenshot below):
Select either BANK or E-WALLET / RTC / CPO. RTC stands for "remittance transfer company" and CPO means "cash payout outlet."
After choosing the option, select your bank or e-wallet in the dropdown field.
Enter your bank account number or e-wallet account number. Account numbers must be entered as a continuous string of numbers (e.g. 123456789) without any hyphens, spaces or special characters (e.g. #, +).
Enter your bank account or e-wallet number again.
Select your document type:

ATM card with account number and name
Bank certificate or statement (issued not earlier than 2019)
Foreign remittance receipt
Passbook
Screenshot of online/mobile banking account
Validated deposit slip

Click Choose File and upload your document in JPEG or PDF format with a maximum file size of 1MB.
Tick the checkbox agreeing to the privacy terms.
Click Enroll Disbursement Account to submit your bank account information.
Review your bank account details thoroughly before you hit the Enroll button. Make sure that you entered the correct bank account number because the SSS will not be held liable in case you provided the wrong information.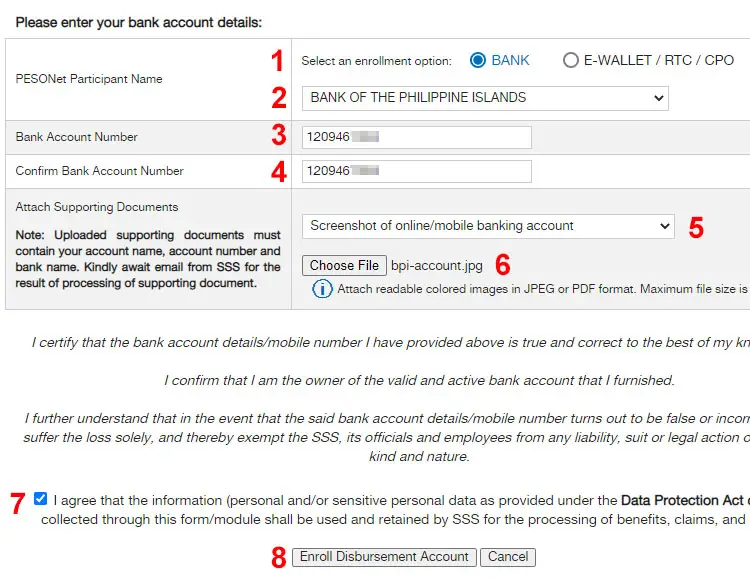 If everything goes well, you will see the message, "You have successfully enrolled your bank account details/mobile number to SSS."
You will also receive a confirmation email of your disbursement account enrollment from the SSS, along with your transaction number.
In the DAEM page, you can see the list of your enrolled disbursement accounts and their current status. If you want to cancel your SSS bank account enrollment, click the Cancel button.
You will receive another email after evaluation of your supporting documents to inform you if your application was approved.
To enroll another bank account or e-wallet, just repeat the enrollment procedure. You can enroll two or more bank accounts in SSS DAEM.
SSS Disbursement Channels
Refer to the table below to know the available disbursement channels for specific loan applications and benefit claims, as of this writing.
| Online Transaction | UMID ATM Card | UnionBank Quick Card | PESONet Banks | E-Wallets | RTC/CPO |
| --- | --- | --- | --- | --- | --- |
| Loans (Salary, Calamity) | Yes | Yes | Yes | No | No |
| Pension Loan | Yes | Yes | No | No | No |
| Unemployment Benefit | Yes | Yes | Yes | Yes | Yes |
| Retirement | Yes | Yes | Yes | Yes | Yes |
| Funeral | Yes | Yes | Yes | Yes | Yes |
| Employer Sickness/Maternity Reimbursement | No | No | Yes | No | No |
| SE/VM/OFW Sickness/Maternity Application | Yes | Yes | Yes | Yes | Yes |
As you can see from the table, PESONet bank accounts can be used for all loan applications and benefit claims except for pension loan, while e-wallets cannot be used for loans.
SSS PESONet-Participating Banks
These are the PESONet-participating banks that are eligible for SSS bank enrollment:
Al-Amanah Islamic Bank
AllBank (A Thrift Bank), Inc.
Asia United Bank
Australia and New Zealand Banking Group
Bangko Mabuhay (A Rural Bank), Inc.
Bangkok Bank Public Co.
Bank of America
Bank of China Unlimited
Bank of Florida, Inc. (A Rural Bank)
Bank of Commerce
Bank of the Philippine Islands (BPI)
BDO Network Bank, Inc. (A Rural Bank)
BDO Unibank, Inc.
Camalig Bank, Inc. (A Rural Bank)
Cebuana Lhuillier Rural Bank, Inc.
China Bank Savings
China Banking Corporation
CIMB Bank Philippines
Citibank, N.A
Country Builders Bank, Inc.
CTBC Banking Corporation
DCPay Philippines
Deutsche Bank
Development Bank of the Philippines (DBP)
Dungganon Bank, Inc.
East West Rural Bank, Inc.
East-West Banking Corporation
Equicom Savings Bank
First Consolidated Bank
Industrial Bank of Korea
ING Bank, N.V
JP Morgan Chase Bank
KEB Hana Bank
Land Bank of the Philippines
Malayan Bank Savings and Mortgage Bank
Maybank Philippines, Inc.
Mega International Commercial Bank Co. Ltd.
Metropolitan Bank and Trust Company (Metrobank)
Mizuho Bank, Ltd.
MUFG Bank, Ltd.
Philippine Bank of Communications (PBCOM)
Philippine Business Bank
Philippine National Bank (PNB)
Philippine Savings Bank (PSBank)
Philippine Trust Company
Philippine Veterans Bank
Producers Savings Bank
Rang-ay Bank (A Rural Bank), Inc.
Rizal Commercial Banking Corporation (RCBC)
Robinsons Bank Corporation
Rural Bank of Guinobatan
Security Bank Corporation
Shinhan Bank
Standard Chartered Bank
Sterling Bank of Asia
Sumitomo Mitsui Banking Corporation
The Hongkong & Shanghai Banking Corporation (HSBC)
Union Bank of the Philippines
United Coconut Planters Bank (UCPB)
United Overseas Bank (Philippines)
Wealth Development Bank
Yuanta Savings Bank
Final Considerations
It's a good thing that the SSS is pushing hard to implement the digitalization of government transactions such claiming benefits, applying for loans, enrolling bank accounts, and checking contributions. Not only it helps eliminate red tape and hastens the delivery of essential public services, it also makes it easier for members to transact with the SSS because they don't have to personally visit the nearest SSS branch.
If you have any questions or concerns about SSS bank enrollment, call the SSS hotline 1455 or email [email protected].