Perhaps you're starting a new job and your employer is asking for a copy of your personal record from the SSS. Or maybe you lost your own copy of your SSS E1 form. Instead of going to the SSS office to personally request for it, why not get your SSS E1 form online? With your SSS online account, you can have it delivered straight to your email with just a few clicks.
The SSS E1 form (or E-1 form) is a document that contains the personal records of an SSS member. The E1 form is used when an individual applies for membership with the Social Security System and prior to the issuance of a social security number. The applicant is required to fill out the form with his personal information (e.g. name, date of birth, home address), a list of dependents or beneficiaries, and his profession or business if self-employed. After completing the form, the applicant must submit it to the nearest SSS branch office for approval together with the required documents.
Filling out and submitting the SSS E1 form personally is the old-fashioned way to register as an SSS member. Nowadays, this is no longer necessary because you can apply to be an SSS member online through the SSS website. Instead of writing your personal information on a piece of paper, you can simply use your computer or mobile phone to fill out and submit an online form. The SSS will then inform you via email if your membership application is accepted, along with your temporary SSS number.
If you're already an SSS member and you want to get a copy of your E1 form, you can request for it online through the SSS member portal; no need to visit their office to request your personal record. After a few months, you will receive a digital copy of your original SSS E1 form via email. Download and print the form and use it for whatever purpose.
In this article, we'll teach you how get a copy of your personal record or SSS E1 form online through the SSS member portal. Bear in mind that it may take several months for your personal record to be sent to your email, so only request the form if it's not urgently needed.
How to Request a Copy of Your SSS E1 Form Online
Update: Requesting a copy of your SSS E1 form online is no longer possible.
Getting a copy of your original SSS E1 form is pretty easy and straightforward with your SSS online account. If you don't have an SSS online account yet, read this article to learn how to register for a free account.
Step 1: Open the SSS member portal on your web browser. Enter your user ID and password, check the "I'm not a robot" captcha field and click "Submit."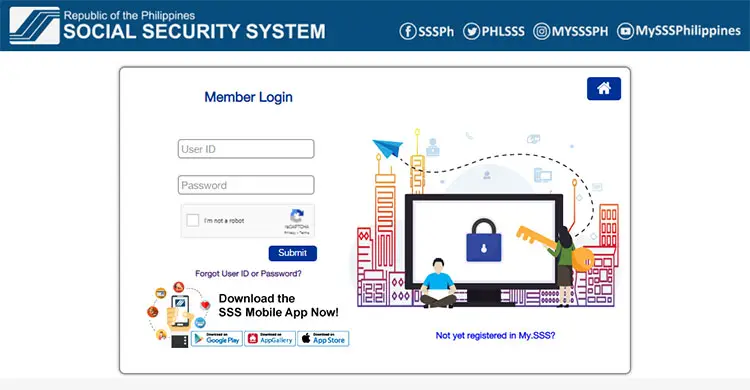 If you forgot your password, just click the "Forgot User ID or Password" link to reset your account credentials. You may read this guide on how to recover your user ID and password for your SSS online account.
Step 2: Once logged in, hover your mouse cursor or pointer over the "E-SERVICES" link on the main menu.

Step 3: On the E-Services dropdown menu, click "Request Records."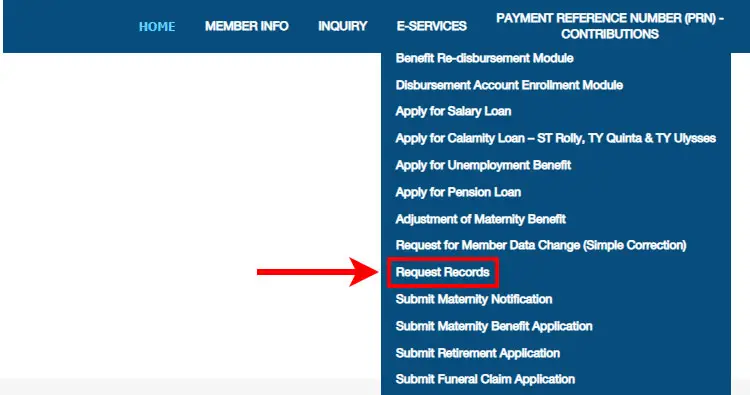 Step 4: On the Request Records page, select "Personal Record (E-1)" by checking the box next to it, and then click "Submit."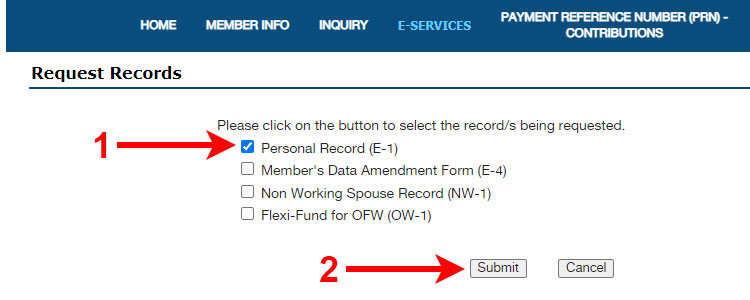 Step 5: A popup with this message will appear: "This action will send the supplied information to SSS. Do you want to continue?" Click "OK."

Step 6: You've now successfully submitted your request for your SSS E1 form. A confirmation email containing your transaction number will be sent to your SSS-registered email address. Don't delete this email and be sure to save or write down your transaction number as you will need it when following up your request with the SSS.

How to Check the Status of Your Request
To view the status of your request, just go back to the Request Records page by clicking "E-SERVICES" and "Request Records." Just below the list of records to be requested, you will see all your previous requests along with their request date and email date.
If your document request is still being processed, you will see the status "Under Process" under the "Email Date" column.
As you might notice, you no longer have the option to request your personal record or E1 Form after you've already made a previous request. That's why you should only request a copy of your records if you really need it for an important purpose. Be careful not to lose your copy of your original SSS E1 Form.
How Long Does it Take to Receive Your SSS E1 Form?
It may take up to several months for the SSS to process your request and send the E1 form to your email. Probably the reason why it takes that long is because the SSS will have to locate your records by hand, digitally scan it, and then send it to your email. The SSS receives thousands of these requests everyday and have to process each and every one of them manually.
If you take a look at the screenshot above, the previous request for the self-employed data record was made in April but the requested record was only emailed in October, which means that the entire process took more than six months. And with the current situation, it will probably take longer for you to receive your SSS E1 form.
Be sure to regularly check the status of your request by logging in to your SSS online account. If the status indicates that the form has been emailed but you have not yet received it, you can try checking your Spam folder to see if the email was delivered there.
Sometimes, it will take several more days for the email to finally appear in your inbox. In our previous request, the email date was shown as October 30 but the email arrived on November 12. We don't know if this was a delay or if there was an error with the data. In any case, you can wait for at least 15 days and if the email hasn't arrived by that time, you may contact the SSS to follow up.
After you've received your SSS E1 form, don't forget to download the document and keep it in a safe and secure place such as your computer. You may print several copies of the form and store them in an envelope for safekeeping. Remember that you can request for your E1 form only once, so don't lose your copy of it.
Don't delete the email containing your SSS E1 form no matter what. The form is sent as an attachment so it will be available for download as long as you have not deleted the email. If you've accidentally deleted the email, you can still recover it by going to the Trash folder and moving it back to your inbox. Most email clients including Gmail will keep deleted emails for up to 30 days.
Conclusion
Getting your personal record or E1 form no longer entails a trip to the SSS office. Just login to your SSS online account and make a request for your records, and they will handle the rest. It's not an entirely automated process and it will take several months for the document to be sent to you, but it certainly beats going to the SSS office and waiting in line for hours.
We hope that you found this article useful. For any questions and concerns, you may call the SSS hotline (02) 8920-6446 to 55 or email [email protected].