The Internet has really made life easier for many Filipinos, including members of the Social Security System (SSS) who no longer need to visit the SSS branch to transact with the agency. That is because SSS members can now perform most transactions online through the My.SSS portal. Members can freely register for an SSS online account and be able to access their membership records, apply for loans, view their contributions, generate payment reference numbers (PRN), and many more – all in the comfort and convenience of their homes.
In the past, you had to personally visit the SSS office to do business with them. You know how much of a hassle it is to go to their office, fill out some documents, and then wait for your number to be called. Sometimes, you have to return the next day because you forgot to bring your requirements or for some other valid reason.
With the My.SSS portal, you don't need to go to the SSS branch and wait in line. You only have to open your computer or mobile phone, login to your SSS online account, and perform your transactions right there and then. You can easily monitor all your premium contributions to make sure that you didn't miss a payment.
A few transactions that you can do with your SSS account are:
Some transactions that require the submission of original documents (e.g. birth certificate) – such as correction of name or date of birth – necessitate a personal visit to the nearest SSS branch. For most transactions, however, you don't need to go to the SSS. In fact, some transactions such as salary loan applications are done almost exclusively online.
If you're an SSS member interested in a quick and easy way to view your membership records and apply for social security benefits, it's highly recommended that you register for an SSS online account. Every SSS member – whether compulsory or voluntary – is encouraged to register for a My.SSS account. The entire registration process, including account activation, is done online using your PC, laptop or mobile phone.
SSS Online Account Registration Step-by-Step Process
Without further ado, let's talk about how you can register to SSS online. Take note that this online registration is for existing SSS members who want to sign up for the My.SSS portal. If you want to register as an SSS member online, read this article to learn how.
Step 1: Go to the My.SSS website
Using Google Chrome or any browser on your computer or smartphone, open the My.SSS website at member.sss.gov.ph.
Click the "Not yet registered in My.SSS" link as shown on the screenshot below, or go to this page directly.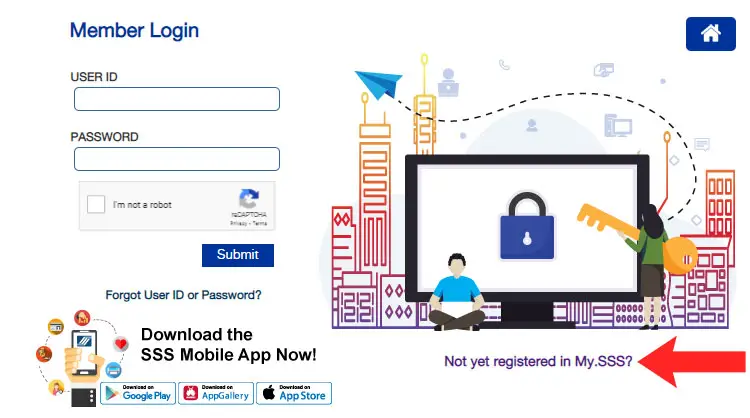 Read the reminders and scroll down to the bottom. Check the box for "I certify that I have read and understood the foregoing reminders on SSS Web registration" and then click "Proceed."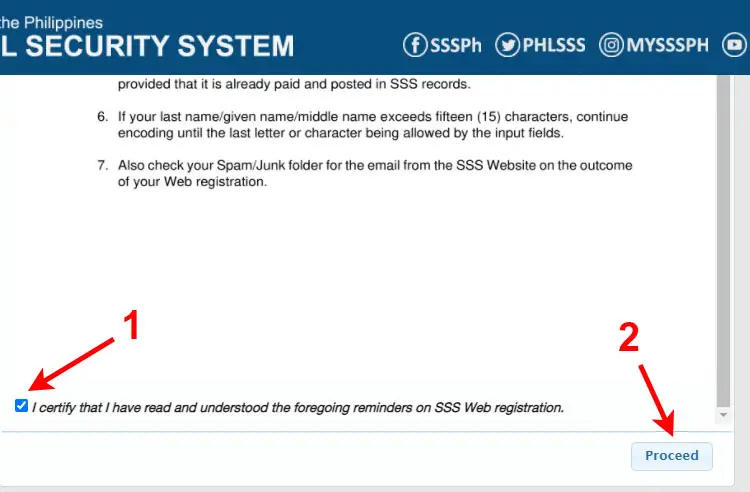 Step 2: Fill out the online registration form
Supply all the required information in the online registration form. Required fields are indicated by a red asterisk (*) before it.
Account Details
CRN/SS Number – Enter your Common Reference Number (CRN) or Social Security (SS) number.
Email Address – Enter your best email. Activation and welcome emails will be sent to this address.
Preferred User ID – This is the permanent username that will be used to login to your My.SSS account. It must be 8-20 characters long and with no special characters (except underscore).
Personal Information
Surname/Last Name
Given Name
Middle Name (optional)
Suffix (optional) – If your name has a suffix like Jr., Sr., III, enter it here.
Date of Birth – Provide your date of birth in MM/DD/YYYY format. For example: March 14, 1990 is 03/14/1990.
Address
Mailing Address

Room/Floor/Unit No. and Building Name
House/Lot and Block No.
Street
Subdivision
Metro Manila or Province – Check either Metro Manila or Province.
Province Name – Select your province if you checked Province.
City/Municipality
Barangay
Postal Code – The postal code will be automatically provided based on your address.

Foreign Mailing Address – Only provide a foreign mailing address if you are residing outside the Philippines.

Address
City
Zip Code
Country
Registration Preference
Select any of the following in the Registration Preference dropdown field:
Savings Account Number / Citibank Cash Card / UBP Quick Card / UMID – ATM Savings Account Number Registered in SSS
Mobile Number Registered in SSS – Your mobile number must have already been registered in SSS through your submitted Personal Record (Form E1) or Member's Data Change Request Form (Form E4).
UMID Card – Don't select this if you have not yet been issued a UMID Card.

UMID Card PIN code – The UMID card must have already been activated in the SSS Information Terminal located at selected SSS branches. Read this article to learn more about the UMID Card PIN code.
Mother's Maiden Name reported in the E6 – UMID Card Application Form – If you don't have a PIN code, enter your mother's maiden name.

Employer ID Number / Household Employer ID Number
Paid Payment Reference Number (PRN) / SBR Number / Payment Receipt Transaction Number – The PRN must have already been paid and posted. Read this article to know how to generate your PRN.
Date of Last Loan
Transaction Number shown in your Personal Record/Unified Multi-Purpose ID (UMID) Application (E-1/E-6) (for those who applied online for SS number from December 10, 2020 onwards)
Check Number of any monthly pension of retiree/disability pensioner who is receiving the pension benefit through check
If you provide the wrong information (such as an incorrect mobile number), you will receive an email informing you of the failed registration. In that case, you will have to repeat the registration process.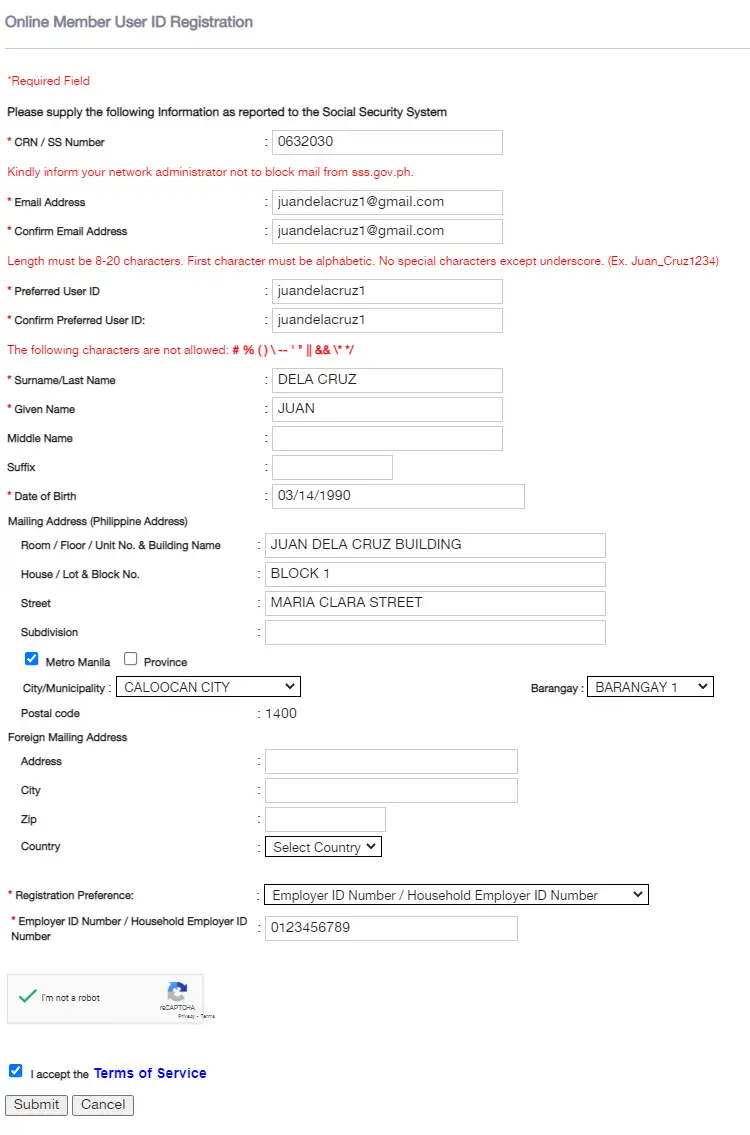 After providing the required information, solve the captcha ("I'm not a robot") and check "I accept the Terms of Service." Click "Submit" to continue.
If everything goes well, you will see the following message: "You have successfully submitted your SSS Web Account Registration application. Kindly check your email for the system notification. Thank you!"
Step 3: Activate your account
Wait for the email from SSS with the subject "SSS Web Registration." If you didn't receive the email after a few minutes, you can try checking your Spam folder. Open the email and click the link inside the email.
You'll be directed to the password setup page. But first, you need to enter the last 6 digits of the CRN or SS number you entered during registration. For example, if your SSS number is 0632031234, then the last 6 digits are 031234.
Click "Submit" to proceed.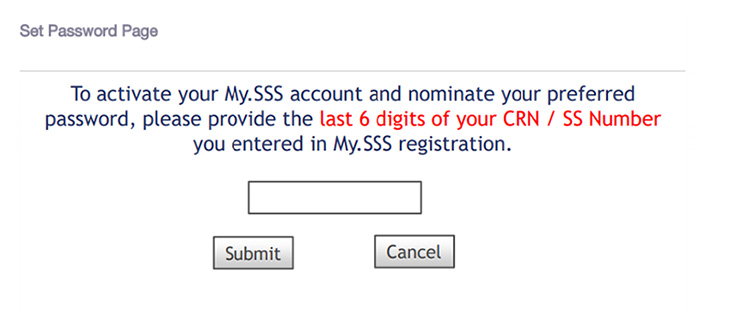 It's time to set your My.SSS account password. Follow these guidelines for setting up your password:
Contains 8-20 alphanumeric characters (letters and numbers only)
The first character must be alphabetic (letters only)
No special characters (* @ # %)
At least one character must be in uppercase
At least one character must be a number
Must not be the same as your user ID
After typing in the password twice, click "Submit" to complete your registration. You will immediately be taken to your My.SSS account page after successful activation.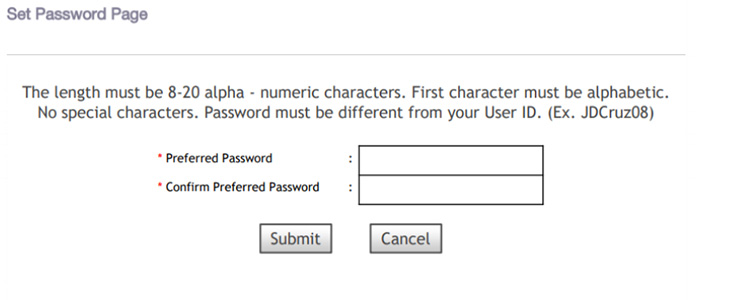 Passwords are valid for 6 months, after which you will have set a new password. If you lost or forgot your SSS account password, follow the instructions in this article to reset it.
Common Registration Problems
You didn't receive an email
There are three possible reasons why you didn't receive an activation email from the SSS:
You provided the wrong email address.
The email ended up in the Spam folder.
The email has not yet arrived.
If you are sure that you supplied the correct email address during registration, you can try checking the Spam folder of your email account to see if the email ended up there. You can also wait for an hour or two for the email to arrive.
The activation link is good for up to 5 days, so you have plenty of time to activate your account. If 24 hours have passed and there's no sign of an activation email yet, you may repeat the registration process.
Registration is unsuccessful
If your SSS account registration is unsuccessful, you will receive an email informing you of the exact reason. It could be that you entered the wrong registration preference, such as the mobile number, PRN, employer ID number or savings account number.
If you don't know any of the available registration options, you may request it from the SSS either by visiting the nearest branch or by emailing [email protected]. Provide a valid ID for verification purposes.
Final Thoughts
Your My.SSS account offers a convenient and hassle-free way to check your contributions, apply for benefits, request records, modify your membership data, and many other transactions that are normally done in person. Save countless hours and energy by registering for your SSS account online today!
If you have any questions or concerns about SSS online account registration, call the SSS toll-free hotline 1-800-10-2255777 (1-800-10-CALLSSS) or email [email protected].