Roblox is a popular game among children and teenagers, most of them interested in buying virtual items using in-game currency called Robux. If you (or your child) are interested to buy Robux, you'll be happy to know that there are several ways to purchase it using GCash, debit cards and other modes of payment.
First released in 2006, Roblox has gained widespread popularity in recent years. Roblox allows players to create games on the platform, as well as to buy, sell and create virtual items such as clothing, accessories and body parts, which are then used to decorate their virtual characters or avatars.
Although Roblox is free to play, it's not much fun unless you purchase virtual items to dress up your character. There are items on the "Avatar Shop" that you can get for free, but the best ones cost money. To purchase upgrades or special abilities for your avatar, you will have to buy Robux credits, either as a one-time payment or as an ongoing monthly subscription.
Players can buy Robux virtual currency using their credit card, debit card or PayPal. They can also buy Roblox gift cards from the Roblox website or from online retailers, shopping malls and convenience stores. Roblox gift cards can be redeemed by entering the unique code printed on the card.
We know that not everyone in the Philippines has a credit card or a PayPal account, so I've come up with this comprehensive guide on how to buy Robux using GCash. If you don't have a GCash account yet, read this article to learn how to sign up for GCash and verify your account.
Option 1: Buy Robux Using GCash on the Roblox App
Our preferred way to buy Robux using GCash is through the Roblox app on your mobile phone. That's because you can easily purchase credits with just one or two taps on the screen after you've linked your GCash wallet to your Google Play account. You don't have to manually enter your card number every time you make a purchase.
If you subscribe to a Robux subscription package, Google Play will automatically charge your GCash wallet every month. You will have to go to your Google Play subscription settings to manage and cancel your subscriptions.
You may download the Roblox app from Google Play. Also make sure that you have the GCash app already installed on your smartphone. It goes without saying that you already have Google Play installed.
Follow these steps to buy Robux using GCash via the Roblox app:
Step 1: Launch the Roblox app on your smartphone and sign in to your account. Tap the Robux icon on the upper-right corner of the screen.
Step 2: Choose the amount or subscription you want to buy. For example: 400 Robux for $4.99.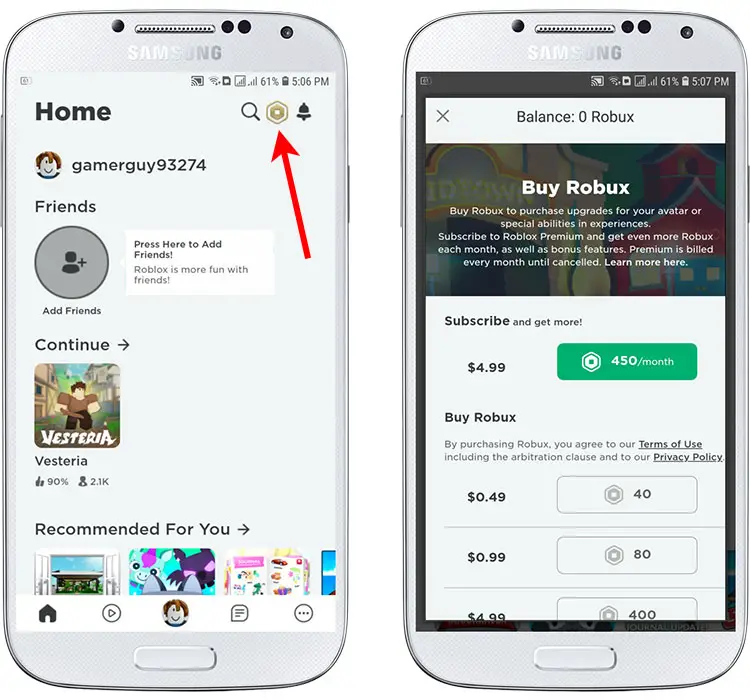 Step 3: You can now choose your payment method which is GCash. Select "Link GCash."
Step 4: Tap "Authorize" to link your GCash account.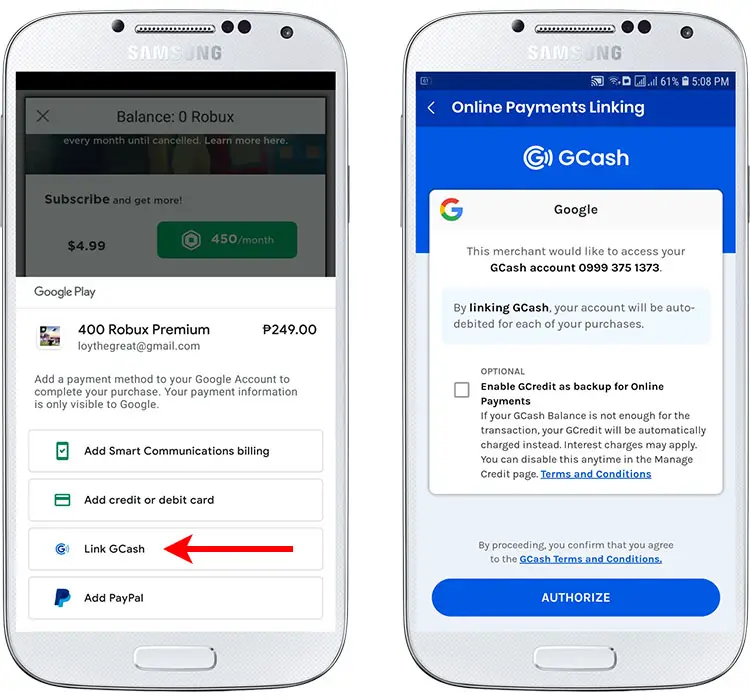 Step 5: Enter the 6-digit authentication code that was sent to your GCash-registered mobile number.
Step 6: The online payment linking is successful. Tap "Okay" or wait a few seconds to be redirected to Roblox.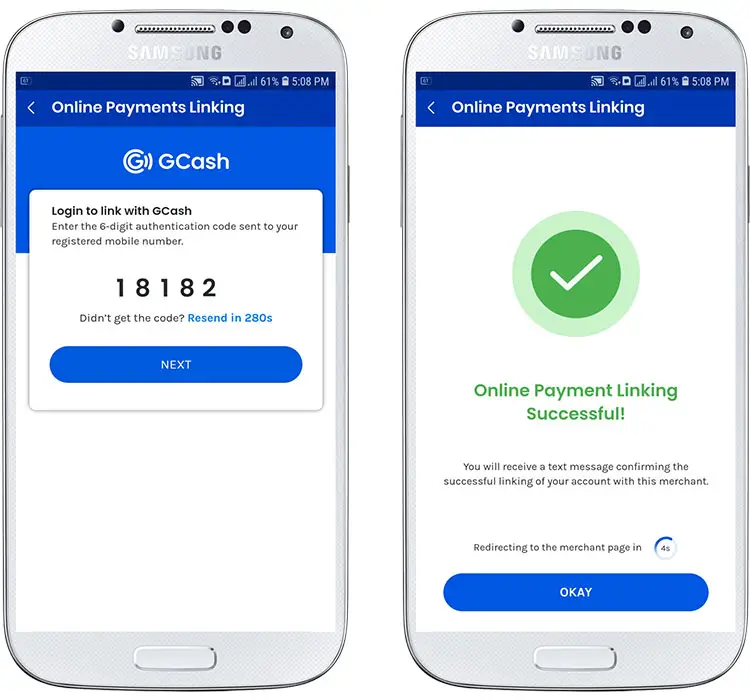 Step 7: To pay for your purchase, click the "1-tap buy" button (make sure that GCash is listed as the payment method).
If purchase authentication is enabled, enter your biometrics (e.g. fingerprints) or Google password.
Step 8: Congratulations! You've successfully purchased Robux using GCash and you will receive your Google Play order receipt via email. Your purchased credits will appear in your Roblox account in a few minutes.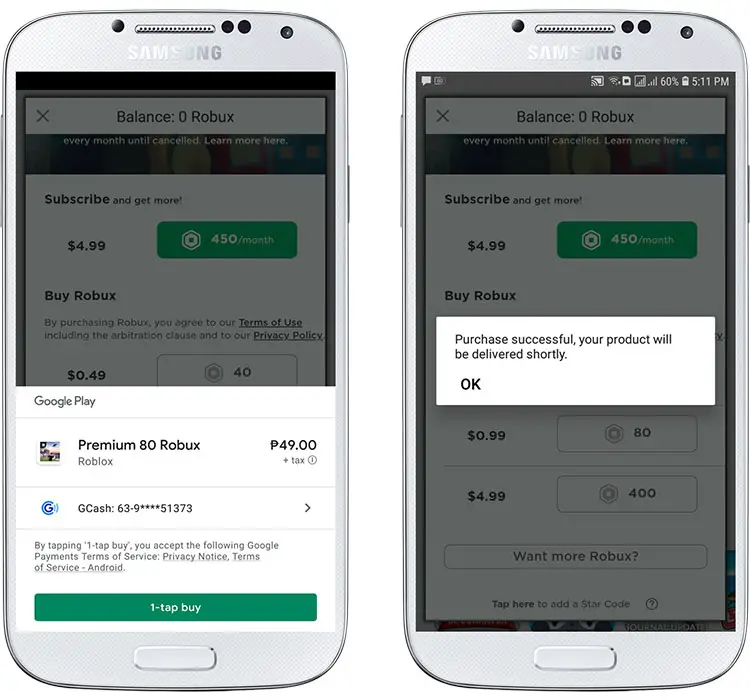 Option 2: Buy Robux Using Your GCash MasterCard or American Express Card
If you have a GCash MasterCard debit card or the GCash American Express Virtual Pay card, you can use it to buy Robux on the Roblox website.
Step 1: Login to your Roblox account and click the "Robux" link (or go directly to this page).
Step 2: Choose your package with the following denominations in US dollars:
400 credits = $4.99
800 credits = $9.99
1,700 credits = $19.99
4,500 credits = $49.99
10,000 credits = $99.99
You can also subscribe to monthly subscription packages starting at 450 Robux a month for $4.99.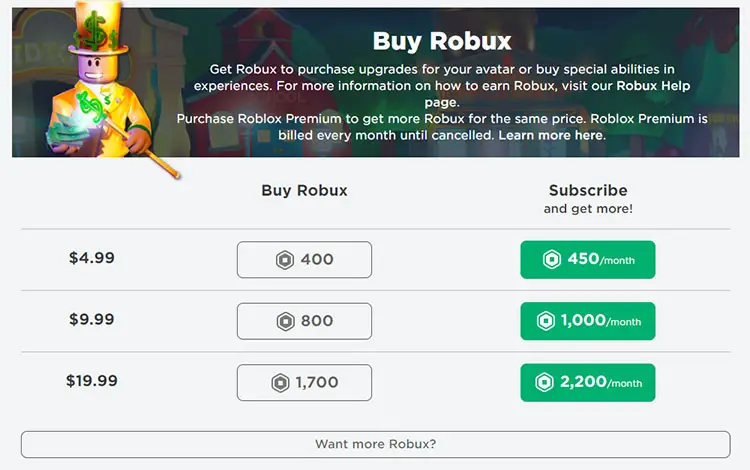 Step 3: Select your payment option. To use GCash MasterCard or GCash American Express Virtual Pay to buy Robux, select the "Debit Card" option. Click "Continue."
Step 4: Enter your GCash MasterCard or GCash Amex Virtual Pay card details as follows:
16-digit card number
Expiration date
CVV2/CVC2 (3-digit code at the back of the card)
You can see your order summary including the amount in Philippine pesos that will be taken from your GCash wallet.
Enter your email to get a receipt (optional) and click "Pay now."
Step 5: That's it! You've just learned how easy it is to buy Robux using your GCash debit card. It will take a little while for your purchased credits to appear in your account, so please be patient.
Option 3: Buy Roblox Game Credits on the GCash App
If you don't want to install the Roblox app, or if you want to buy Robux for a friend, you can buy Roblox game credits on the GCash app. After purchasing the game credits, you can redeem it in your Roblox account.
Step 1: Open the GCash app and tap "Show More."
Step 2: Select "Game Credits" under the "Lifestyle & Shopping" category.
Step 3: Enter the mobile number of the person you're buying the game credits for. You can also select from your contacts list or phonebook. Tap "Next."
Step 4: Go to the "Roblox" tab and select the amount of Robux to buy. Press "Next" to proceed to payment.
Step 5: Review your payment details and tap the "Pay" button.
Step 6: Congratulations! You've just bought Roblox game credits on the GCash app. You will receive a text message containing your Roblox game credits code as well as instructions on how to redeem the credits.
To redeem your game credits, go to the Roblox gift card redemption page and enter the code sent to you via SMS.
Frequently Asked Questions
Can I give my Robux to a friend?
No, you can't give your Robux to another player. However, you can buy game credits for them in the form of gift cards.
I encountered this message: "Sorry, your transaction cannot be completed at this time as you have reached a transaction limit." What should I do?
For some reason, Roblox doesn't allow newly created accounts to buy Robux. If you encounter an error message saying that you have reached a transaction limit, just wait for 7-14 days and try purchasing again.
I encountered this message: "Please setup Google Play Store to make purchases." What should I do?
This is a quite common error when purchasing Robux on the Roblox mobile app. You can either try again until the error disappears, or you can select another amount.
When I tried buying Robux, it says "An error has occurred." What should I do?
This error is also related to new accounts. To solve this issue, play the game for a few minutes, and then go back to the shop to try again.
Enjoy Your Robux!
You've just learned how easy it is to buy Robux using your GCash wallet. There are other ways to purchase game credits using your debit card or PayPal, but GCash is the easiest and the most accessible mode of payment for Filipino gamers aside from cash.
If you have any questions about buying Robux using GCash, don't hesitate to let me know in the comments.