Want to know how to renew your Philippine passport online? You've come to the right place! This complete and comprehensive DFA passport renewal guide for 2019 contains everything you need to know about renewing your expired or expiring passport for your future travel and documentation needs, including passport renewal requirements, qualifications, procedures, processing fees, and many more.
Just like the Philippine passport application process for first-timers, passport renewal can be done online through the appointment system provided by the Department of Foreign Affairs (DFA). The DFA appointment system replaced the old process wherein you manually fill out and submit your application forms. Everything is done online except for your personal appearance at the DFA office or consulate at your scheduled appointment date.
Renewing your passport can sometimes be confusing or even intimidating especially with the new system where your appointment must be scheduled online. There might be a few folks out there who are not that tech-savvy or adept with the Internet. That is why we have come up with this exhaustive tutorial on how to renew your Philippine passport, to guide you through the steps of the entire passport renewal process as well as to answer all your questions.
Make sure that you have an already expired passport or a passport that's due to expire in the next year. If you don't have a passport yet and would like to get one, just read our Philippine passport appointment and application guide for the step-by-step procedure.
Is Your Passport Eligible for Renewal?
Not just any passport is eligible for renewal. Only those with electronic passports (or ePassport) can renew using the DFA online appointment system. Those who possess the older passports will have to undergo the passport application process for first-timers (new applications).
How do you know if your passport is an ePassport? An ePassport has a symbol of a microchip on the cover. The microchip in the ePassport contains your biometric data – the same information printed on the passport data page. In the photo below, you can see the differences between the ePassport and the old passports: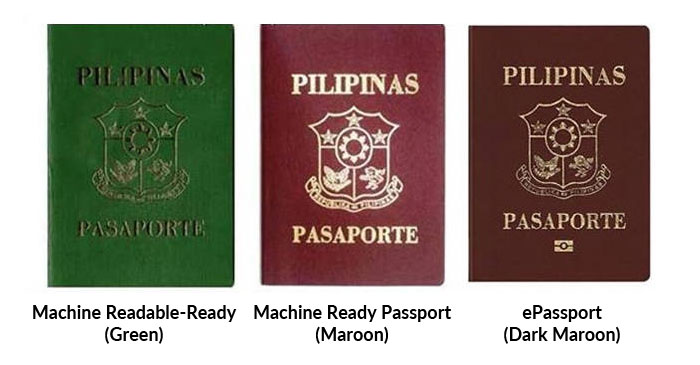 The following passports are not eligible for renewal:
Machine-readable-ready passports (green)
Machine-ready passports (maroon)
Old passports before the issuance of biometric passports in 2009
If your latest passport is any of the above, please proceed to the new passport application process instead of renewal.
You can only apply for renewal if your latest passport is a biometric passport (ePassport) and if your passport has expired, will expire within the next year, or if it only has a few or no pages left.
What to Do If Your Passport is Lost or Damaged
In case you lost or accidentally damaged your passport, you will have to make a new application, not renewal. Aside from the documentary requirements stated in the application for new passports, you will also have to provide the following supporting documents:
For lost passport that is still valid or unexpired:
Police report (original and photocopy, in English)
Affidavit of loss (original and photocopy, in English)
Penalty fee of ₱350
For lost passport that is already expired:
Affidavit of loss (in English)
Penalty fee of ₱350
For mutilated or damaged passport:
Affidavit of explanation
Penalty fee of ₱350
The applicant must surrender his mutilated or damaged passport
Philippine Passport Renewal Requirements
Since you will be renewing your passport, you don't have to provide a bunch of documents like what is required for new passport applications. These are the passport renewal requirements:
Confirmed online appointment
Accomplished application form
Current ePassport with photocopy of data page
Personal appearance
Supporting documents (if needed)
Confirmed Online Appointment
Passport renewal applicants must set an online appointment using the DFA Passport Appointment System. Exceptions are those eligible for the Courtesy Lane as follows:
Senior citizens 60 years old and above. Senior citizens must provide a document showing proof of age, and are allowed one companion who must be an immediate family member (sibling or child) and must provide proof of relationship. In case the companion is not an immediate family member, he must provide proof of travel arrangements (plane ticket, hotel booking, etc.) with the senior citizen.
Persons with disabilities (PWD). A person with disability must provide proof of disability. The PWD is allowed one companion who must be an immediate family member and can show proof of relationship.
Solo parent and his or her minor children. The applicant must provide a valid solo parent card.
Minors 7 years old and below, as well as his or her parents and minor siblings.
Pregnant women. If the pregnancy is not yet visible, the applicant must provide a medical certificate attesting to her pregnancy.
Overseas Filipino workers (OFW). The OFW, either land- or sea-based, must submit proof of status such as an employment contract, work visa, iDOLE card, or Seaman's Book (SIRB) stamped at an international border less than one year from application date.
If you fall under any of the exceptions stated above, you don't need to go through online appointment. Just go straight to the DFA office for your personal appearance. You will still need to fill out and submit the application form, however. You can download the DFA passport renewal application form for adults and for minors.
Accomplished Application Form
After setting your passport appointment online and paying your passport renewal fees, you will receive an email that contains your application form. Print this application form and bring it with you during the day of your appointment.
You can also download and fill out the application form if you're eligible for the courtesy lane.
Current ePassport with Photocopy of Data Page
Bring your expired or expiring passport during your appointment and personal appearance. If you have lost or damaged your passport, then it's not eligible for renewal and you will have to make a new application, just like a first-time applicant. The same applies for machine-readable, machine-ready and older passports before 2009. Only ePassports or biometric passports with microchips can be renewed.
Bring a photocopy of your passport (data page only) as well as a valid ID. Normally, you don't need to present an ID since it's not a requirement for passport renewal, but bring it just in case.
Personal Appearance
Every applicant must personally appear at the DFA office for passport renewal processing, with no exceptions. Passport renewal applicants are advised to be at the DFA consular office at least 30 minutes before the appointment time.
Supporting Documents (If Needed)
Depending on your circumstances, you may need to provide supporting documents in order to proceed with your passport renewal.
Name change due to marriage.

PSA authenticated marriage contract
Annotated birth certificate

Name change due to annulment or dissolved marriage.

PSA authenticated marriage contract or Report of Marriage stating the dissolution of the marriage.
If the marriage contract or Report of Marriage is not available, applicant must submit a certified true copy of the court order dissolving the marriage and a certificate of finality.

Name change due to death of spouse. Applicant must present death certificate of the spouse.
Applicant is a minor.

PSA authenticated birth certificate of the minor.
Original and photocopy of the parent's valid ID, such as:

SSS, GSIS or Unified Multi-Purpose Identification (UMID) card
Voter's ID or voter's certification from the election officer with dry seal
LTO driver's license or student permit
OWWA or iDOLE card
Professional Regulation Commission (PRC) ID
Senior citizen ID
PNP firearms license

School ID (if applicable)
Original and photocopy of proof of filiation and/or guardianship.
If only one parent is accompanying the child, submit a marriage certificate.
If the parents are unmarried, submit an Affidavit of Support and/or Consent executed by the mother if she is not accompanying the minor. If the affidavit is executed abroad, it must be authenticated by the Philippine embassy or consulate
If either parent can't accompany the minor during the appointment, the adult companion must provide a Special Power of Attorney signed by the parent and designating the companion to accompany the minor in the application process. It must be authenticated by the Philippine embassy or consulate if executed abroad.
If the minor is not travelling with his or her parents, the applicant must submit a DSWD clearance and an Affidavit of Support and Consent executed by either or both parents. The affidavit must be consularized by the embassy or consulate if executed abroad.

Applicant is a dual citizen.

Government-issued ID card.
Report of Birth or original Identification Certificate from the Philippine Foreign Service Post (FSP) or the Bureau of Immigration.

Applicant is a naturalized Filipino citizen.

Identification Certificate of Naturalization from the Bureau of Immigration.

Applicant is a Filipino citizen by election.

Affidavit of Election of Philippine Citizenship.
Identification Certificate of Election issued by the Bureau of Immigration.
DFA Passport Renewal Step-by-Step Process
Step 1: Open the Passport Appointment Website
Access the DFA Passport Appointment System by going to www.passport.gov.ph. Click "Schedule an Appointment" and then "Start Appointment."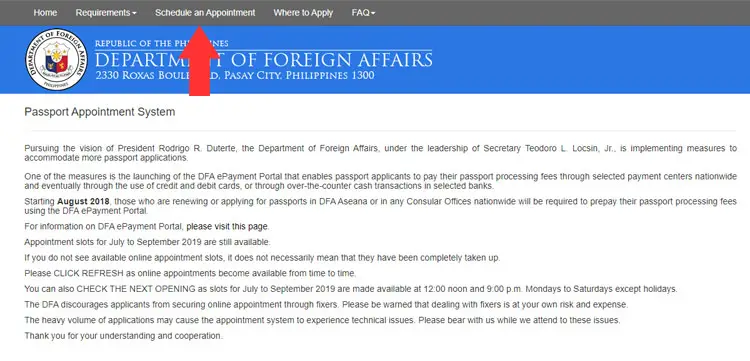 Step 2: Read the Terms and Conditions
Read the terms and conditions, and then check the box next to "I have read and understood the instructions and information on this page…" Click "START INDIVIDUAL APPOINTMENT" to proceed.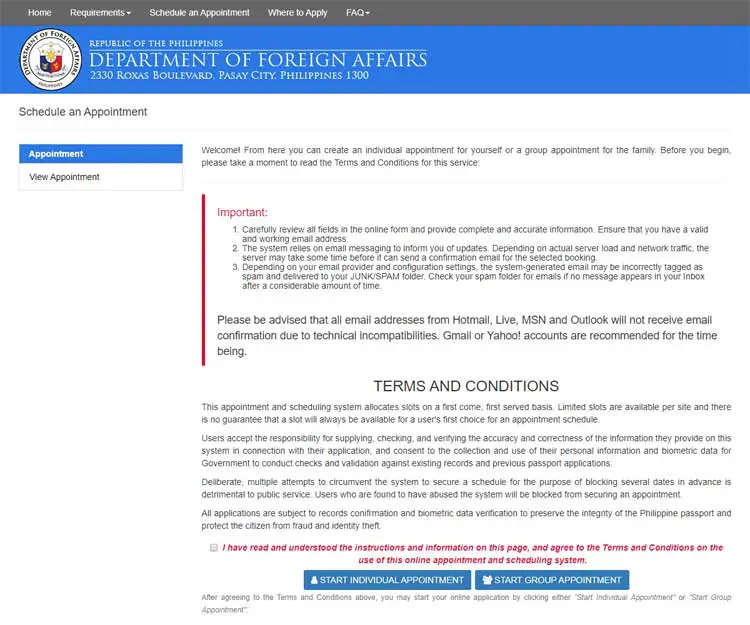 Step 3: Select Site Location
This is where you choose where you'll have your appointment. After selecting a site from the dropdown box, the office name and address will be shown on the right pane.
When you're sure with your selection, click "NEXT."
Step 4: Choose the Appointment Date and Time
The next step is to select the date and time of your appointment. Available appointment slots are are highlighted in green while unavailable slots are red. After choosing the appointment date and time, solve the captcha code ("I'm not a robot") and click "NEXT."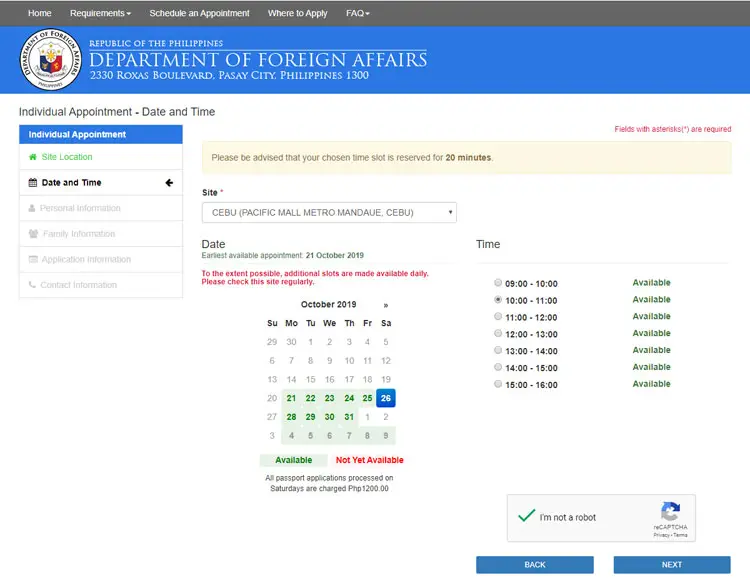 Step 5: Fill Out Your Personal Information
This is where you'll provide your personal details such as last name, first name, date of birth, country of birth, gender, civil status, birth legitimacy, and more. Required fields are indicated by a red asterisk (*).
Click "NEXT" when you're done.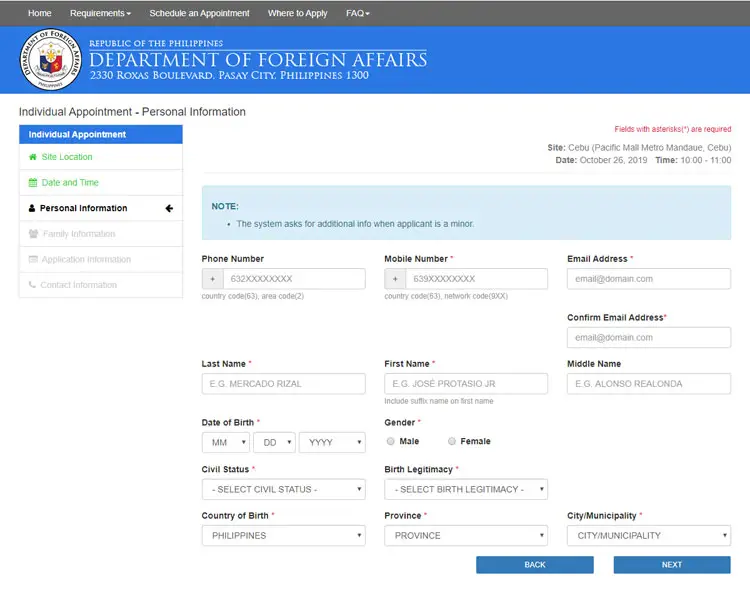 Step 6: Fill Out Your Family Information
Enter information about your father and/or mother, as well as that of your spouse, if any.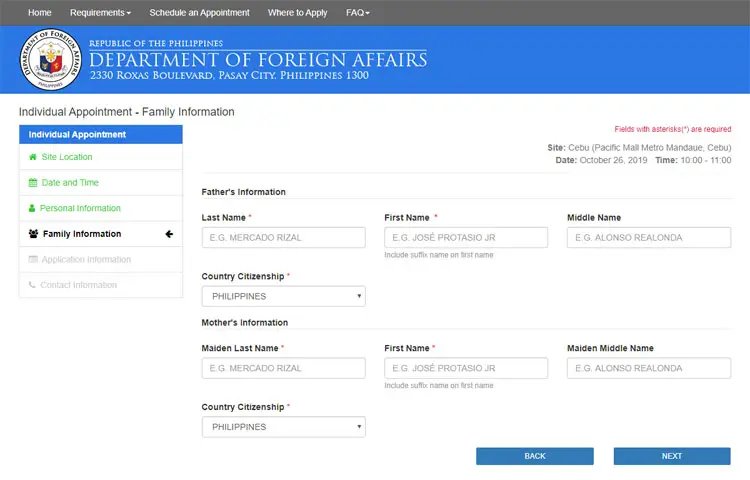 Step 7: Choose the Application Type
For this step, you will have to choose "RENEWAL."
Enter your old passport number, the date of issue, and the issuing authority.
You will also have to choose the basis of your Philippine citizenship, whether birth, election, marriage, naturalization, or R.A. 9225.
Choose whether you are a foreign passport holder or not, and then enter the name of your emergency contact person and his or her contact number.
Step 8: Enter Your Contact Information
Provide your complete address, city, province, occupation, office number (if applicable), and office address (optional). Click "NEXT" when you're done.
Step 9: Confirm Your Appointment
Review that all the information that you provided are correct, including your appointment schedule. Tick the checkbox that says "I am aware that possession of a passport is a privilege granted…" and solve the captcha code ("I'm not a robot").
If you're confident that everything is correct and accurate, click "CONFIRM" to submit your passport renewal application. Otherwise, click "BACK" to make changes.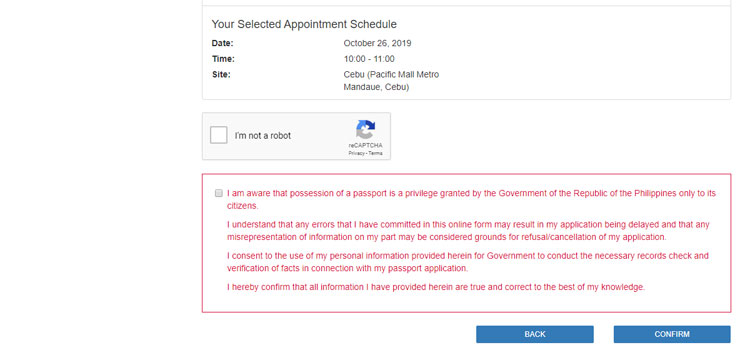 Step 10: Choose the Processing Type
Select the type of processing, whether "Regular Processing" which takes 12 working days or "Express Processing" which takes only a week. Express processing costs ₱1,200 while regular processing costs only ₱950. Click "PAY NOW" to continue.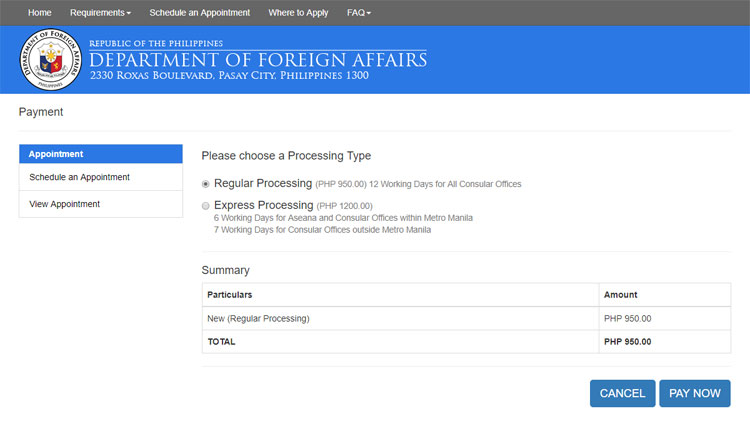 A pop-up message will appear. Check the box before "I Agree" and then click "PROCEED TO PAYMENT."
Step 11: View Your Payment Details
Read the payment instructions. The amount you will need to pay is also listed.
At the moment, payments can only be made through Bayad Center outlets (USSC, 7-11, Cebuana Lhuillier, ECPay, Robinsons, SM, Pera Hub and TrueMoney) or through the Bayad Center mobile app.
You only have up to 24 hours to settle your payment. Otherwise, you will have to start the passport renewal application process all over again.
Click "PROCEED" to continue. Click "PRINT" to print the payment instructions.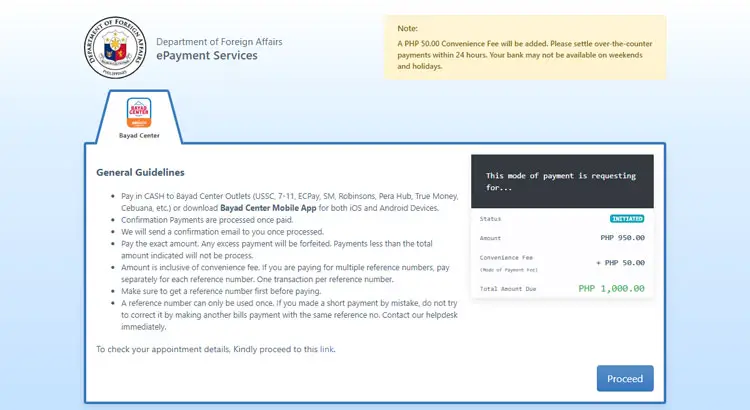 Step 12: Pay the Processing Fee
Check your email from the DFA containing your payment reference number and instructions on how to pay.
Go to Bayad Center and pay the passport renewal processing fee which is ₱1,000 for regular processing and ₱1,250 for express processing (the amount already includes the ₱50 convenience fee). Pay the exact amount (no extra pesos or centavos) to avoid forfeiture of your payment.
Take note that you only have up to 24 hours to settle your payment. Otherwise, your slot will be given to another applicant and you will have to apply online once again.
Step 14: Print Your Passport Application Form and Receipt
You will receive another email after your payment is confirmed. Once you have it, open and print the PDF file containing the passport application form, receipt (2 copies) and checklist with schedule. Bring them together with your requirements on your appointment date.
Personal Appointment at the DFA Office
Go to the DFA consular office on the date of your appointment. Make sure that you arrive at least 30 minutes before your appointment time as latecomers will not be entertained.
The DFA has a strict dress code. Don't wear the following during your appointment: sleeveless tops, see-through dress, sandos, halters, spaghetti tops, and dresses with plunging necklines. Jewelry, colored contact lenses and eyeglasses must also be removed.
Document Verification
The first step is document verification, where they will check if your requirements are complete and in order. Make sure that you have your photocopies ready. If not, have them photocopied at photocopy stations nearby.
Processing
Give your requirements, printed application form and receipt to the passport processor. The processor will give you a claim stub and stamp your receipt with the date of release.
Your old passport will then be punched with holes to render it unusable. If you still plan to use your old passport for an upcoming trip, tell the processor about it.
Data Encoding and Biometrics
Your personal data will be encoded and you will be asked to double check your information. This is where you can catch any mistakes in your application such as a misspelled name or a wrong birth date.
You will be asked to face a camera to have your photograph taken. They will also take your fingerprints using a digital fingerprint reader as well as your signature.
Delivery Service
If you want to have your passport delivered to your doorstep, go to the courier section and pay a ₱150 delivery fee. Your new passport will arrive at the earliest two days after the release date.
How to Claim Your New Passport
If you didn't avail of the delivery service, go back to the DFA office on the scheduled release date to claim your passport. The date of release is shown in your receipt.
Go to the Releasing window and give your claim stub (if applicable) and receipt. After claiming your passport, check it for any errors or inconsistencies.
You can have someone else claim your passport on your behalf. If the authorized representative is an immediate family member (sibling, parent, or child), he must present an original and photocopy of his valid ID as well your ID, a signed authorization letter, and the original receipt. If the claimant is not an immediate family member, he must provide a Special Power of Attorney in place of the authorization letter.
Frequently Asked Questions
Can I renew my passport as a walk-in applicant?
Yes, as long as you are eligible for the courtesy lane. Eligible applicants are exempted from the online renewal process.
Can I renew my passport anywhere in the Philippines?
Yes. It doesn't matter where you will have your passport renewed.
When can I claim my passport?
The release date of your new passport will be stamped on your receipt, but regular processing usually takes 12 days while express processing takes 6-7 days.
When can I have my old passport renewed?
You can renew your passport at least one year before the expiry date.
What if I fail to show up for my appointment?
Then you will be banned from making another appointment for 30 days. Your application fee will also be forfeited.
Can I reschedule or cancel my appointment?
Yes, you can reschedule or cancel your passport renewal appointment at least 3 days before the scheduled date. Just click "View Appointment," enter your email and reference number, and then click "Reschedule."
Why didn't I receive an email from the DFA?
Oftentimes emails don't arrive immediately. So be patient because it's rare that emails from the DFA don't arrive in your inbox. You can also check the Spam or Junk folder to see if their emails went there. If you still haven't received an email after several hours, call the DFA hotline (02) 8 234-3488 or email [email protected].
I lost my passport. How can I renew it?
You will have to submit an affidavit of loss and a police report. If the passport is already expired, submit only the affidavit of loss.
There's a mistake in my new passport. What should I do?
If you notice an error in your passport, go to the DFA office or call (02) 8 234-3488.
Conclusion
Getting your passport renewed shouldn't be an difficult and painstaking process. By following our passport renewal guide, you will have a new passport in no time. Make sure that you get your passport renewed way before the expiration date to avoid any inconveniences with your travels.
If you have any questions or concerns with the online passport renewal process, contact the DFA hotline numbers (02) 8 234-3488 or (02) 8 651-9400.