There is a new player in the local fintech scene – and it's called DiskarTech, which is a combination of the words diskarte (resourcefulness) and tech. But do you know that DiskarTech is not just an e-wallet, it is also a great way to earn some extra money?
DiskarTech is the first Taglish super app powered by the Rizal Commercial Banking Corporation (RCBC), one of the largest universal banks in the Philippines. Launched in June 2020, the DiskarTech app has already generated over 3 million downloads on Google Play and the App Store.
What differentiates DiskarTech from other mobile wallet apps like GCash and PayMaya is that it uses Tagalog or Filipino, instead of the usual English. RCBC and DiskarTech's focus on Tagalog or Filipino makes it appealing to the masses, especially those who have difficulties in understanding the English language. The app is not totally in Filipino, however, as English is still used in the app's interface. That's totally understandable though as some words like "account" don't have a suitable Tagalog equivalent.
Another thing that differentiates DiskarTech from its competitors is that it offers a relatively high interest rate of 3.25% per annum. By comparison, a BDO savings account only earns 0.125% interest per annum. DiskarTech offers an even higher interest rate than ING (currently at 2.5% p.a.) and CIMB (currently at 3% p.a.).
Unlike GCash, PayMaya and other e-wallets, DiskarTech also works as a savings account, so every peso that you deposit to your DiskarTech account will immediately earn interest. You don't have to transfer your cash into a special account to start earning interest.
So despite the fact that DiskarTech is the new kid on the block, millions of Filipinos have already started to use it to save money, pay their bills, buy prepaid load and earn some extra cash on the side. And since it's backed by RCBC and regulated by the Bangko Sentral ng Pilipinas (BSP), your money is in safe hands.
Are you interested to learn how to register to DiskarTech and start earning money? Let's get started!
How to Register to DiskarTech
It's free to register a DiskarTech account. To sign up for DiskarTech, you must be at least 18 years old and a Filipino citizen (non-US resident or citizen).
Here are the steps to register for a free DiskarTech account:
Download and install the DiskarTech mobile app from Google Play or the App Store.
Open the Diskartech app.
Click "Mag-register na."
Choose a nickname and click "Susunod."
Enter the DiskarTech NegosyanTech invite code (optional) and click "Susunod." You can use the invite code ABEM5439 to get free ₱10 (I will also get ₱30. Thanks!).
Enter your mobile number and click "Susunod."
Enter the one-time password (OTP) sent to your mobile number.
Create a four-digit passcode.
Activate fingerprint login (optional).
Create a goal (optional).
Congratulations! You now have a DiskarTech account.
You can view your DiskarTech account number by going to "Account."
The next step is to have your Diskartech account verified so that you can start adding money, paying your bills, earning interest, and many more.
How to Verify Your DiskarTech Account
Verification is a requirement of the BSP in order to establish the identity of anyone who transacts with banks and financial institutions. After successful verification, you will be able to access the DiskarTech app's vital features such as deposits, transfers, withdrawals, bills payments and more.
An original, government-issued ID is needed for verification. Here's a list of accepted IDs:
Passport
Driver's license
UMID
SSS card
Postal ID
Voter's ID
PRC ID
TIN ID
With your ID ready, it's time to verify your DiskarTech account. You will also be required to take a video selfie.
Follow these steps to verify your DiskarTech account:
Open the DiskarTech app and login to your account.
Click "I-verify account."
Answer the personal information questions. Make sure they match with the information in your ID.
Read the terms and conditions.
Take a picture of your ID. Make sure the photo is clear and without any glare or reflections.
Follow the instructions to take a video selfie.
Wait for the text message about the account opening.
That's pretty much it. It will take several minutes for your verification request to be approved. You will receive a text message once your DiskarTech account is verified.
How to Use the DiskarTech App
Now that your DiskarTech account is verified, you can start using it and take advantage of its features. Basically, you can perform several cashless transactions like paying by QR code, depositing and transferring money, paying bills and buying prepaid load.
Here's a quick rundown of the features and services available in DiskarTech:
Scan QR Code
Using a QR code, you can easily transfer money to and from your DiskarTech wallet without having to enter your payment details. To send money or make a payment, scan the recipient's QR code and then enter the amount to transfer. You can also share your QR code, after which the sender will scan the code on the DiskarTech app in order to transfer money almost instantly.
Deposit Money
You can deposit money to your DiskarTech account through any of these payment partners:
7-Eleven
Bayad Center
CVM Pawnshop
ECPay (stores with ECPay logo)
Gaisano
H Lhuillier Pawnshop
RD Pawnshop
Tambunting Pawnshop
eBiz
To make a deposit, tap "Deposit" and select the partner (such as Bayad Center). Enter the deposit amount and click "Susunod." Show the reference number to the cashier and give the amount to be deposited.
You can deposit a minimum of ₱200 and a maximum of ₱25,000 per transaction. You can only perform two deposit transaction in a day and you have to wait at least 15 minutes before you can make a second transaction. Deposit transactions are only allowed from 5:00 AM to 9:00 PM.
The maximum amount that you can deposit into a DiskarTech basic deposit account is ₱48,000.
You can also use GCash or PayMaya to transfer money directly to your DiskarTech account. Just open your GCash or PayMaya app and perform a bank transfer to your RCBC/DiskarTech account.
Withdraw Money
At the moment, you can only withdraw your money at an RCBC ATM machine. The maximum withdrawal amount is ₱20,000 per transaction and ₱50,000 per day.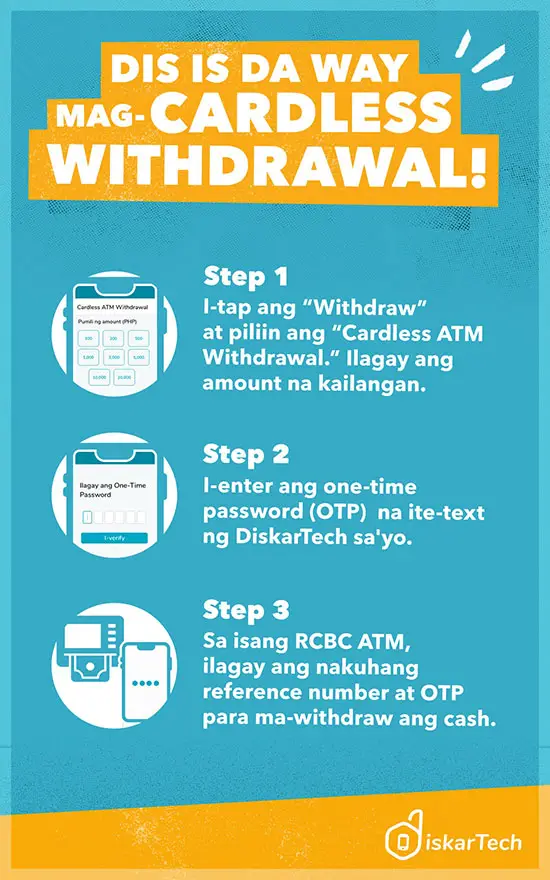 To perform a cardless ATM withdrawal, tap "Withdraw" and then "Cardless ATM Withdrawal." Choose the amount that you want to withdraw (ranging from ₱100 to ₱20,000) and click "Confirm."
You will receive a reference number and OTP via text message. Go to any RCBC ATM machine and enter the reference number, OTP and the amount to withdraw.
Transfer Funds
You can transfer money from your DiskarTech account to another DiskarTech account, to an RCBC bank account, or to another bank or mobile wallet.
Transfer funds to another DiskarTech account – Select "Sa ibang DiskarTech account." Enter the recipient's account or mobile number, name and amount.
Transfer funds to an RCBC account – Choose "Sa isang RCBC account." Enter the recipient's RCBC account number, name and amount.
Transfer funds to a bank or mobile wallet – Choose "Sa iba pang bangko o mobile wallet." Select the bank or mobile wallet from the dropdown box, then enter the account number, name and amount.
You can transfer funds to banks like BDO, BPI, DBP, Metrobank, Landbank, RCBC and Union Bank as well as to mobile wallets like GCash (G-Xchange, Inc.), PayMaya, Coins.ph and GrabPay.
Buy Load or E-pins
DiskarTech offers a quick and easy way to reload your mobile phone. Just go to "Buy Load or E-pins" and enter the mobile number, and then choose the load denomination or promo you want to purchase.
At the moment, DiskarTech doesn't offer discounts or rebates on prepaid load purchases. So admittedly, GCash, PayMaya and Coins.ph are still the better options to buy cellphone load as they offer 5% to 10% rebates.
You can also buy e-pins for games and apps like Garena, Google Play, iTunes, Marvel Super War, Mobile Legends, Nintendo eShop, PlayStation Network, PUBG Mobile, Roblox, Steam Wallet, and many more.
Pay Bills
With DiskarTech, you can easily pay your bills without leaving your house. You can pay your bills with companies and utilities like BPI, Bayantel, Caritas Health Shield, Cignal, Globe, Meralco, Manila Water, Maynilad, Pru Life UK and Sun Life.
To pay your bills, tap "Pay Bills" and select your biller, and then enter your payment details.
Pay the Government
You can pay your dues and contributions with Philippines government agencies using your DiskarTech app. At the moment, you can only pay your Pag-IBIG Fund contributions or loans using the app.
To pay, click "Government" and choose the biller. Enter your member ID, account number or reference number and other payment details.
Telemedicine Services
You can now consult a doctor online by choosing a telemedicine package on the DiskarTech app. Just tap "Telemedicine" and choose the package that you want to avail.
The iDoc Telemedicine Package offers unlimited non-emergency consultation with a licensed doctor via phone, email, chat, SMS and the iDoc application. You will also have access to your online health records through the iDoc app and get medical prescriptions and laboratory referrals. The package costs ₱799.20 for a yearly + 3 months subscription.
Buy Insurance
DiskarTech has partnered with Malayan Insurance to offer affordable insurance plans to all Filipinos. For as low as 12 centavos per day, you can avail of health and accident insurance that will provide financial assistance to you or your beneficiary in case of death or disability.
You can choose from any of these insurance products:
Commuters Personal Accident Insurance
Dengue Cash Insurance
Ridesafe Insurance
Super Personal Accident Insurance
After purchasing insurance, you will receive your Certificate of Coverage (COC) via email in 3-5 business days.
To purchase insurance, select "Insurance" on the DiskarTech app and choose the insurance plan you want to buy (e.g. Commuters PA). Click "Avail na!" and enter your occupation, name of the beneficiary and your relationship to the beneficiary. Only next of kin (spouse, child or parent) can be listed as the beneficiary.
How to Earn Money in DiskarTech
Now we've come to the exciting part which is how to earn money in DiskarTech. There are two ways to earn money in DiskarTech: invite other people using your referral code and earn money from interest.
Invite Other People
You can earn up to ₱30,000 a month by referring other people to DiskarTech. What you can do is to share your DiskarTech NegosyanTech invite code and if other people use your code, you will earn ₱30 per signup. You will only earn from the referral if your invited user verifies his DiskarTech account.
By the way, if you haven't signed up for DiskarTech yet, you can use my invite code ABEM5439 during registration. After you verify your account, you will get ₱10 and I will get ₱30 as well. Thank you so much!
The referral commission might be lower than what other e-wallets are paying (GCash is paying ₱50 per signup), but the advantage is that you can potentially earn more. Why? Since DiskarTech is a relatively new app, it's easier to convince other people to sign up using your invite code. There are infinitely more people that you can invite to join DiskarTech. On the other hand, almost everyone already has GCash or PayMaya, which means that it's more difficult to invite people who haven't signed up yet.
There are already several DiskarTech users who have earned ₱30,000 per month just by inviting other people to join DiskarTech. You, too, can earn a side income by inviting your friends, family and even complete strangers to register to DiskarTech using your invite code.
To get your own DiskarTech NegosyanTech invite code and start inviting, go to "Account" and click "Mag-invite ng friends sa DiskarTech." You can now view and copy your invite code (mine is ABEM5439). You can also see how much you have earned from referrals.
Click "Mag-invite na ng friends" to share your invite code on social media and apps like Facebook, Messenger, Twitter, WhatsApp and Viber, as well as via email and SMS. The more you invite, the more you will earn.
Earn Money From Interest
Another way to earn money in DiskarTech is to start depositing money into your account and earn interest from it. It's slower and has lower earning potential than inviting people, but it's passive income where you don't have to do anything except to deposit money.
As mentioned previously, DiskarTech offers a 3.25% interest per year which is higher than other banks including high-interest digital banks like CIMB and ING. DiskarTech accounts are Basic Deposit Accounts (BDA) of RCBC which means that your money is deposited at RCBC. And since it's an RCBC account, it is insured by the Philippine Deposit Insurance Corporation (PDIC).
The downside is that there is a maximum deposit limit of ₱48,000 and you will earn interest on your savings account until it reaches ₱50,000. That means that if you save the maximum of ₱48,000, you will earn only ₱1,560 per year.
Still, DiskarTech is a good way to save money and you can park your extra money there to earn passive income without any effort. It's certainly better than putting your money in a bank that earns less than 1% interest per year.
Wrapping Up
DiskarTech does indeed look promising, although as a relatively new app, it still lacks some of the features that are available in other mobile wallets. Hopefully, the developers will continue to provide more options to withdraw money, transfer funds and pay bills.
Now that you have learned how to register to DiskarTech and familiarized yourself with its features, it's time to start promoting it so that you will earn money. Don't forget that you can also earn interest on your savings. If you need assistance, just email [email protected].