One of the benefits of online banking is the fact that you can pay your bills without leaving your home. In some cases, you'll need to register or enroll the biller first before you can pay your bills. With that in mind, we'll teach you how to enroll a biller in BPI online banking so that you can pay your bills with Meralco, Maynilad, PLDT, Globe and many other companies and utilities.
There are several reasons why it's preferable to pay your bills through BPI online or mobile banking. The main reason is that paying your bills online is way more convenient than going to a payment partner or collection agent. Nobody wants to wait in line for hours when you can just use your mobile phone or computer to settle your dues. Of course, not every company or utility allows you to pay your bills online, but if the option is available, then why not take advantage of it?
BPI is just one of many banks that offers online bills payment via their website or the mobile app. However, BPI requires you to enroll the biller first, unlike other banks and payment platforms where you can pay the biller directly. This might be a bit inconvenient at first but it will save you time in the long run. After enrolling a biller, you only have to select it from a dropdown box upon paying your bill. You'll no longer have to enter your name, account number and other details every time you pay your bills, which is great if you have monthly or recurring payments such as Internet and electricity.
Another thing to keep in mind is that it's not yet possible to enroll a biller in BPI through their mobile app. So you will have to use the browser on your computer or smartphone for this procedure.
BPI Biller Enrollment Process
Using Chrome or any web browser, go to the BPI online banking website at https://online.bpi.com.ph. Login using your username and password.
Once logged in, click "Other Services" on the left navigation menu.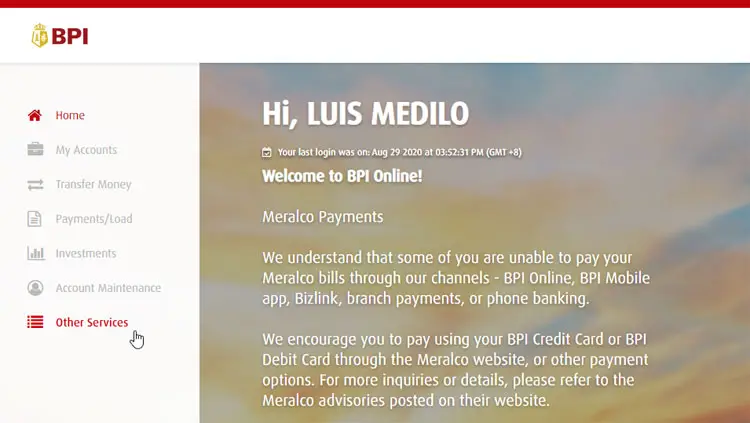 Next, click "Manage Recipient."
Click "Add New Recipient."
Provide the details of your recipient or biller, as follows:
Recipient – Select "Billers."
Biller – Enter the name of the company or utility. If the biller is available, the system will suggest it automatically. In our example, we chose PLDT.
Reference Number – This is usually your account number with the biller. Go to this page for a list of billers and details on the reference number required for enrollment.
Click "Next" to proceed.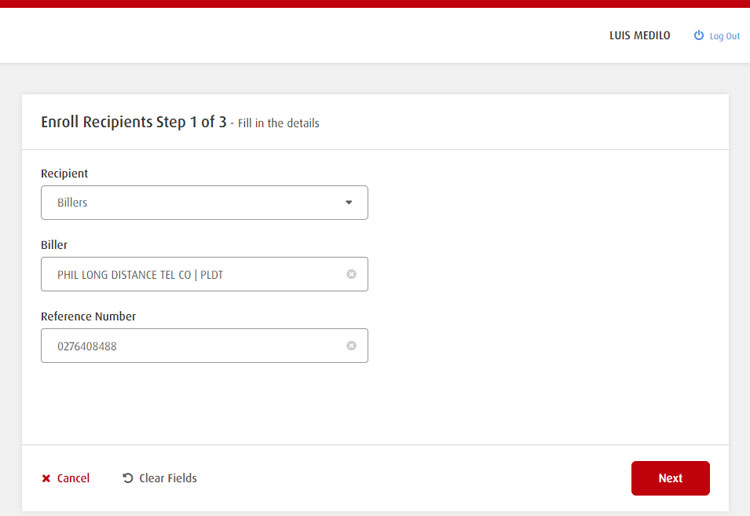 Review your biller details and click "Confirm."
You'll be informed that a one-time PIN will be sent to your BPI-registered mobile number. Check that your number is correct and click "Yes, send me the code."
Enter the 6-digit OTP code that is sent to your number and click "Submit."
Congratulations, you have successfully enrolled the biller in BPI online banking. You will also receive an email from BPI confirming the successful enrollment.
On the Manage Recipients page, you will see a list of your enrolled billers. You can enroll as many billers as you want.
To pay a biller, click "Pay" next to it, or select Payments/Load > Pay Bills on the left menu. This works for both the BPI online banking website and the BPI mobile banking app.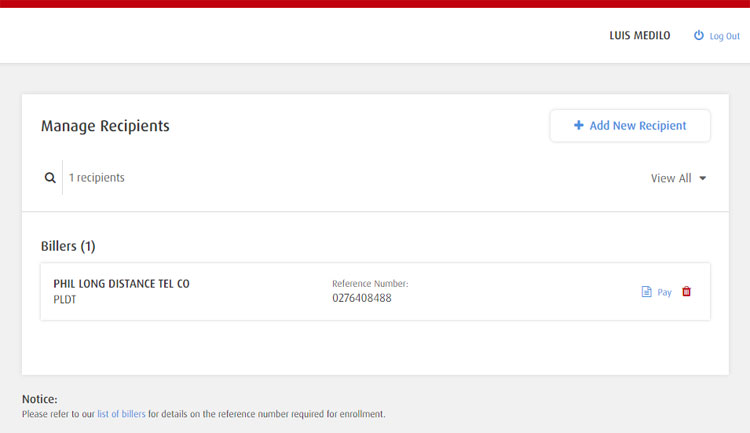 Conclusion
As you can see, it's easy to enroll a biller in BPI online banking in order to start paying your bills. Make sure that you entered your biller details correctly to avoid any inconvenience.
If you have any questions or concerns with BPI online banking, call the customer service hotline 02 889-10000 or email [email protected].