Do you want to know the age of your computer or laptop? There are a few reasons why you want to know how old your computer is. You might want to upgrade or replace your machine, check if your computer's warranty is still valid, or just determine the age of your machine for curiosity's sake. Whatever the reason is, there are several methods to tell how old your computer or laptop is.
Computers, just like any other object, get older as the years go by, making them more susceptible to damage or failure. Desktop computers in particular are known for their durability and longevity, so as long as your old computer is still working and doing its job, there's no real need to replace it. I've used computers that lasted as long as eight years, and keeping them in working condition is all a matter of keeping software updated and doing some maintenance tasks.
Even then, technology rapidly changes and old hardware may become obsolete faster than you think. I mean, just a few years ago, 2GB of RAM was sufficient for light computer work. Knowing the age of your PC or laptop allows you to upgrade your system if necessary to keep up with improvements in computer and software technology.
Here are some ways to determine the age of your computer or laptop:
Check the Serial Number
The easiest and most accurate way to find out how old your computer is to look at the serial number, and if available, the manufacturing date. On desktop PCs, the serial number may be located at the top or back of the casing. On laptops, the serial number can be found underneath the device.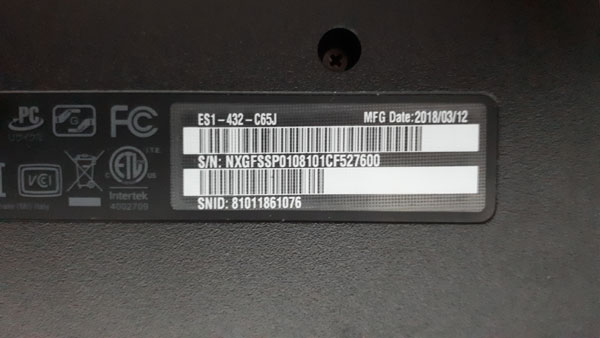 You can also get the serial number by typing wmic bios get serialnumber in command prompt (which can be launched by pressing Windows + R and typing cmd). This only works for pre-built computers and laptops from brands such as Dell, Acer, HP, Asus, Lenovo, and Toshiba. Custom-built and assembled PCs usually don't have a serial number.
Once you have the serial number of your computer, enter it on the manufacturer's website to get information about your machine, including the manufacturing date. You can also contact the manufacturer and ask when your computer was built based on the serial number.
If your computer is a custom-built one, then it's unlikely to have a serial number so just move on to the next method.
Check the Date of the BIOS Installation
Another method to determine the age of your computer is to check the date of the BIOS installation. To do this in Windows 10, click the Start menu on the bottom-left corner, choose Windows System and select Command Prompt. Alternatively, press Windows + R and type cmd to launch the command prompt.
Type systeminfo.exe and it will display important information about your computer. What you should look for is the "BIOS Version." In the example below, the BIOS version is "American Megatrends Inc. 4.6.5, 2014-06-27," which means that the date of BIOS installation is June 27, 2014.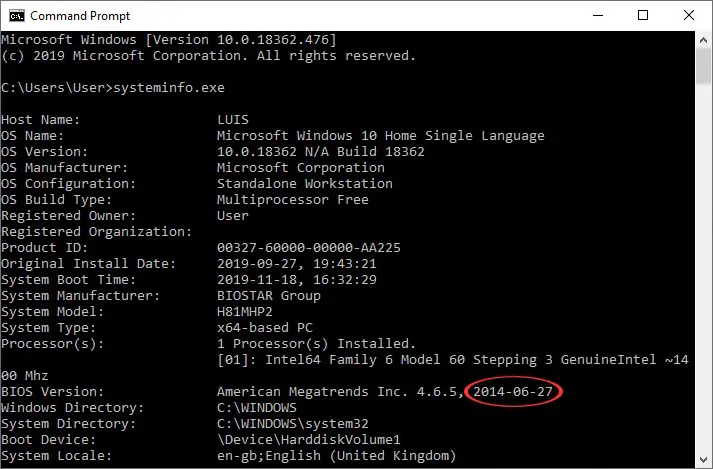 The date of the BIOS installation usually precedes the manufacturing date of the computer by less than a year, so this method is not totally accurate. However, you can cross-check it with the other methods in this article to come up with a more accurate estimate.
Find Out the Processor Version
This method will not give you the exact date when your computer was built, but it will give you a rough estimate of the year it was manufactured.
Determine the version of your computer processor by clicking the Start menu and choosing Settings. Select System and then About, and it will show your device specifications including information about the processor.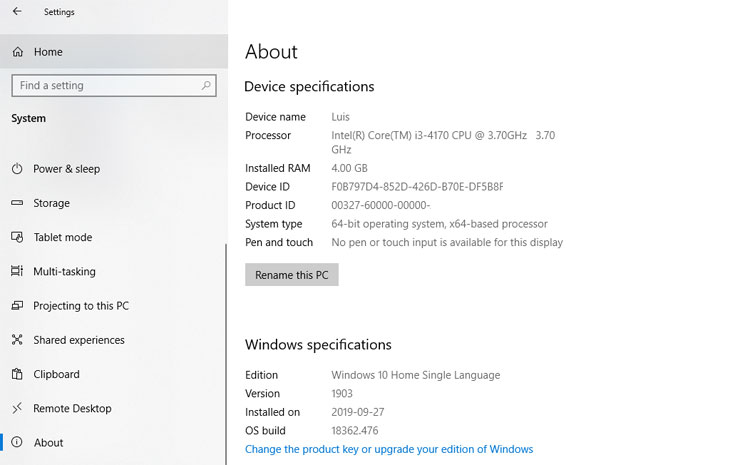 If the processor is an Intel Core i3, i5 or i7, you can determine the year it was manufactured by looking at the first number after the dash. On my computer, the processor is Intel Core i3-4170, so the first number after "i3-" is 4, which means that it was built in 2014. Refer to the guide below:
2 = 2012
3 = 2013
4 = 2014
5 = 2015
6 = 2016
7 = 2017
8 = 2018
9 = 2019
If the processor only has three numbers after the dash, this means that it's a first-generation processor and was manufactured in 2011.
For other processors, just search for the model number or version on Google and you will know the initial release date of the processor. From there, you can estimate the year that your computer was built.
Once again, this method is not entirely accurate because some manufacturers use older generation processors to build their computers and the fact that some PCs take several months or even years to get sold. There are more accurate methods to determine how old your computer is so just use this technique as a last resort.
Check the Hardware
Still another way to tell your computer's age is to check the computer parts or hardware. You don't need to open your computer – just install a program like Speccy, which provides an easy way to look at your computer's hardware and their specifications. You can do this manually though by going to your Windows settings but Speccy lays everything out in one page to save you the time and effort.
What you can do is to look at the different parts of your computer such as motherboard, hard drives, graphics card, optical drive, etc. Don't include the components that were replaced during the lifetime of your computer. Afterwards, search the name, version or serial number of the specific hardware and look for the manufacturing or release date.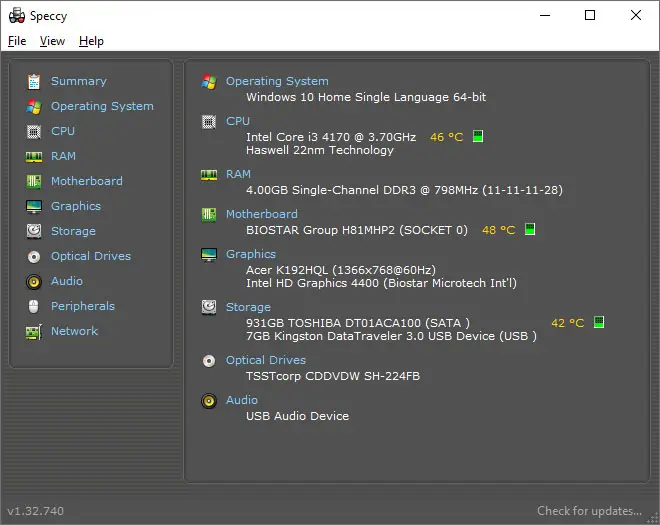 This method may not be entirely reliable and accurate but it will give you an estimate of the month and/or year that your PC was built. If the other methods don't work for you, then you can try this technique to see if you can narrow down the date your computer was manufactured.
Check the "Date Created" of Files and Folders in the (C:) Drive
You can look at the "Date created" information of the files and folders in your computer's (C:) drive to know the date when you first installed Windows on your PC or laptop.
Just navigate to C:\Program Files (x86) or C:\Windows\System32 and sort the files and folders by "Date created." This column is not shown by default so you need to add the column by right-clicking Sort by, choosing More and selecting Date created.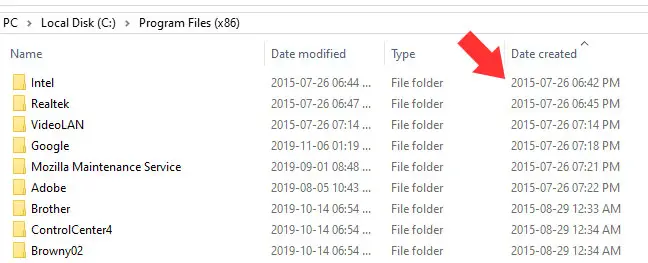 In the example above, the earliest creation date for folders in the C:\Program Files (x86) directory is July 26, 2015, which is the date when I first installed Windows in my computer.
There might be other files and folders that are "older" than your computer. For example, the mfc100.dll file was supposedly created in 2011, or four years before I bought my computer. What you can do is look at the oldest "date created" that is common across the C:\Program Files (x86) or C:\Windows\System32 directories to pinpoint the Windows installation date.
Conclusion
Knowing the exact age of your computer or laptop might seem difficult but if there's a will, there's a way. Some computers may have the manufacturing date printed on the device which makes the job easy, but if not, you can try any of these aforementioned methods to determine how old your computer is.
If you know a different method to find out the age of a computer, please feel free to comment below and I'll consider adding it.
Featured image credit: Dejan Krsmanovic