If you're someone who can't live without Facebook, TNT (also known as Talk 'N Text) offers several mobile data promos that allow you to browse Facebook to your heart's content. One of these promos is TNT FB10, a ridiculously cheap data promo that gives you three days of Facebook for only ₱10.
The Philippines is one of the world's largest users of Facebook, with over 80 million users and counting. Despite the relatively slow speed of Internet in the Philippines, Filipinos are spending more time on Facebook than any other country. In fact, the Philippines leads the world in terms of social media usage, spending an average of 4 hours and 15 minutes per day.
To take advantage of this, major telecom companies like Globe and Smart are offering affordable data packages that include access to Facebook and other social media sites. There are data promos that give you Facebook access for a period of time (e.g. one day) or a certain amount of data (e.g. 1GB). If you're a heavy Facebook user, you can opt for a data promo that gives you unlimited Facebook access.
TNT allows you to use Facebook even if you're not subscribed to a mobile data promo. Free Facebook, however, has several limitations including the fact that you can't view photos or watch videos. If you want to see photos and videos on Facebook as well as call your friends on Messenger, you will have to subscribe to a data promo such as TNT FB10.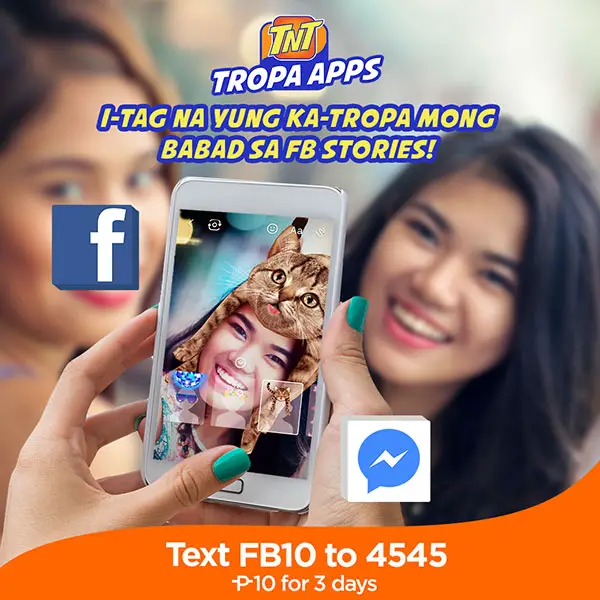 The TNT FB10 or FACEBOOK10 promo is aimed at budget-conscious subscribers who mainly use Facebook and don't need other services such as unlimited SMS and call minutes. If you only want to browse Facebook and chat on Messenger, and don't need to surf the web, watch YouTube, play games or post photos on Instagram, you can't go wrong with TNT FB10.
In this article, we'll talk about the TNT FB10 promo, how to register to the promo, how to check your data balance, and more.
TNT FB10 Inclusions
The TNT FACEBOOK10 or FB10 promo has the following inclusion:
1GB mobile data allocation for Facebook and Messenger
FB10 is good for 3 days and costs ₱10.
Your FB10 subscription is applicable to the Facebook Android app, Facebook iOS app, Facebook mobile website, and Facebook Lite, as well as Facebook Messenger. To avoid inconvenience, be sure to download the Facebook and Messenger app using WiFi or another data promo before subscribing to TNT FB10.
Take note that clicking on links in Facebook that lead to external sites (e.g. news websites, non-Facebook apps) may incur additional data charges. Facebook will alert you when you click on links to other websites and will ask you if you want to continue.
How to Register to TNT FB10
To register to the TNT FB10 promo, text the keyword FB10 to 4545. Make sure that you have at least ₱10 load balance. You will receive a text confirmation after successfully registering to the promo.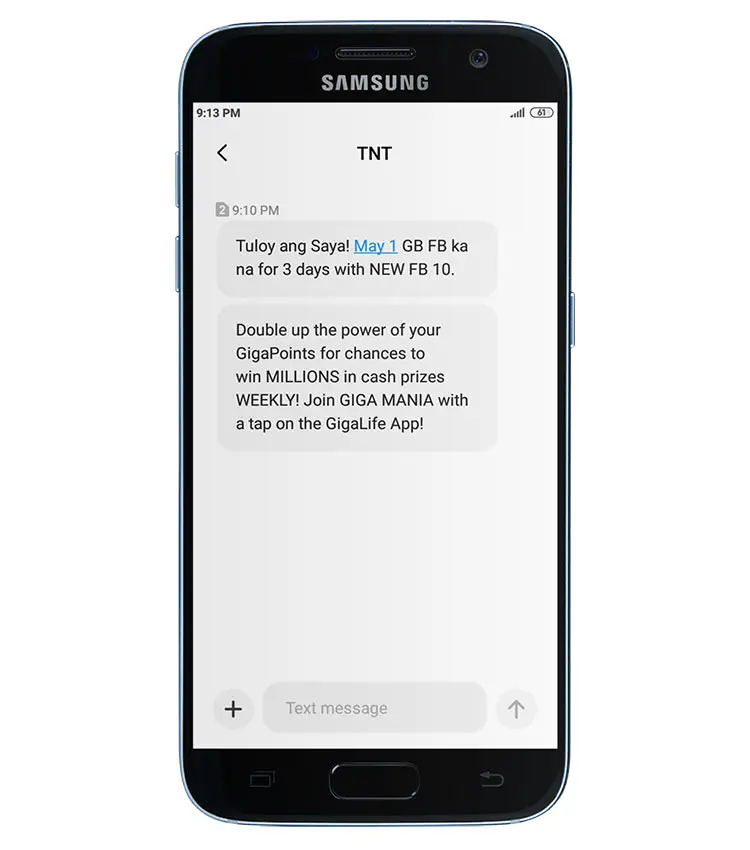 If the keyword registration doesn't work, you can subscribe to TNT FB10 by dialing *123#. On the USSD menu, go to Other Offers > NEW FB > 10 > Subscribe. Wait for the confirmation via text message.
To load FB10 via retailer, the load retailer can text FB10 <11-digit number> to 4577. For example, FB10 09123456789 and send to 4577.
How to Check Your FB10 Balance and Status
Do you want to know how many MBs you have remaining? Just text BAL to 214 to know your remaining data balance and promo expiration date.
You can also check your FB10 balance by dialing the USSD code *123# and selecting Balance/Services > Check Balance. You will receive a text message with your remaining load balance and data allocation.
Need Help?
TNT FB10 is the ideal mobile data promo for Facebook addicts who love to upload selfies, share viral stories, watch trending videos or simply browse their news feed. And because it includes Messenger, you don't get left behind when it comes to the latest gossips and chit-chat.
If you have any questions and concerns about your TNT subscription, call the TNT toll-free hotline number *888.