Can't be bothered to go out of your house to claim your Western Union payout? There's an easy solution for that. You can just use your mobile phone to claim your Western Union remittance using the PayMaya app. You no longer have to go to the nearest Western Union branch to get the money because you can do it in the comfort and convenience of your home.
Western Union has long been synonymous with international money remittance. With more than 500,000 agents in over 200 countries, you are sure to find a Western Union outlet near you. Despite the rise of online money transfer services like Transferwise and Xoom, Western Union remains popular with many Filipinos abroad who want to send money to their loved ones back home.
For a long time, I've been claiming my Western Union payouts personally by visiting a Western Union outlet. It's not much of a hassle because Western Union branches don't have many customers so I didn't have to wait for long. I can even claim my money in US dollar bills instead of Philippine pesos. But I recently discovered that I can claim my Western Union remittance through PayMaya. So unless I want to cash out my Western Union payout in US dollars, I would rather claim it via PayMaya and save myself the time and effort.
So if you don't want to visit a Western Union branch to claim your money, or if you want it in a hurry, you can just open your PayMaya app and claim your Western Union remittance right there and then. Your money will instantly be transferred to your PayMaya wallet. You can then withdraw or transfer the funds to your bank account, Smart Padala or even another e-wallet like GCash.
If you don't have a PayMaya account yet, you can sign up for a free account by downloading the app on Google Play or the App Store. Use the invite code 23pfpum to get free ₱50 in your wallet after verification. Read this article to learn how to sign up for PayMaya and upgrade your account.
How to Transfer Money From Western Union to PayMaya
Before you claim your Western Union remittance through PayMaya, make sure that you have an upgraded PayMaya account and the Western Union tracking number (MTCN).
You don't need to enter the amount because PayMaya will automatically detect it and convert it to Philippine pesos.
First, open the PayMaya app and login with your username and password. Click "Add Money."
Under "Add Money Partners," select "Western Union."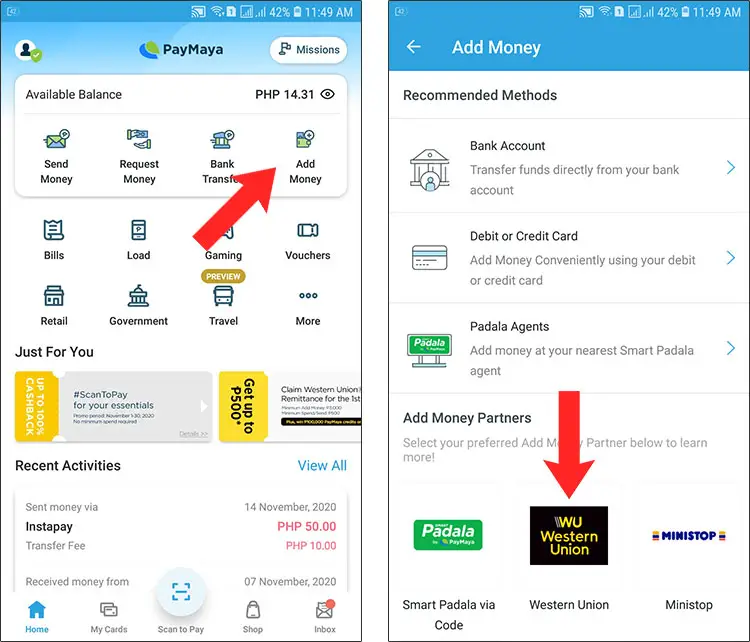 Enter your 10-digit Western Union MTCN and tap "Continue."
Review the details of your money transfer. It will show the sender and the net amount you will receive in PayMaya.
Press "Receive" to confirm the transfer.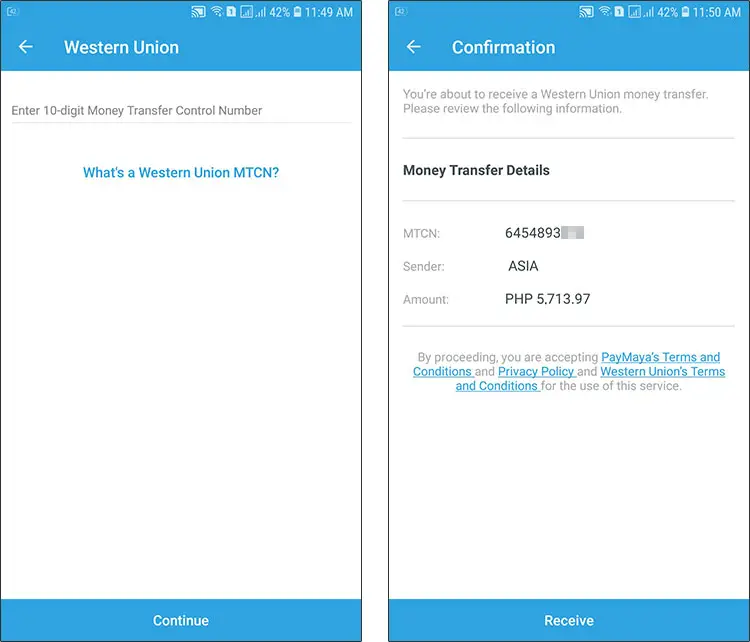 That's it! It's so fast and easy to transfer money from Western Union to PayMaya. You will receive the funds immediately in your PayMaya wallet, unless subject to further verification, in which case it will take up to 24 hours.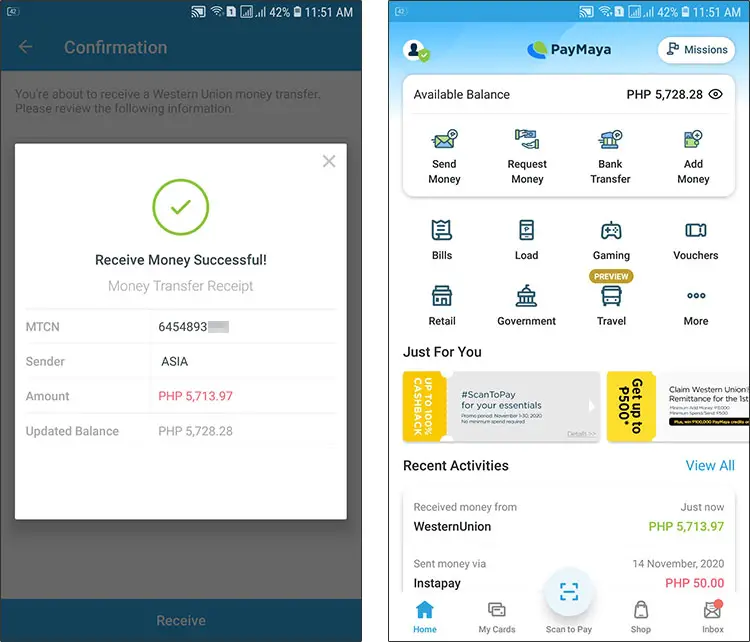 You can receive up to ₱100,000 per transaction, subject to the monthly aggregate transaction limit of ₱100,000. This means that you can only cash in an amount that doesn't exceed your remaining transaction limit for the month.
Final Thoughts
You've just learned how to claim your Western Union remittance using your PayMaya wallet. Why leave the house to get your money when you can do it on your mobile phone, right? Once the money is in your PayMaya wallet, you can use it to pay your bills, buy prepaid load or transfer money to your bank account. You can also use your PayMaya card to withdraw your money at any BancNet ATM.
We hope that this short guide helped you to receive money from Western Union to PayMaya. If you have any questions or concerns about PayMaya, call the toll-free hotline 1-800-10-845-7788 or *788 using your Smart mobile number.