Are you planning to go abroad but still want to receive text messages and calls just like you're in the Philippines? Rather than buy a prepaid SIM at your destination, you can register to Smart roaming to enjoy uninterrupted service. Registering and activating your roaming service only takes a few simple steps and can be done anywhere in the world, whether you're in the Philippines or outside of it.
One of the things to consider before going abroad is how to access the Internet on your mobile phone. Most hotels will provide you with free Internet, but when going places, you need a fast and consistent data connection. You want to make sure that you have all-day Internet access wherever you go, so that you can quickly book an Uber or post an Instagram story without looking for free Wi-Fi.
You can either purchase a prepaid SIM or eSIM that works in the country that you're staying in, or you can activate your carrier's roaming service. The latter not only gives you a limited amount of mobile data that you can use for a certain number of days, but also allows you to receive text messages and calls from your home country for free. You can also make calls and send text messages, subject to additional charges from your carrier.
If you're a Smart prepaid or postpaid subscriber, you can easily activate roaming for your number before departing, and even when you're already abroad. Subscribing to a roaming plan is usually more expensive than purchasing a prepaid SIM at your destination, but as previously mentioned, you will retain your number and be able to receive SMS and calls. This is absolutely necessary if you are expecting some very important messages from your contacts in the Philippines, such as one-time passwords (OTPs) from your bank.
So before you leave for the airport, make sure that you have already registered to Smart roaming so that it will be immediately activated upon your arrival. We will teach you how to subscribe to a Smart roaming plan as well as how to manually activate data roaming on your mobile phone. We will also discuss how to troubleshoot common network connection issues that may arise after activation.
How to Subscribe to a Smart Data Roaming Plan
To register to Smart's roaming service, you will have to subscribe to a data roaming plan such as GigaRoam. Smart data roaming plans range from 100MB to 10GB with validity periods of up to 30 days. The prices of Smart roaming plans vary depending on the country and start for as low as ₱150.
GigaRoam – Bulk data plans (1GB and up) for web surfing, video streaming and social media apps.
RoamFacebook – Provides open access data for Facebook and Messenger only.
RoamLite – Ideal for light usage starting at 100MB of open access data.
RoamSurf – Offers 500MB of data for web surfing and social media apps.
You may check out the Smart GigaRoam website for more information about the available data roaming plans for your destination.
Now let's go through the steps in subscribing to Smart data roaming so that you'll continue to enjoy uninterrupted service even when outside the Philippines.
Step 1: Open the GigaRoam website and choose your destination
What you can do first is to visit the Smart GigaRoam website using your computer or mobile device.
Tap "Select Country" and choose your country of destination (e.g. Singapore) on the dropdown list. Press the CONTINUE button to proceed.
Step 2: Select your preferred roaming plan
You'll now see a list of Smart data roaming plans that you can subscribe to. Take note of the price, data allocation and validity period for each plan.
Tap or click the Smart roaming plan (GigaRoam, RoamSurf, RoamLite, or RoamFacebook) that you want to register.
Review your selection by carefully reading the description of the Smart data roaming plan. Also take note of the roaming partner carrier (e.g. StarHub) as this information might be needed if you have to manually select your roaming network.
If you are sure that this is the roaming plan that you wish to subscribe to, tap the PROCEED button to go to the next step.
Step 3: Enter and verify your mobile number
You'll be asked to provide your mobile number, so enter it in the field provided. Only the last 10 digits of your number should be entered since the country code +63 is already specified.
Double-check that you have entered the correct mobile number, and then tap or click the PROCEED button.
A one-time password (OTP) will be sent to your provided mobile number. Enter the six-digit OTP code in the field provided and then check the box for "I agree to the Terms and Conditions, Privacy Policy, and Cookie Policy of this site."
Click or tap PROCEED to continue to the next step.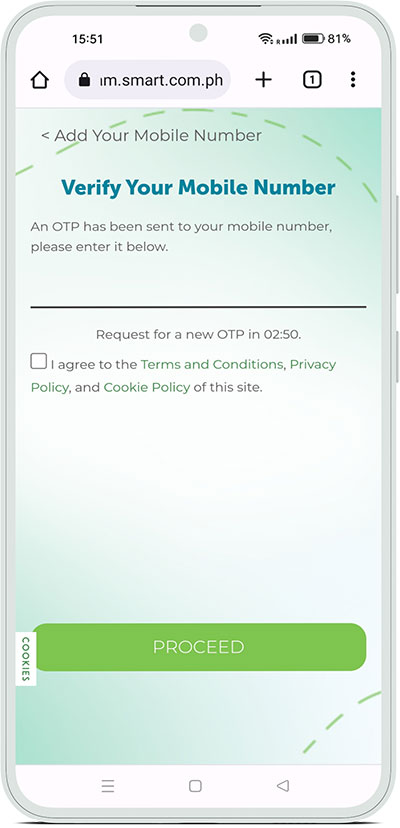 Step 4: Choose your payment option
Now it's time to choose the mode of payment as follows:
Charge to Mobile – Payment will be deducted from your prepaid load balance. If you're a postpaid subscriber, payment will be charged to your monthly bill.
Credit/Debit Card – Selecting this payment option will open a new tab where you can enter your card details (card number, expiry date and CVV).
Maya – Payment will be charged to your Maya (formerly PayMaya) e-wallet. Choosing this option will launch the Maya app if it's installed on your device.
If you prefer to use your existing load balance, make sure that you have enough prepaid load to cover the payment for the Smart roaming promo.
Finally, click or tap PAY NOW to proceed with payment.
Step 5: You have subscribed to a Smart roaming plan
That's it! You have successfully subscribed to a Smart roaming plan. The roaming service will be immediately activated upon arrival at your country of destination. You have up to one year (365 days) to use the roaming promo before it expires.
How to Activate Your Smart Roaming Plan
In most cases, Smart will automatically detect that you have arrived at your destination and will promptly activate roaming. Sometimes, however, this doesn't happen and you will need to manually activate roaming on your phone. Have no fear because we've laid out the steps to enable data roaming for your Android or iOS device.
Important: Make sure that you have turned off your phone's Wi-Fi and turned on mobile data before you activate roaming.
For Android phones
Take note that the following steps may slightly differ depending on the device.
Open the Settings app.
Tap Mobile Network.
Toggle on Mobile Data (if data is not yet turned on).
Select SIM 1 (or SIM 2).
Toggle on Data Roaming.
Tap Turn On if prompted.
For iOS devices (iPhone or iPad)
Open the Settings app.
Select Cellular.
Toggle on Cellular Data (if data is not yet turned on).
Tap Cellular Data Options.
Toggle on Data Roaming.
Once your Smart roaming plan is activated, you will receive a text message to that effect. If activation is unsuccessful, you may request assistance by calling *888 (while in the Philippines) or the Smart toll-free roaming hotline +63288488878 (when abroad).
How to Solve Network Connection Issues
Roaming is a great way to keep in constant communication with your friends and loved ones back home, but it's definitely far from perfect. If you can't roam because of a lack of signal or a failure to establish a data connection, we're here to help you out in that regard.
No Service or Signal
So you've turned on data roaming, but you still can't get a signal. In that case, you might want to reach out to Smart to request for assistance. The problem is that you don't have cellular service, so obviously you can't call the Smart hotline unless you borrow someone else's phone.
What you can do is to go to the Smart Communications Facebook page and send them a message by clicking the Message button. Here's a quick step-by-step guide to request for roaming activation through the Smart Facebook page:
Tap Get Started or type Main Menu.
Select or type Help.
Select Report a Problem.
Choose Roaming Concern.
Smart will inform you that they will ask for your mobile number. Select Yes to proceed.
Select Cannot activate when asked about your experience.
Type the exact date and time when you experienced the issue in MM/DD/YYYY HH:MM AM/PM format. For example, August 15, 2022, 5:00 PM should be typed as 08/15/2022 05:00 PM.
Type the exact location (up to street level) where you experienced the issue. For example: Changi Airport, Singapore.
The chatbot will ask, "What procedure did you do?" You may answer with "Turned on data roaming."
The chatbot will ask, "Which roaming partner did you connect to?" You may answer with "I wasn't able to connect."
Review the information that you've provided. Smart will need to access your records in order to process your request, so if you agree to this, tap Proceed.
The chatbot will try to connect you to a customer service representative who will ask for your account information. Select Yes to continue.
Wait for a few minutes until a customer service representative is available to attend to your concerns.
Once the customer support agent replies, tell him or her that you still have no signal.
The agent will ask for your mobile number, email address and other personal information, so make sure to provide them.
After the customer service agent verifies your information, he or she will escalate your roaming activation to the technical support team. Be sure to monitor your service within the next 24 hours and message them again if the issue still persists.
No Data Connection
Another issue that is often encountered when roaming is the inability to establish a data connection even if you already have a cellphone signal. This happens when your phone cannot connect to the roaming partner's mobile network, particularly when network selection is set to automatic.
To resolve this issue on Android, open the Settings app on your phone and select Mobile Network or SIM Card Management. Choose SIM1 (or SIM2) and then tap Operator or Carrier. Turn off Auto-select or Automatic, and then manually select the correct roaming partner (example: StarHub) that was specified in your Smart roaming plan.
You can also disable automatic network selection using an iPhone. Open the Settings app and tap Cellular. Select Network Selection and then toggle off Automatic. From there, you can choose the correct roaming partner or network that was indicated in your Smart roaming plan.
If you don't know the correct roaming partner, you can try each network one by one. You will know that you have selected the right network when the mobile data icon (LTE, 4G or 5G) appears on top of the screen.
Have a Safe Trip!
Roaming is made possible because of partnerships and agreements between mobile network operators, with the home operator paying interconnection fees to the servicing carrier. As such, it's not cheap to subscribe to a data roaming plan. Despite the prohibitive costs, however, roaming remains an attractive option for tourists and travelers who wish to remain in constant communication with their families and friends back home without the hassles of purchasing a new prepaid SIM.
We hope that this guide on Smart roaming is a big help in your journey to your intended destination. If you have any questions and concerns, you may call the Smart toll-free roaming hotline *888 (while in the Philippines) or +63288488878 (when abroad).